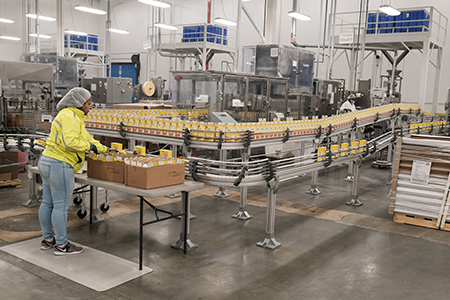 Heartland Food Products Group might not be a familiar name, but you've almost certainly heard of the Carmel-based company's most famous brand: Splenda.
For years, Heartland quietly manufactured a variety of non-branded products—artificial sweeteners, including sucralose, as well as liquid water flavorings that major retailers sold under their own private labels.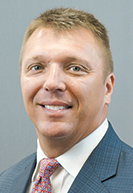 Gelov
Things shifted into high gear in 2015, when Heartland bought the Splenda brand of sucralose sweetener from Johnson & Johnson subsidiary McNeil Nutritionals LLC for an undisclosed sum—setting the company on an upward trajectory that continues today. Splenda had about $300 million in annual revenue at the time of the deal.
"We have a very large pipeline for growth," Ted Gelov, Heartland's founder, owner and CEO, said last month.
Heartland has expanded its local production facilities multiple times since 2015, adding hundreds of employees and rolling out several new products—new forms of Splenda, Splenda-sweetened coffee creamers, and a brand of cold-brew coffee, Java House, that hit the market last year.
In addition to its corporate office in Carmel, Heartland has manufacturing and distribution facilities on the northwest side of Indianapolis. The Splenda made here is shipped to consumers around the world.
Ruderman
About 850 of the company's 1,100 employees work in Carmel and Indianapolis, though Heartland also has factories in Mexico and the Netherlands.
The privately held company does not disclose financials, but it now makes about 10 billion packets of Splenda per year—about four times the amount of sucralose that it was making as a private-label manufacturer before 2015, Gelov said.
And the company sees plenty of opportunity ahead to expand both its product offerings and its local employment.
"The key driver behind the growth is the expansion of the (product) portfolio," said Zack Ruderman, Heartland's vice president of marketing. "We currently have more ideas than we have people to bring the products to market."
Unusual journey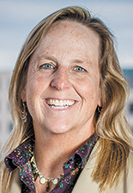 Saxton
Heartland's path makes the company somewhat of an outlier among consumer product manufacturers, said Kim Saxton, a clinical professor of marketing at the Indiana University Kelley School of Business at IUPUI.
Typically, Saxton said, a company starts out making name-brand products, then expands into producing private-label versions of the same product. Heartland is doing it in reverse.
"That's the interesting thing for Heartland—they've been a private-label brand, and now they're moving into their own brands," Saxton said. "It's unusual for a 'generic' company to have branded products."
The company has racked up growth despite having no shortage of competitors. Makers of other artificial sweeteners like Equal and Sweet'N Low; makers of stevia sweeteners; and those who make coffee creamers and sweetened beverages are all vying for market share.

An added challenge is growing consumer skepticism of sweeteners.
According to a recent report from market research group Mintel Group Ltd., the U.S. market for sugar and alternative sweeteners has been in decline since 2013. Sales of such products, which totaled nearly $4.5 billion in 2013, dropped to $4.2 billion in 2018. Mintel expects sales to drop to $3.7 billion in 2023.
"The entire category continues to face a consumer base that perceives sweeteners as largely unhealthy—artificial or not," the December 2018 report says.
That doesn't mean there aren't still growth opportunities in this sector, Saxton said.
Sweetener demand is increasing outside the United States, Saxton said, and artificial sweeteners are starting to show up as an ingredient in more foods. Stevia, a sugar substitute made from the leaves of the stevia plant, is also gaining popularity.
All of these factors could spell opportunity for Heartland, Saxton said. "To the extent that they can take advantage of those macro trends, they should be able to take advantage of growth."
Strategic moves
Indeed, Heartland's most recent moves are in step with those trends.
The company introduced a stevia-based version of Splenda, called Splenda Naturals, in 2016. And, just a few months ago, Heartland established a stevia research and growing facility in Indianapolis to supplement its main agricultural operations in Brazil.
Earlier this year, Heartland also launched a line of Splenda-sweetened coffee creamers. The products are currently available only in the northeastern U.S. and online. They should hit wider markets, including the Midwest, by next year.
Another of Heartland's recent creations, Java House cold-brew coffee, represents a new direction altogether for the company.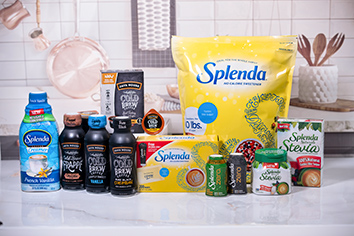 Heartland is best known for making Splenda and Stevia but has also introduced Java House, a cold-brew coffee. (Photo courtesy of Heartland Food Products Group)
Some of the products in this line are sugar-sweetened, but others are unsweetened. And the products sell under the Java House name, a brand that Heartland developed.
Cold-brew coffee is brewed using cold water, not hot, and as such it has a mellower and less acidic taste.
This means, Gelov acknowledges, that the Java House business might not help boost demand for Heartland's other products—since consumers might not feel the need to add as much sweetener or creamer.
Even so, Gelov said, cold-brew coffee is a fast-growing beverage category, and Heartland figured it would rather get into the market than sit on the sidelines.
"If you're going to innovate, out-innovate yourself before somebody else does," he said.
Heartland sells Java House in bottles. It also offers a liquid concentrate in a patented plastic pod that customers can mix with water or use in a Keurig single-serve coffee maker.
"No one else has a pod, and they can't: It's protected," Gelov said.
Consumer education
Java House is presenting Heartland with opportunities, but also marketing challenges.
A major challenge, Gelov said, is that many consumers don't yet understand the product. They are not aware how the brewing process differs from that of traditional coffee, and they often don't realize that cold-brew coffee can be served either hot or cold.
New product introductions can be a challenge, Saxton said. "It actually takes a good deal of money to educate people."
Offering an example from another industry, she said pharmaceutical companies typically start advertising a new product 18 months or so before it hits the market so that customers know about it when it becomes available.
Marketing could be a particular challenge for Heartland, Saxton said.
When the company focused on private-label brands, she said, it didn't have to concern itself with marketing those products. And with Splenda, Heartland acquired a brand that was already well-known. But developing a new brand from scratch requires "a slightly different set of skills," she said.
Heartland is working to beef up its marketing prowess.
The company is hiring about half a dozen marketing employees in Carmel, which will double the size of its marketing presence there. When Heartland bought Splenda it also acquired marketing employees in Philadelphia. Now, the company is moving that function entirely to Carmel.
As part of its stepped-up marketing, Heartland will be opening a Java House retail store directly below its headquarters in Carmel's Clay Terrace retail development.
The spot will be a traditional coffee shop but also will double as a market research lab where the company can try out new products and solicit customer feedback.
"It is a great place for us to test new ideas," Ruderman said.
Shifting strategy
Heartland has steadily evolved since Gelov founded the company in 1991 as a 24-year-old, fresh out of college with a management degree from Purdue University.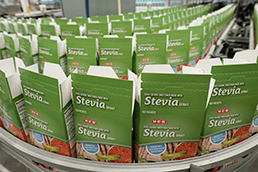 Though U.S. sweetener sales are declining overall, Heartland sees opportunity in certain niches, such as stevia, a sugar substitute made from the leaves of the stevia plant. (IBJ photo/Eric Learned)
In its early years, it did packaging for private-label condiments—salt and pepper shakers as well as packets of salt, pepper, sugar and other dry condiments and seasonings.
In the mid 2000s, as Splenda started to gain popularity, Heartland switched its focus to sweeteners.
Because sweeteners are used in so many different products, Gelov reasoned, they represented the best opportunity for growth.
To avoid violating Splenda's patents, Heartland came up with a different production method for making sucralose in 2004 and began selling it as a private-label alternative.
This meant Heartland already had the manufacturing muscle in place when the chance to acquire the Splenda brand came along. Heartland snapped up Splenda's research and development, marketing and regulatory assets, along with 22 employees. But the deal did not include any production assets. Britain-based Tate & Lyle, a global producer of food and beverage ingredients, had been making the product for Johnson & Johnson.
Gelov said that because Heartland already produced private-label sucralose, it was able to leverage those capabilities as it added Splenda to its lineup.
Heartland continues to sell private-label sucralose to retailers, along with private-label stevia, saccharin and aspartame sweeteners.•
Please enable JavaScript to view this content.