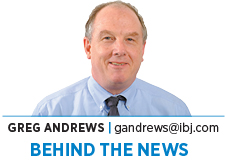 It can be fun to sell a firm that's thriving and suitors are racing to outbid one another.
Then there's the opposite extreme, in which a company's performance is in a prolonged decline, the red ink is piling up and cash is running out. That can be excruciating, as prospective buyer after buyer kicks the tires before saying "no thanks."
Put Carmel-based software firm Determine Inc.—which negotiated a deal in February to sell itself for $32 million—decidedly in the second camp.
The final price might sound robust, but dig a little deeper and it loses its sheen. The transaction was structured as an asset purchase, which means the buyer, New Jersey-based Corcentric Inc., didn't assume various liabilities, including $21 million in debt.
In a filing with the Securities and Exchange Commission, Determine estimates it will have between $1.1 million to $3.3 million left to distribute to shareholders after paying off debt, $2.6 million in transaction-related expenses and other costs. On a per-share basis, that works out to between 4 cents and 13 cents.
The harsh reality is laid out in SEC filings that Determine submitted in recent weeks in preparation for securing shareholder approval of the deal. They include a blow-by-blow account of the year-long sale effort, during which Determine's investment banker, Needham & Co., sought to strike up courtships with dozens of firms.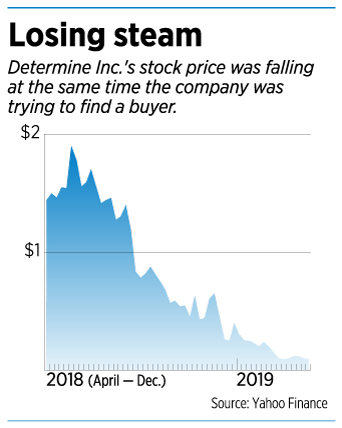 The planned sale would bring an end to Determine's quixotic journey to finally turn an annual profit—something it never achieved in 23 years in business.
CEO Patrick Stakenas had hoped to give Determine—whose software helps clients manage suppliers and procurement—a fresh start by moving its headquarters from Silicon Valley to Carmel in 2016. Better performance followed but didn't last.
In the nine months ending Dec. 31, Determine lost $10.7 million on $17.7 million in revenue. That compared with a loss of $7.1 million on $21.3 million in the same span a year earlier.
Stakenas, who couldn't be reached for this story, made no effort to sugarcoat the results in a call with analysts in November.
"Clearly, we are not where we want to be from a growth perspective," he said. "To that end, we are actively engaged in making fundamental changes to the key business teams, and we expect to see meaningful results over the near term and long term."
The SEC filings reveal that by the time he made those comments, Determine had secretly been trying to sell itself for months.
Sparking that effort was Neil Subin, an investment manager who'd stepped in to represent the family of the largest shareholder— investor Lloyd Miller III of West Palm Beach, Florida—who'd recently died.
Subin—who couldn't be reached by IBJ—persuaded the board in February 2018 to pursue "strategic alternatives," which led to the hiring of Needham & Co. that month. After finalizing the pitch to potential suitors last April, it contacted 85 potential acquirers over six months.
It was a herky-jerky process, with numerous potential buyers expressing interest early on, only to retreat at various steps of the process out of concern with Determine's "financial profile," its technology or other issues.
By late May, 58 parties told Needham they weren't interested. At that time, Needham sent bid instructions to 11 potential buyers, but seven responded they were no longer interested.
Determine had three months of back and forth with a firm described in filings only as Party A before the firm walked away in mid-June.
Four firms were in the running as of early July, but three dropped out later that month after Determine shared with them an updated financial outlook that included a "reduction in the projections."
Party C stayed in the game and spent nearly the entire month of August conducting due diligence on Determine, only to walk away late that month.
Undeterred, the Determine board directed Needham to reach out to 14 potential buyers, a list that included suitors that previously had decided not to bid. Only one expressed interest.
The sale effort took a surprising turn on Oct. 17, when procurement-software-maker Corcentric contacted Determine out of the blue to see if the Carmel company would be interested in a partnership.
Later that day, Needham pitched an outright sale, and in the weeks that followed, the firms hammered out a final deal.
For all of Needham's efforts, it never had solicited Corcentric, filings say. Instead, "the primary outreach had been larger technology and software companies."•
Please enable JavaScript to view this content.