When it came to raising money, Wellfount Corp. had something of a Midas touch.
In the past decade, the Indianapolis-based pharmacy company raised about $50 million, using the money to hire workers, buy equipment and build an operation with customers across the Midwest. Along the way, it hit No. 327 on the Inc. 5000 list of fastest-growing U.S. companies.
What the company did was put Redbox-style vending machines in nursing homes that dispensed medicines for patients. The highly automated system made medicines accessible around the clock and kept track, down to the dose, of what medicines had been taken and when it was time to refill the machines.
The sky seemed the limit. "It's a very scalable model," CEO Eric Orme told IBJ in 2014.
But last month, Wellfount quietly shut its doors, stopped answering its phones and pulled down its website. Several employees told IBJ the company closed on March 31 and laid them off. Nursing homes, the company's largest customers, were caught off guard.
"It was a shock to us, actually," said Cullen Gibson, chief operating office of TLC Management of Marion, which runs 17 skilled-nursing facilities in Indiana, including Creekside Health & Rehabilitation Center on East 46th Street, along with locations in Avon, Franklin and Muncie.
"They gave us notice on March 6 with a March 31 pullout date. We had to quickly pull ourselves together and pull in another pharmacy to serve our residents' needs," Gibson said.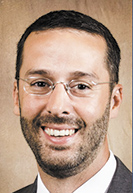 Cattell
What happened at Wellfount remains unclear, though industry observers say the competitive landscape shifted for the company in recent years, as the vending machine-style medicine dispensers it helped pioneer became available from many vendors.
"The products and services they were offering were cutting edge," said Zachary Cattell, president of the Indiana Health Care Association, a nursing home trade group. "They automated dispensing to a huge degree. But since then, almost every pharmacy company now offers that service."
No one answered the doorbell at the company's headquarters on West 73rd Street during two recent morning visits from IBJ, and its front door was locked. A recorded voice on its telephone switchboard said mailboxes were not accepting new messages.
Orme, the company's CEO since 2013, did not answer questions emailed to him, including why the company closed and how many employees were laid off.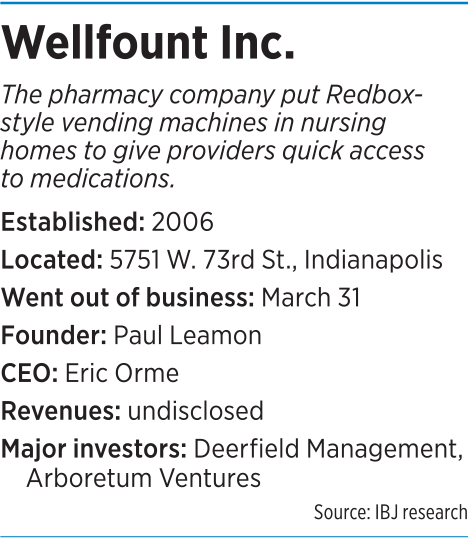 In a brief response, he said the company was "in the middle of multiple transactions right now, which will transition its business divisions to other entities." He did not name the other entities or provide any other details.
At least one vendor claims Wellfount left it in the lurch.
Alsip, Illinois-based Integrated Medical Systems Inc. sued Wellfount in federal court last month, alleging the Indianapolis company owed it $321,795 for unpaid rent on its infusion pumps, which are devices that deliver medications into a patient's body.
It's not clear whether lenders or investors have recouped any of their funds. Wellfount had raised $49.5 million since 2010 by selling debt, equity and other securities, according to FormDs.com, which tracks U.S. Securities and Exchange Commission filings.
Big idea
The company was founded in 2006 by Paul Leamon, an Indiana University graduate and former Wachovia investment banker, whose goal was to offer nursing homes a new, more efficient way to manage medicines.
"Our average patient's taking 12 prescriptions multiple times a day," Leamon told IBJ in 2011. "And there are so many touches in the system. There are roughly 12 different hands that touch the medication before it's administered to the patient. It's a logistical nightmare."
Leamon, who left the company in 2013, is now CEO of Beermiscuous, a Chicago craft beer café. He did not return several calls.
Wellfount's major funders included New York-based Deerfield Management Co., which invested $15 million in 2014.
At the time, it praised Wellfount for using a combination of "technologically sophisticated remote dispensing units with high touch, on-site customer service."
"We believe that Wellfount's unique approach to the delivery of long-term-care pharmacy services enables the company to improve service levels, enhance patient safety and reduce costs in a very differentiated way," Leslie Henshaw, a partner at Deerfield Management, said in written remarks when the company announced its investment.
At the time, Wellfount had 150 employees, revenue of about $20 million and nursing-home customers in eight states. It had plans to expand dramatically into other states and related sectors, including home health and hospice care, with a goal to double its revenue within a year or two.
At its headquarters in Indianapolis, the company used software to monitor each of its vending machines and send out new inventory before each nursing home needed it.
The goal was to save nurses time and energy, so they could focus on patient care, instead of handling medications all day long.
It also promised to save nursing homes money by cutting back on the number of hands needed to handle medications and by reducing the overstocking that can lead health care providers to throw away medicines when they expire.
Employee grumbling
Wellfount's pharmacy dispensers were secure machines, each about the size of a large refrigerator.
The fulfillment process started when a nurse or doctor typed an order into an electronic system. It then went to an offsite Wellfount pharmacist, who would review and approve it.
The machine in the nursing home then would dispense the dose, along with records for the nursing staff and billing office.
The systems were designed by Talyst Partners of Switzerland. Wellfount called its system TED Rx, short for Technology Enabled Dispensing.
"In our ever-changing health-care environment, the TED Rx solution can lead to reduced costs, happier staff and well-cared-for patients," according to a Wellfount video.
According to employee reviews on various web sites, including Glassdoor, Kununu and Indeed, the company had numerous operating problems.
"Business is unable to maintain great customer service and it is impacting ability to maintain contracts," one person wrote.
"Nurses are always calling, complaining about how the machines don't work or they have been waiting on a delivery for days," another person wrote.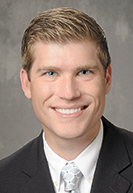 Hertig
If true, that could be a huge problem for a pharmacy operation, said John Hertig, an associate professor of pharmacy practice at Butler University.
"When you look at long-term care, the key is really to maintain consistent service delivery without disruption," Hertig said. "And if you don't have a solid operational system, if you can't get drugs there on time, if you can't respond quickly to requests for information, your contracts are going to lapse."
Some nursing homes, like the ones operated by TLC Management, said they were happy with Wellfount's service, which made the abrupt pullout even more puzzling.
"We went with this technology because we wanted to be innovative and give our residents more time with the staff," Gibson said. "We were very satisfied."
The nursing-home chain has since switched to MedScript Long Term Care Pharmacy, based in Noblesville, to provide medicines.•
Please enable JavaScript to view this content.