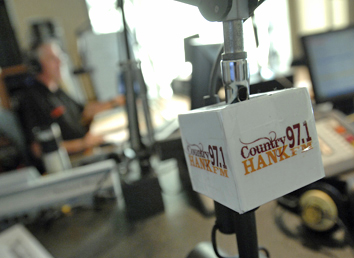 Dave O'Brien, a staple on local morning radio since 1996, has lost his job at WLHK-FM Channel 97.1, where he has been a morning host ever since the country-music station known as Hank FM made its debut in 2005.
Indianapolis-based station owner Emmis Communications Corp. said it notified O'Brien late last week that his contract would not be renewed. Emmis and O'Brien declined comment on the reasons for the split.
"This was a difficult decision," Emmis said Monday in an emailed statement to IBJ. "Dave has been a valued member of the Emmis family for some time. We wish Dave success in his future endeavors. Hank FM will begin a search immediately for a replacement for the station's morning show."
O'Brien, a University of Virginia graduate, started his radio career in 1985 as an on-air host and program director for multiple stations in Virginia.
He began his career in Indianapolis as co-host of the Wank & O'Brien Morning Show with Ed Wenck on WRZX-FM 103.3. He and Wenck continued working as a team until 2010 on several local radio stations, including WNOU-FM 93.1 Radio Now and WENS-FM, which became WLHK in 2005.
O'Brien won three Indiana Broadcaster Association awards for "Best Personality in Indiana."
"I am very proud of my 18 years with Emmis Communications, Indianapolis, including my 13 years with WLHK (97.1 HANK FM)," O'Brien said in a written statement. "I am proud to be exiting as the top-rated Indianapolis country radio morning show with adults 25-54 and the No. 3 overall morning show in the Indianapolis market among adults 25-54."
O'Brien also received five Academy of Country Music nominations for "Large Market Personality of the Year" and three Country Music Association nominations for Large Market Personality of the Year.
"I am looking forward to sleeping in past 3:45 a.m. for the first time in a long time and I am looking forward to my next adventure, whatever that may be," O'Brien said.
Please enable JavaScript to view this content.