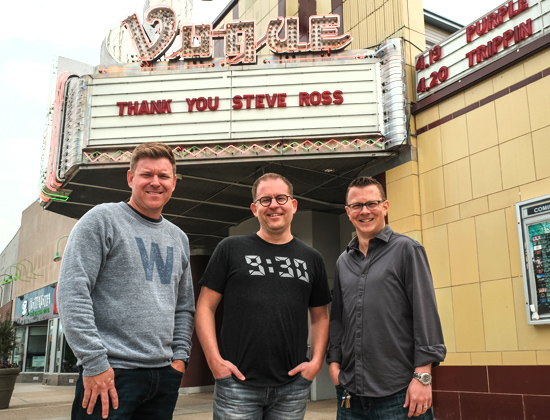 Three local tech executives have purchased the storied Vogue nightclub business in Broad Ripple, and the new owners plan to continue featuring live music at the 81-year-old venue while branching out into new types of programming.
The three purchased the business from Steve Ross, who had owned it since 1986.
"We're interested in ways to make it more community-based, with more community activity," said Eric Tobias, who acquired The Vogue along with partners Scott Kraege and Andrew Davis.
Ross, who turns 65 this month, listed the business for sale late last year.
"It's time to turn the reins to some younger guys," Ross said, adding that as he ages it's been harder to stay in tune with customers' tastes. "The Vogue has so much potential, and these guys have what it takes to do that."
Tobias, 42, is a co-founder and partner at High Alpha, an Indianapolis-based venture studio that guides and nourishes startups. Kraege, 43, is the co-founder and former CEO of Mobi Wireless Management LLC, a Zionsville-based tech firm that was acquired in December by New Jersey-based Tangoe Inc. Davis, 40, is Mobi's former chief financial officer.
The Vogue occupies the 7,401-square-foot former theater building with an old-fashioned movie marquee at 6259 N. College Ave., which is owned independently. The three new owners of the Vogue entertainment business assumed a recently signed 10-year lease for the space from Ross. Tobias declined to disclose financial details.
The Vogue opened as Indianapolis' first air-conditioned movie theater in 1938, fell on hard times in the 1970s and operated for a short time as an X-rated theater. It reopened as a nightclub in 1977 and has hosted many well-known performers over the years, including Bo Diddley, Johnny Cash, Willie Nelson, the Ramones, Bonnie Raitt, Ice Cube, Pink, Cheap Trick, Wilco, Rihanna and the Dave Matthews Band.
The venue hosts about three events per week, including live music and dance parties.
Its new owners plan to expand The Vogue's schedule to five or six events per week.
"Our intent is to really double down on live music," Tobias said. "We think there's an appetite for that in Indianapolis, and we think we've got the venue to do it."
But Tobias and his partners also want to bring an array of other events to The Vogue, including author events, live podcast events, movie nights and esports—video game competitions that take place in front of a live audience.
The plan is fill about half of The Vogue's schedule with live music, Tobias said, with a combination of dance parties and alternative programming making up the other half.
The Vogue already has begun booking some alternative events, including a reading in June by an author that Tobias declined to name. That event has not yet been added to The Vogue's online calendar.
The Vogue's existing staff of about 25 people will stay in place, Tobias said. "We feel really good about the team, have no intention of changing any of them."
Taking the long view, Tobias said enhancing The Vogue's programming should help him and his partners as they continue their "day jobs" in the tech industry. "This is really a side project that we believe is accretive to the work we do on a daily basis."
Local tech companies often hire talent from outside of the area, so having a strong array of cultural and entertainment offerings helps make Indianapolis a more attractive destination for potential recruits, Tobias said.
Correction: An earlier version of this story incorrectly said that the new owners of the Vogue entertainment business also purchased the building. It remains independently owned.
Please enable JavaScript to view this content.