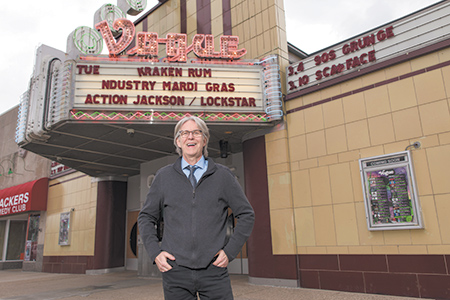 This year, Steve Ross, 62, celebrates three decades as owner of The Vogue, perhaps (after the Central Canal) Broad Ripple's most enduring landmark. But he sees himself not so much the owner of the 900-capacity former movie theater, but rather, its curator.
"The gentleman who opened this place in 1938 as a movie theater, his goal was to entertain people, and he did that for 18 years," Ross said. "I feel that I'm kind of following the same process."
During Ross' tenure, The Vogue has hosted everyone from Johnny Cash to the Ramones to Wendy O. Williams (who wanted to cut up a car with a chainsaw during her set). It's also morphed from a live venue to a purveyor of "dance nights" featuring recorded music to a mostly live venue again.
"The live-music thing has really done a turnabout," Ross said, "which is really cool because that's how we started."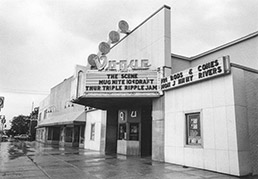 This 1986 photo of The Vogue shows how little the building has changed in the past 30 years. It opened just a decade earlier as a nightclub and live-music venue. (IBJ file photo)
Perhaps the oddest thing about the last three decades is that The Vogue of today is so much like the Vogue of 1986, when Ross bought it from his brother, John, who'd purchased the place in 1977 and turned it into a music venue. Over the years, Ross, whose cramped second-story office overlooks the intersection of Broad Ripple and College avenues, has watched the Village transform itself while his club stayed mostly the same.
Alan Hague, a lifetime Broad Ripple resident and publisher of the Broad Ripple Gazette, thinks The Vogue's constancy benefits the neighborhood.
"In my opinion, it's a major landmark," Hague said. "Like Cinderella's castle at Disneyland. It's something that's different, something that means something, something that's flashy. It's something distinctive that draws people into Broad Ripple."
It's also one of the last tangible connections to the area's quirky past. Ross, for his part, thinks Mass Ave and Fountain Square are undergoing the same changes Broad Ripple faced decades ago—the replacement of oddball neighborhood merchants with standard-issue condos, restaurants and shops.
"All those really cool, artsy stores and art galleries are getting exchanged for nightclubs and bars," he said.
The Vogue opened as a movie palace, enjoying a long run before falling on hard times in the 1970s. After it had a brief stint as an X-rated theater, John Ross turned it into a music venue. Steve Ross bought out his brother just in time to face the first of several financial travails.
"We bought the club, and literally months after that, [Union Station] opened," he recalled. "Everybody went downtown."
The crowds quickly returned, in part because Broad Ripple morphed into a bar-centric party district. The Vogue catered to that scene during the early years of the 21st century by offering regular "dance parties" featuring recorded music. The trend lost steam a few years ago, and now the venue's back to hosting live acts three or four times a week.
There have been other struggles. In 2010, a messy divorce and the failure of a club he purchased in Cincinnati forced Ross to declare personal bankruptcy. He managed to keep The Vogue thanks to its rock-steady flow of customers (and money)—something that was by no means a lock, given the difficulty of managing a music venue.
'What it takes'
"A place like The Vogue is very unusual in today's marketplace," said Steve Delaney, first vice president at CBRE. "The fact that it's survived for 30 years is a compliment to Ross and his ability to reinvent his venue. I think that, over the years, he's been able to discern the public's tastes and bring in the bands they want to see."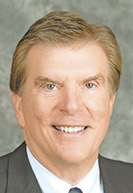 Delaney
Ross, who owns a degree in radio and television from Indiana University, credits his brother, John, with helping him learn the ropes. He purchased his first club, a place in Bloomington called The Bluebird, in 1981. To get him ready, John had Steve put in six months at The Vogue, doing everything from covering the door to handling payroll.
Ross learned there are lots of tricks to running a successful venue. For instance, finding acts that are good enough to fill the joint, but not so pricey that no number of ticket sales produces a profit.
"I know what it takes for us to do our shows and what type of advertising we need to get the right volume of people to come in," he said.
And then there's the fine art of making sure you offer not just variety, but the right kind of variety. Smaller venues such as the Mouse Trap and Melody Inn can turn a profit by serving up one particular genre to a smaller cadre of clientele. But for a place like The Vogue, only variety puts enough people in the seats.
"You can't draw from the same small niche all the time," Ross said. "We wouldn't have a classic rock show every night, because it's only going to sell out one or two times."
And, of course, it helps to spend some cash.
"To do it right, it takes a lot of money," Ross said. "For our sound and light system alone, you're looking at $200,000 to $400,000."
Delaney, who recalls watching movies at The Vogue as a kid, said Broad Ripple's current emphasis on condo and apartment construction bodes well for the club. More residents means more potential customers.
Where to go from here
There's just one potential fly in the ointment. With new zoning rules that allow for the construction of three-story structures all along Broad Ripple and College avenues, could The Vogue get swept away in a redevelopment scheme?
"It will depend on how long a term [Ross] has left on his lease and if he has options," Delaney said. "Based on his success, I'm sure he'll stay there as long as he can. And if he has options, he'll exercise them and stay. From that perspective, he kind of controls the destiny of that building."
Ross said his office does, indeed, receive occasional exploratory queries about the space.
"We get random, 'Hey, do you want to sell?' calls," he said. "My secretary will get them and ask me, 'Are we selling?' and I say no."
He can make such flat rejections because, even though he doesn't own his building, he holds an extremely long lease.
While nothing would please Ross more than to see The Vogue go on forever, he doesn't see himself marking his 40th anniversary as owner. In the old days, he owned The Vogue and four other clubs, including the long-gone Patio (a former Broad Ripple fixture), two Bloomington outfits and the ill-fated Cincinnati operation. When he wasn't on the road, driving to his various venues, he was working late into the night.
"Probably for the first seven or eight years I was in this business, I worked pretty much noon to 4 or 5 a.m., five or six days a week," Ross said.
Not anymore. These days he owns just The Vogue, and he puts in maybe 25 to 30 hours weekly. And he doesn't see that going on forever. He'd like to quit someday, but he wants to find the right person to take over. These days, finding the skill set for managing a quirky, midsize, live-music venue is about as tough as consistently locating crowd-pleasing, decently priced musical acts. Harder, in fact.
"I don't want to sell to just anybody," Ross said. "It's got to be somebody I respect, who understands the market, who brings the same approach as I do, ethically and business-wise. Because there are plenty of people out there who have cash but have no idea how to run a club. I could sell to one of those and make the money, but that's not what I want."•
Please enable JavaScript to view this content.