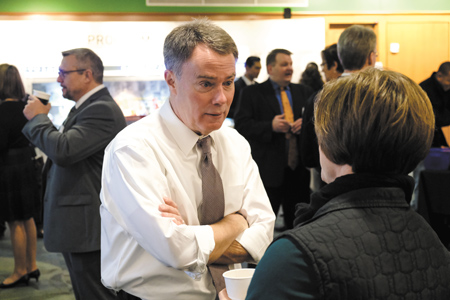 Democratic Mayor Joe Hogsett outraised his top Republican challenger, state Sen. Jim Merritt, by a nearly three-to-one margin in the first quarter of the year, according to new campaign finance reports.
Hogsett pulled in $769,022 from the beginning of January to April 12, while Merritt raised $266,939 during that period. Hogsett's take gives the Democrat an even greater fundraising edge for the fall municipal election when the two will likely compete head to head, assuming Merritt is successful in the May primary election for Republicans.
With the first-quarter results, Hogsett's cash-on-hand total is $3.88 million, which the Hogsett campaign says is a "record cash-on-hand figure for any mayoral pre-primary filling in the history of Indianapolis."
Meanwhile, Merritt's cash-on-hand figure is $223,960. That's substantially less than the Republican challenger raised in roughly the same amount of time in 2015, when then-candidate Chuck Brewer raised $671,730 from Jan. 1, 2015, to April 1, 2015.
However, Merritt campaign officials say they are pleased with the fundraising haul, and noted that Merritt has been working in the Indiana Legislature during this period as a state senator. The part-time Legislature is in session from January to roughly the end of April. 
After it wraps up, Merritt will be able to focus more on fundraising, officials say.
"Jim is very pleased with the report," Merritt spokeswoman April Gregory told IBJ. "Most of that money has been unsolicited, and Jim has obviously been very hard working in session right now for his constituents. We've only been at it for three months. When session is over, he'll be campaigning full time and raising money full time."
He is hoping to raise between $1 and $2 million for the entire campaign, Gregory said.
"This campaign is about more than just money, and nowadays it takes more than just money to win an election," Gregory said. "We will be well-funded, and we'll have a well-run grassroots strategy."
The Hogsett campaign said the mayor's fundraising gain was the result of support from grassroots activists. Two-thirds of the contributions during the reporting period were for less than $200, officials said.
"From opening our first field offices to putting staff on the ground, to recruiting hundreds of volunteers and knocking on thousands of doors, it is clear that this campaign and our grassroots supporters are taking nothing for granted," spokeswoman Heather Sager said in a media statement.
Please enable JavaScript to view this content.