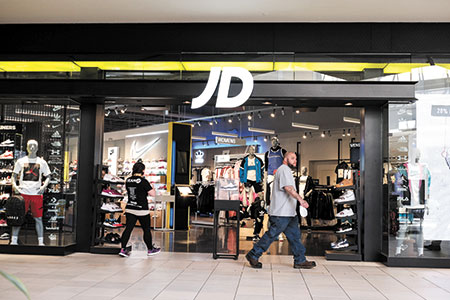 England-based JD Sports Fashion Plc entered the U.S. market in June with its $558 million acquisition of Indianapolis-based Finish Line and says it likes what it sees so far.
And outsiders familiar with Finish Line say the new ownership could freshen a brand that has grown a bit stale.
But it's too early to know how successful JD will be in winning U.S. customers. The company hasn't made widespread changes to Finish Line stores yet, nor has it done much to promote the JD name here.
As of now, JD has only six stores in the United States, including one at Greenwood Park Mall that was converted from a Finish Line. That means 529 of the company's stand-alone stores, and another 349 locations within Macy's department stores, are still operating under the Finish Line name.
And the company hasn't yet launched a U.S.-focused JD website—that's expected to happen next month.
"It is too early to draw any conclusions from this limited trial over a wide geography without the back-up of the trading website which will be launched later in the spring," JD Executive Chairman Peter Cowgill said in the company's year-end earnings report, which was released April 16.
Cowgill also said in the report that the company is "encouraged with the early results and we are using the learnings to further refine our proposition" in the United States.
To date, JD has been fairly tight-lipped about its plans for Finish Line.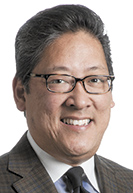 Sato
In July, about a month after the acquisition, a trio of Finish Line executives—including then-CEO Sam Sato—said JD planned to convert about 50 stores to the JD name over the next 10 months.
But a JD spokesman would not comment to IBJ this week about why only six U.S. stores carry the JD name. "There will be a small number of conversions later in the year with the focus for JD on developing new locations in major metropolitan areas," the spokesman said in an email.
Sato left Finish Line at the end of last year, and the operation is now jointly run by Finish Line's longtime chief financial officer and JD's head of retail. The JD spokesman would not say whether other executives have left nor whether workforce reductions might be ahead.
About 650 people work at Finish Line's Indianapolis headquarters, with another 450 warehouse employees. Finish Line also has an office in Boulder, Colorado, that focuses on digital operations.
"Finish Line will continue to run independently with the team in Indianapolis currently supported by nine people from JD in the U.K.," the spokesman wrote.
No changes are planned to Finish Line's in-store Macy's locations, both JD and Macy's said.
A go-slow strategy?
Jonathan Pritchard, a retail analyst with England-based financial firm Peel Hunt, predicted that the conversion from the Finish Line name to the JD name will take some time.
Between new-store openings and Finish Line conversions, he said, JD could have 100 to 200 U.S. stores within three years or so. Eventually, he predicted, all U.S. stores will operate under the JD brand, but that might take 15 years. "I think this is a long way out."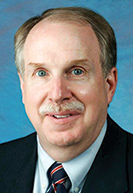 McQuiston
A gradual entrance into the U.S. market could be a smart strategy, some observers say.
"They may be getting a feeling for the American market, the American consumer," said Dan McQuiston, an associate professor of marketing at Butler University. "All in all, that's not a bad thing."
In contrast, McQuiston said, companies that make a bold entrance without understanding the local market can set themselves up for failure.
Making too many changes too fast can also drive away existing employees who could help the acquiring company understand its new market, McQuiston said.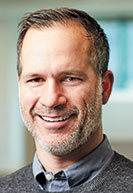 Weiss
David Weiss, a partner at Chicago-based retail consultant McMillan Doolittle, said JD is wise to wait until its U.S. website launch before promoting the JD name here.
So-called "sneakerheads"—consumers who love and collect sneakers—are an important target audience for shoe brands as well as for retailers like JD, Weiss said. And having a robust online presence is a vital means of connecting with these customers.
"The sneaker culture is one that lives online," Weiss said. "Winning over that crowd is key."
Despite keeping a low U.S. profile so far, JD is a well-known entity overseas.
It opened its first store in 1981, and now has more than 2,400 operating under various names in Europe, Asia, Australia and the United States. Most sell sports fashion—a mix of footwear and casual clothing from Nike, Adidas, Puma, The North Face and other brands—but more than 250 stores sell outdoor gear and apparel.
JD is "probably the hottest fascia in global sports retail" and "very much the market leader in what they do in the U.K.," Pritchard said.
The company went international in 2007 with the acquisition of a France-based retailer, and has accelerated its efforts since then.
"Their foot went to the floor about five or six years ago" with regards to international expansion, Pritchard said. "What was a strong local player has become a strong regional player has become a strong global player."
JD has typically grown internationally by making small acquisitions in a new market and then opening additional stores, Pritchard said. The retailer took a different approach in the United States, he said—the Finish Line acquisition is its largest by far. "It was looked upon as a big, big stepping stone for them."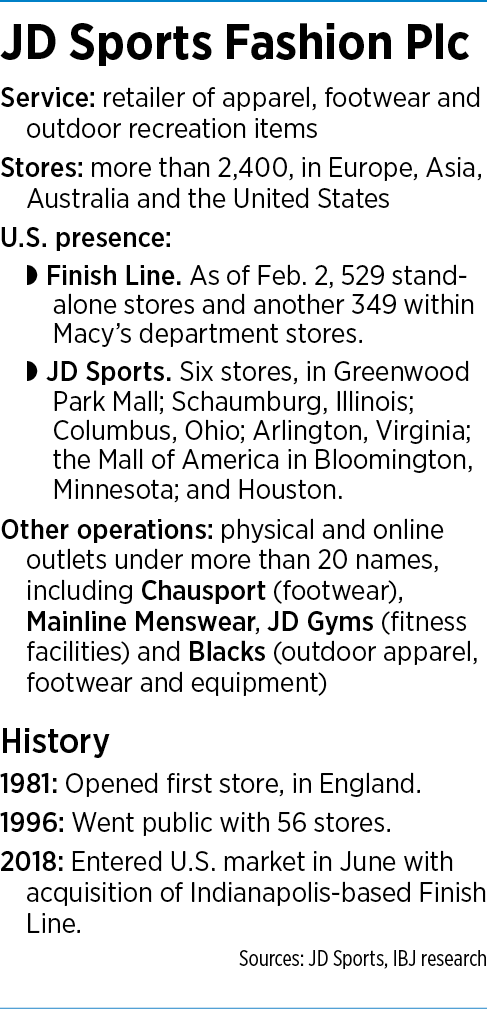 Learning the market
But success here is not a given, and JD faces both challenges and opportunities as it seeks to gain a foothold.
"Retail behavior is just different across countries," Butler's McQuiston said. "They're going to have to understand, really, how does the American consumer buy goods?"
American consumers generally expect a higher level of customer service than do consumers in Europe, he said. They are also more likely to purchase items online.
Another difference JD will have to tackle is that its stores offer a mix of shoes and apparel, and it intends to introduce this concept at its U.S. locations—starting with about 70 Finish Line stores in time for back-to-school sales, according to its recent earnings report.
Finish Line has traditionally been footwear-focused, with about 94% of its revenue from shoes, Pritchard said. JD's U.K. stores make about half their revenue from shoes and half from clothing. At the company's stores elsewhere in Europe, about 75% of revenue comes from shoes and 25% from clothing.
"Clearly, when clothing is only 6% of sales … it's a small amount of your business's mindset," Pritchard said.
A big topic of conversation among analysts right now, he said, is how successful JD will be at mixing shoes and apparel at its U.S. stores, especially since U.S. consumers don't typically buy shoes and apparel at the same time. He predicted that the U.S. stores will eventually make two-thirds of their revenue from shoes and the remaining third from apparel.
JD is also more fashion-focused than Finish Line, which has traditionally concentrated on performance-oriented merchandise like sports-specific shoes and Under Armour attire, Weiss said.
A fresh outlook
Fashion trends usually hit Europe before they make it to the U.S., Weiss said, which should help JD bolster its fashion-focused image among U.S. consumers. It should also help the company compete with rival Foot Locker, which is based in New York City and has more than 3,200 stores in 27 countries.
JD should be able to refresh the experience for shoppers who are used to Finish Line stores, Pritchard said.
While Finish Line has a strong online presence and good management, he said, its merchandising efforts lost their edge in the past six or seven years. As a result, Finish Line saw a reduction in the number of exclusive products it was able to secure from its vendors.
In contrast, JD is known for providing a strong in-store experience. And about half of what it carries is exclusive to the chain, which Pritchard said is a "massive" amount of custom products.
The ability to find unique items at JD stores should appeal to U.S. customers who already know the international brands it carries, even if they don't know the JD name, Pritchard said.
JD is also "phenomenal" at collecting sales data, mining that data and translating it into concrete advice individual stores can use to help boost their sales, he said.•
Please enable JavaScript to view this content.