Holladay Properties' AmeriPlex office and industrial park near Indianapolis International Airport, the South Bend-based firm's first central Indiana project, is also arguably still its most lucrative and best known after nearly 25 years.
The 1,500-acre site—once just fields, cows and unevenly paved roads—has been built out over the past two decades to include more than 15 million square feet of warehousing, manufacturing, office, retail and restaurant space, with more in the works.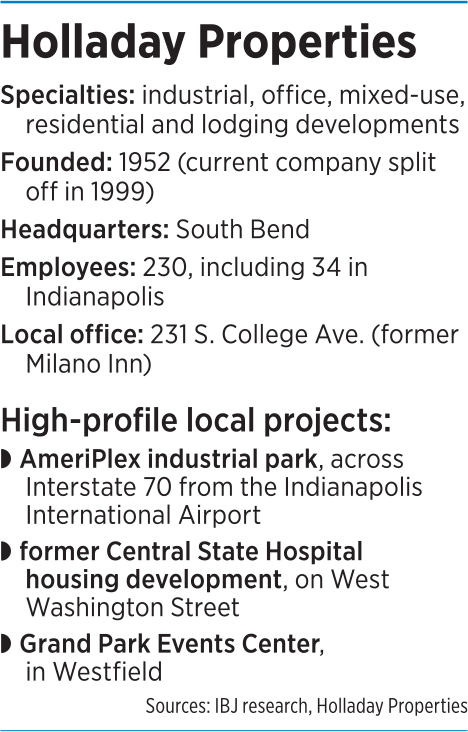 But company leaders aren't content just mining that niche. Holladay over the years has launched a broad range of residential and commercial projects in Marion and Hamilton counties, from the redevelopment of the Milano Inn site downtown to the Grand Park Events Center in Westfield—billed as the largest indoor soccer facility in the world.
"I don't think of [AmeriPlex] as our legacy," Holladay partner Chris Wilkes said. "Because of its success, we've been able to get into a lot of other projects. It really served as our doorway into this whole new world."
Privately owned Holladay Properties was founded in 1952 and now has 230 employees and 18 offices spread across the United States. (That's not including the Washington, D.C.-based Holladay Corp., which split off into a separate company in the late 1990s.)
The company's Indianapolis office, which moved in mid-April from AmeriPlex to the Milano Inn property, is the company's second-biggest, with 34 employees.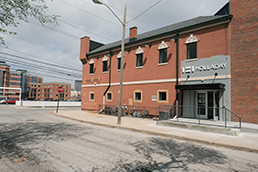 South Bend-based Holladay Properties has made the former Milano Inn its Indianapolis headquarters and plans to develop the 1.2-acre site into apartments, retail, restaurant and office space. (Photo courtesy of Holladay Properties)
"Indianapolis is really a natural fit for an office for us, because of all the opportunities it presents in terms of development, not to mention that it has a relatively central location for our other offices," Holladay CEO John Phair said.
Holladay in November 2017 paid $2.3 million for the former Milano Inn at 231 S. College Ave. and an adjacent property from the LaGrotte family.
About a year earlier, the family closed the Milano Inn after 82 years in business.
The properties are spread across about 1.2 acres. Holladay plans to use the Milano Inn building for restaurant, retail and office space while developing hundreds of market-rate apartments and a parking garage on adjacent property.
Work is underway on the first phase of the project—renovations to the restaurant building, which boasts 9,000 square feet on the ground floor and 6,200 square feet on the upper floor.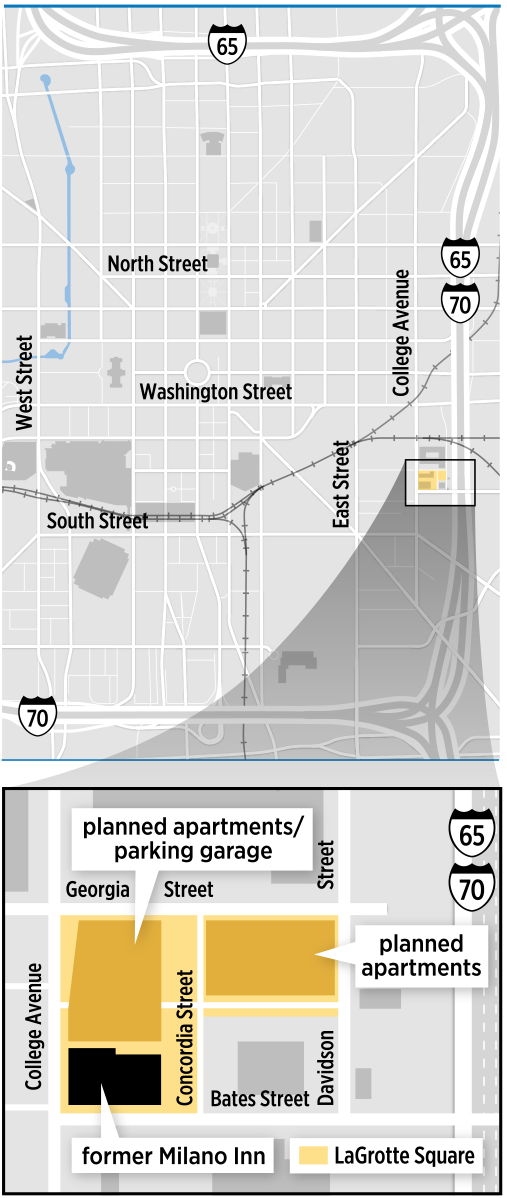 Holladay is occupying part of the ground floor and the entire second level—it wrapped up those renovations in April. The rest of the space is expected to be finished by the end of this year.
The Barre Code, a specialty workout studio, has agreed to lease about 3,600 square feet on the first floor and plans to open later this year.
The redevelopment cost for the building—including acquiring all the LaGrotte Square land—is expected to be $4.5 million.
The company is finalizing plans for the apartment component and expects to start construction later this year or in early 2020, with completion in mid-2021.
"This will help shape the neighborhood" for years, Phair said of LaGrotte Square.
Wilkes, Holladay's senior vice president of development, said the new office location in the center of the city will help the company be more engaged with the community.
Diverse projects
Over the years, Holladay has shown it can develop more than one type of real estate well, industry experts say.
"I think they're trying to let the market know they can do different product types, and they're not pigeonholed just because they had a massive project to start out, with AmeriPlex," said Bill Ehret, principal and managing director of the Indianapolis office of Avison Young, a commercial real estate brokerage firm.
"They've got a good team, and they're giving a lot of focus and attention to doing things the right way."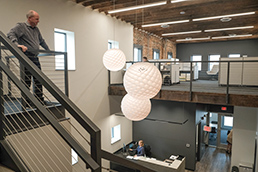 Holladay in November 2017 paid $2.3 million for the former Milano Inn at 231 S. College Ave. and an adjacent property from the LaGrotte family. (Photo courtesy of Holladay Properties)
Wilkes, who joined Holladay in 2002, said the company sees Indianapolis as one of its most important markets.
"We're really looking to take our development expertise and platform and apply that in other locations around the market," he said.
The company's biggest development sector in central Indiana is industrial, followed by office. But it also has delved into a range of property types—including hotels and residential.
It's been especially aggressive in Westfield, where it developed the Grand Park Events Center on the Grand Park Sports Campus and a 93-room Hampton Inn, and is developing the 300-acre NorthPoint business park.
At buildout, NorthPoint is expected to boast 2.5 million square feet of office, advanced manufacturing and logistics space.
One of Holladay's most unique central Indiana projects is at the former Central State Hospital site on West Washington Street—an area of the city sorely in need of investment.
Holladay has an elaborate vision for the campus, including more than 260 single-family homes and town houses, market-rate and affordable apartments, a new horse-patrol facility for the Indianapolis Metropolitan Police Department, and more than 400,000 square feet of mixed-use commercial space.
The developer began the 150-acre project in 2015, and has completed two projects—The Villages at Central State (22 single-family houses, with Indianapolis-based Compendium Group) and 58 Bahr (61 single-family houses and town houses, with Columbus, Ohio-based M/I Homes). All houses in The Villages are sold; about half in 58 Bahr have been sold.
A $14 million apartment complex is expected to break ground this fall and be finished in a year to 18 months.
The Central State project is bringing the first market-rate, single-family homes to the neighborhood in perhaps 40 years. Holladay hopes to have much of the project done by late 2021.
Ian Nicolini, executive director of Develop Indy, called Holladay a key partner with the city, especially in developing housing that meets the needs of the city's workforce.
"They put a lot of focus on sustainability in their projects, and you don't often see that from developers at that scale. Their strategy seems to be one focused on … meeting a lot of the development needs in Indianapolis," he said.
"If you look at … Indianapolis, the urban infill and redevelopment opportunities are really exciting. There's opportunities [all over], and that includes a lot of industrial development. Holladay is taking an approach that focuses on diversifying its options."
Strong start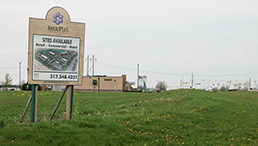 Holladay hopes to develop two hotels on parts of the approximately 100 acres of undeveloped land at the 1,500-acre AmeriPlex industrial park near Indianapolis International Airport. (IBJ photo/Eric Learned)
Although AmeriPlex has turned into an unabashed success, industrial real estate brokers say it looked risky at inception.
"I think they saw more value in the airport than local developers at that time," said Mark Writt, first vice president at Los Angeles-based CBRE's Indianapolis office. "They took a substantial risk in their acquisition of that property and assembling that. There was nothing there—nothing—and they really made it something."
Wilkes said company officials "still have things we'd like to do out there," including building out the remaining 100 acres of undeveloped land.
Those plans including two more hotels, on top of the four Holladay already has developed in partnership with Indianapolis-based Schahet Hotels.
Phair said AmeriPlex's success has exceeded even the expectations of Holladay leadership.
"At the time, you had to scratch your head and wonder a little bit," he said. "But, you know, we did believe we could pull it off and it has worked out."•
Please enable JavaScript to view this content.