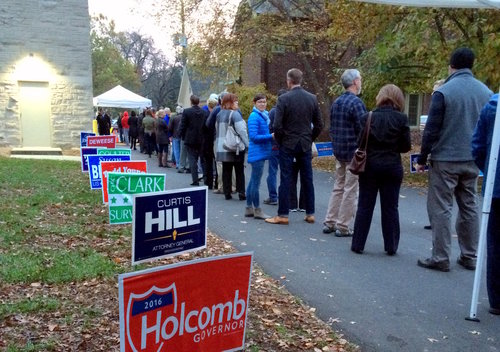 Tuesday's primary election will mark the first time that Marion County voters will be able to cast their ballots at any polling place in the county, as opposed to a single location determined by residence.
Following a unanimous vote by the Indianapolis City-County Council in December, registered voters now can use any one of 277 designated "vote centers" in the county. It's a shift from traditional neighborhood polling places that were assigned to voters depending on where they lived.
Marion County is joining 37 other Indiana counties that already have vote centers, according to the Marion County Election Board. The switch from neighborhood precincts to vote centers was first approved by a 2018 bipartisan decision by the board.
Vote centers will "revolutionize how we vote in Marion County for the foreseeable future," Marion County Clerk Myla Eldridge said late last year.
"No longer will a voter have to vote using a provisional ballot because they showed up to the wrong polling place on Election Day," Eldridge said at the time. "Citizens can vote near home, work, schools, daycare or any other location that is convenient."
Most of the vote centers are previous polling places. Voters can access a list of nearby vote centers—or see the entire list of centers—at www.indyvotes.org.
Since vote centers are new, Russell Hollis, deputy director of the Marion County Clerk's Office, told IBJ that he expects a lot of voters "will go to the polling place they've always gone to."
"They can still do that," he said.
The polling locations will now use electronic poll books, instead of traditional paper books, to check people in. The electronic books will be updated in real time,
Voters will scan their IDs into "poll pads," which are iPads that use wireless technology, to access the voter rolls. 
Voters will also use touch-screen technology to cast their ballots, as opposed to marking paper ballots.
"We are expecting some folks to be a little surprised in terms of seeing the [touch screen]," Hollis said. "It's going to be a lot faster."
Hollis said one of the benefits of vote centers is that if there is a long line at a polling place, voters can go to another one since there are no longer neighborhood assignments.
"We do expect folks to ask our poll workers if they can go somewhere else to vote," Hollis said. "They'll actually get a 'yes' this year, instead of a 'no.'"
Please enable JavaScript to view this content.