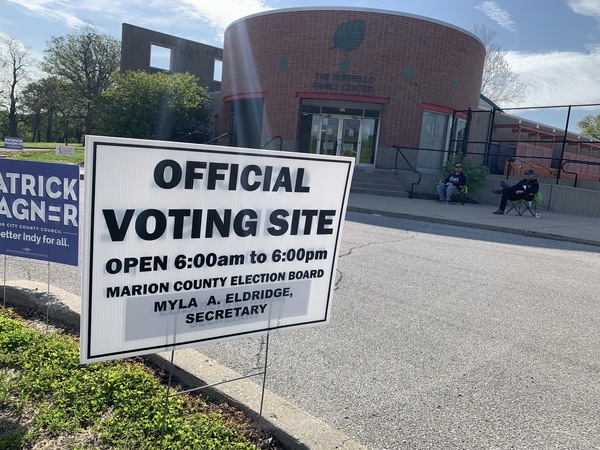 Check back often for updates.
8:17 p.m. Hogsett, Merritt declare victory in their Indy primaries
Democratic incumbent Joe Hogsett and Republican Jim Merritt have declared victory in securing their respective party nominations in the Indianapolis mayoral race.
 
With 30% of the vote in, Hogsett, who has served as mayor since 2016, had 83% of the vote. 
 
His is opponent Denise Hatch, a retired Center Township resident, had 17%.
 
"We have accomplished so much in just a few short years," Hogsett said in a statement. "Tonight we take another step toward four more."
 
Hogsett outlined a list of accomplishments in the statement: passing back-to-back balanced budgets after the city faced a financial deficit; a $400 million infrastructure plan; and tackling public safety by spending more to expand IMPD, "investing in programs that target the root causes of violent crime," and returning the city to beat policing.
Merritt was leading his opponents—Christopher Moore and Felipe Rios—with 81% of the vote.
8:09 p.m. Brainard, Fadness, Jensen win
Carmel Mayor Jim Brainard and Fishers Mayor Scott Fadness have won their GOP primaries, all but sealing their re-election bids in a communities dominated by Republicans.
In Noblesville, where Mayor John Distlear, opted not to seek re-election, Chris Jensen topped three other candidates in that city's GOP mayoral primary.
Here are the results:
Carmel
Brainard: 56%
Glynn: 44%
Fishers
Day: 33%
Fadness: 67%
Noblesville:
Jensen: 46%
Kozicki: 19%
Corbett: 31%
Baker: 3%
7:53 p.m. Hogsett, Merritt winning easily, as expected
Early results show incumbent Mayor Joe Hogsett is well on his way to earning the Democratic nomination for mayor, with 83% of the vote. That's with results from 30% of the county's vote centers (previously called precincts, before voters could choose any location).
Meanwhile in the Republican primary, early results show state Sen. Jim Merritt with 81% of the GOP vote as he prepares to challenge Hogsett.
Hogsett was facing challenger Denise Paul Hatch, a retired Center Township resident, who has 17 percent of the vote. Merritt was facing Christopher Moore, a dump truck driver who had 16%, and Felipe Rios, a minister, who had 3%, with 30% of vote centers reporting.
7:43 p.m. Brainard, Fadness, Jensen leading with more than half of precincts reporting
Here are Hamilton County results with 114 out of 200 precincts reporting:
 
Jim Brainard: 55 percent
Fred Glynn: 45 percent
 
Noblesville:
Vince Baker: 3 percent
Mike Corbett: 32 percent
Chris Jensen: 45 percent
Julie Kozicki: 20 percent
 
Fishers: 
Logan Day: 36 percent
Scott Fadness: 64 percent
7:08 p.m. Early voting results in HamCo
Hamilton County has posted results from the 7,834 votes cast early in person, by absentee vote and by traveling board. Here's what those totals show for the Republican primary in several mayoral races. Remember, these don't include any votes cast today.
Carmel
Incumbent Jim Brainard: 54%  
Fred Glynn: 46%
 
Fishers
Incumbent Scott Fadness: 61%
Logan Day: 39%
 
Noblesville (no incumbent)
Chris Jensen: 52%
Mike Corbett: 29%
Julia Kozicki: 18%
Vince Baker: 2%
6:40 p.m. Relatively smooth so far
The city's first election with vote centers went relatively smoothly, said Russell Hollis, deputy director of the Marion County Election Board.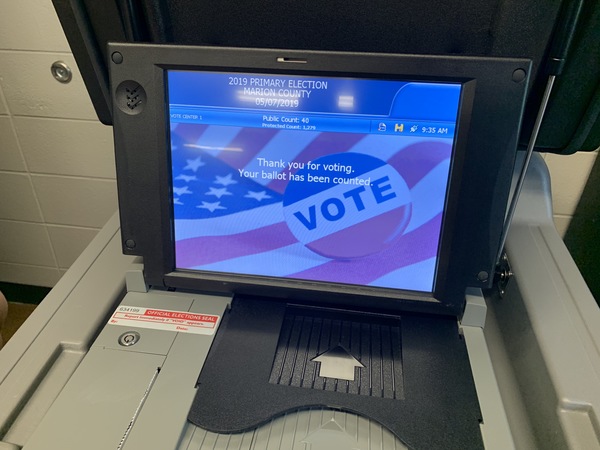 Hollis said some election workers at vote enters had trouble entering in the proper election codes into the voting machines before the day started but the issues were resolved around 6 a.m., when polls opened.
 
"In order to have the machine in voting mode, you have to enter a secure code for the machine to get to that point," Hollis said. "Most of that was resolved by 6 am. That was the biggest hurdle."
 
There was also a power outage at Ben Davis High School in Wayne Township, where voters in that township had a school referendum on the ballot for Wayne Township Schools.
 
But Russell said that "did not affect voting at all."
 
"Our machines and equipment are battery operated," Hollis said. "Once the power outage occurred, the battery power immediately kicked in and we sent new equipment out there just in case."
6 p.m.: Polls close across central Indiana
The primary election season in central Indiana is officially closed, and with light turnout expected in Marion County, results will likely come quickly.
Incumbent Joe Hogsett is expected to win the Democratic nomination to seek re-election easily against challenger Denise Paul Hatch, a retired Center Township resident.
On Tuesday, Hogsett was making the rounds, checking in with voters and campaigning for local Democrats.
Polls are almost closed, but Mayor Joe still had time to support @Kristin4Indy this afternoon!

There's 25 mins left to vote today, but the good news is that you're already close to a polling place. Remember, you can vote anywhere in Marion County.#WeNeedJoe #FourMoreYears pic.twitter.com/UjLc1xDb2s

— Mayor Joe for Indy (@MayorJoeForIndy) May 7, 2019
In the Republican primary, state Sen. Jim Merritt was expected to win the GOP nomination in the mayor's race easily over Christopher Moore, a dump truck driver, and Felipe Rios, a minister. Merritt voted this morning at a Lawrence North High School precinct.
Glad to join @MerrittForMayor as he cast his vote @LNHSwildcats this morning for @Jim_Merritt for Mayor and @mike_mcquillen for @IndyCouncil @IndyCouncilGOP @IndyGOP pic.twitter.com/U8QGSxsumb

— Michael McQuillen (@mike_mcquillen) May 7, 2019
In Hamilton County, turnout was expected to be higher—and the county did see a boost in early voting—due to more interesting races.
In Noblesville, four Republicans are vying to replace outgoing four-term Mayor John Ditslear. The candidates are City Councilor Chris Jensen, former school board member and lawyer Julia Kozicki, Hamilton County Media Group owner Mike Corbett and Noblesville urban forester Vince Baker.
In Carmel, Hamilton County Councilor Fred Glynn is challenging Mayor Jim Brainard. The race has attracted attention as Glynn has criticized Brainard's spending, while another elected official has accused Brainard of harassing her. Brainard argues the city's investments have helped it grow and thrive, and he has denied the harassment claims.
In Fishers, former Save the Train spokesman Logan Day is running against Mayor Scott Fadness. Day argues the city is changing too fast, while Fadness describes the changes as progress.
Please enable JavaScript to view this content.