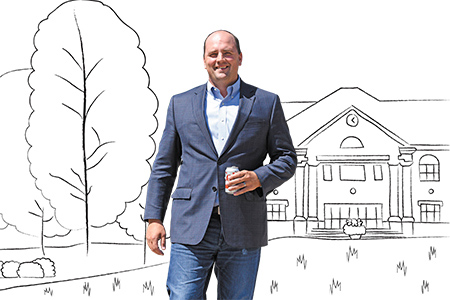 Fishers Mayor Scott Fadness handedly defeated his primary opponent Logan Day in Fishers Republican primary for mayor.
Fadness collected 67% of the vote (6,057 votes), while Day received just 33% (2,941 votes).
Fadness, who is serving as Fishers first mayor after the town transitioned to a city in 2014, will represent Republicans on the Nov. 5 municipal election ballot. So far, no Democrats have filed to run against him.
He called Tuesday's primary win is vindication and endorsement he and his team are leading the city in the right direction.
"It really means a lot," he said. "I feel pretty good." 
He said he and his team will continue to work hard for 100 percent of the residents to make sure they feel like the city's vision is a collective vision and one that addresses the needs and concerns of everyone.
Day is best known for serving as the spokesman for Save the Nickel Plate, a grassroots, nonprofit organization that formed when Fadness, 37, and other Hamilton County leaders announced in 2017 they would convert the Nickel Plate Railroad into a trail. 
Until late last year, Day, 27, was an Indianapolis resident. He and his family moved to Fishers in the fall before he decided to run for mayor. Day said he was spending more time in Fishers representing residents in the Nickel Plate debate than he spent at home. 
The political newcomer took issue with the speed at which Fishers has developed under Fadness' term.
In just a few years, the city has built a bustling downtown, IKEA and Top Golf opened and construction began on a 17-acre culinary district.
But not all residents see the change as good. Some believe Fishers is changing to quickly as relics of a simpler time disappear.
Fadness, however, has been a champion for the development and argues Fishers has to continue to adapt and change or it will fall behind.
He's seeking another term to see through a $157 million project by Browning Investments that will continue the transformation of the Nickel Plate District and to see that other areas of town, such as 116th Street and Allisonville Road, get much-needed improvements. 
In contested city council races, incumbents endorsed by Fadness prevailed. Results from those races are listed below (Note: unless otherwise indicated, all candidates are Republican):
Fishers City Clerk 
Jackie Bowen: 34 %
Jennifer Kehl (incumbent): 66% 
Fishers City Council, northeast 
Brad DeReamer (incumbent): 75 %
Tom Grinslade: 25%
Fishers City Council, southeast 
Paula Hughel: 29%
Pete Peterson (incumbent): 71% 
Fishers City Council, at-large (three seats available) 
Rick Block (incumbent): 25%
Cecilia Coble (incumbent): 28%
Gurinder Singh: 19%
Todd Zimmerman (incumbent): 28%
Please enable JavaScript to view this content.