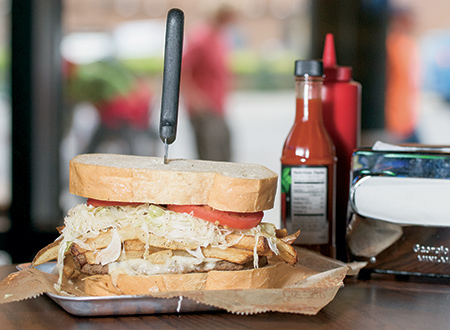 The Primanti Bros. restaurant and bar in Noblesville has closed, less than three years after it opened near Hamilton Town Center in May 2016.
The Pittsburgh-based chain operated in a 5,500-square-foot space at 13871 Cabela Parkway that was built as the company's first Indiana location.
Primanti Bros. has since opened locations in Avon, Greenwood and at Circle Centre in downtown Indianapolis that remain open.
Primanti Bros. is best known for its signature sandwiches, which are topped with french fries and cole slaw. The chain also offers wings, pizza, burgers, salads and beer.
The Noblesville location had a large bar and outdoor patio with enough capacity to seat 230 customers.
The store opened its doors May 18, 2016, with much fanfare, giving away free sandwiches for a year to its first 100 customers, who became lifetime members of the Noblesville 100 Club.
A leasing notice for the space was posted April 24 by New York-based A&G Realty. Primanti Bros. had signed a 10-year lease that runs through May 2026.
"The building is newly constructed and has unmatched presence along a major retail corridor," the advertisement states. "The site is adjacent to Hamilton Town Center, which includes a diverse mix of quality national tenants, and has high visibility along Cabela Parkway."
Founded in 1933, Primanti Bros. operates more than 40 restaurants in Pennsylvania, Ohio, Indiana, Michigan, Maryland, West Virginia and Florida. The chain has more than doubled in size in the past five years.
The company did not return a message seeking comment on the closure.
Please enable JavaScript to view this content.