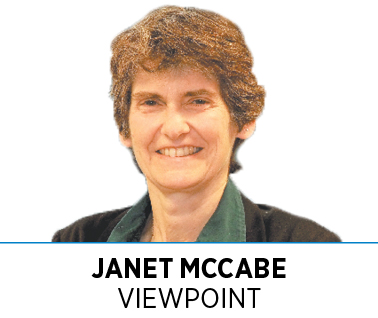 Life expectancy, standard of living, infant mortality and just about every other measure of our global human and economic condition have improved over the past century.
But our progress has come at a cost: a planet choked by emissions from the use of fossil-fuel energy that has made that prosperity possible. The result is a climate changing across the globe and here in Indiana in ways that threaten our prosperity, our health, our economy and our environment.
The frightening forecasts can leave us feeling hopeless, or worse—apathetic. But a new survey by the Environmental Resilience Institute, part of the Grand Challenges program at Indiana University, shows Hoosiers are aware and they care. Eight out of 10 Hoosiers believe climate change is happening. Seventy-five percent support efforts to address its impact. And 65 percent are more concerned about climate change than they were five years ago.
Public engagement on the issue can't come soon enough.
Last fall, the National Oceanic and Atmospheric Administration's National Climate Assessment affirmed the ominous findings of the ongoing Indiana Climate Change Impacts Assessment, a report authored with input from Indiana University, Purdue University and numerous other Midwest-based researchers.
These two studies detail what the buildup of greenhouse gases is doing to human health, ecosystems, water resources, forestry and agriculture in Indiana. Some impacts are positive, such as fewer deaths in the winter due to extreme cold. But effects are predominantly negative. For example, growing-season temperatures are predicted to increase more in the Midwest than in any other region of the United States.
Agriculture is a major economic driver of the Midwest economy. More extreme hot weather, changes in weather patterns (more rain when crops don't need it and less rain when they do), and severe flooding will increasingly threaten crop yields.
New weather patterns will also continue to stress aging infrastructure, as our winter pothole season continues to remind us. Human health will decline due to worsening air quality and extended pollen seasons. New distribution patterns of disease-carrying pests and insects will bring increased sickness and affect our ability to enjoy the outdoors. And the economic costs—such as those seen with spring floods in Iowa and Nebraska—are estimated in the billions of dollars.
Fortunately, scientists are telling us we can still reduce future dangers. In Indiana, wind and solar energy are growing fast and getting cheaper. Electric cars, trucks and buses are the future of transportation. Planting trees that absorb harmful gases also cools our cities and reduces air pollution. Energy efficiency reduces pollution and saves money. These are all actionable solutions that federal and state policies should support. They save taxpayers money, create jobs here at home, and build community resilience.
To this end, the Environmental Resilience Institute is working to equip community and elected leaders to chart a more resilient path forward on agriculture, infrastructure, emergency management and public health.
It is not too late. Choosing to change can be hard, but a future of unchecked climate change is no choice at all.•
__________
McCabe is assistant director for policy and implementation at Indiana University's Environmental Resilience Institute and senior counsel with the Environmental Law and Policy Center.
Please enable JavaScript to view this content.