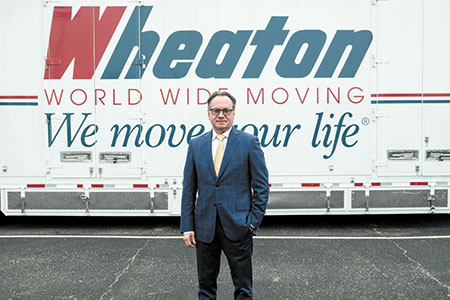 Running an interstate residential moving company—a business fraught with erratic schedules, tortuous logistics and extremely picky customers—has never been easy. But it's seldom been tougher than now, with demographic, economic and technological trends conspiring to depress the number of people undertaking long-distance relocations.
Nevertheless, Indianapolis-based Wheaton World Wide Moving is determined not just to survive, but to become an ever-larger player in the industry.
"Ever since the Great Recession, the number of people relocating from one state to another has declined," Wheaton CEO Mark Kirschner said. "One of the ways for us to grow is through acquisition. In a mature industry, you're either a buyer or a seller. You really can't stand pat."
Wheaton is most definitely a buyer. In 2012, the company purchased Illinois-based Bekins Van Lines, followed by Boston-based Clark & Reid in 2013 and, this year, Michigan-based Stevens Worldwide Van Lines.
Those moves turned Wheaton into the nation's No. 4 van line company, with projected 2019 revenue of $250 million.
The top three players are Missouri-based UniGroup (whose brands include Mayflower Transit and United Van Lines), Fort Wayne-based SIRVA (including Allied and North American Van Lines) and Evansville-based Atlas Van Lines.
It's no surprise that Indiana, with its central location, hosts the headquarters for three of the industry's top four.
"Indiana is known as the crossroads of America, and that's why there are a lot of household goods companies here," said A.J. Schneider, Wheaton's executive vice president.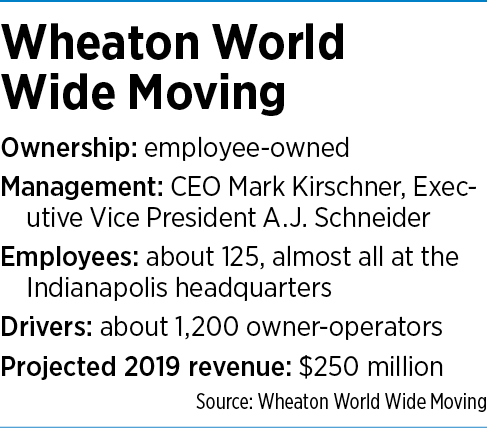 The 2008-2009 recession, coupled with the rise of telecommuting and a growing penchant among Americans for staying put, has dropped annual U.S. moves from around 20% of the population at the dawn of the 21st century to perhaps 15% today.
But while the household moving business isn't exactly a growth industry, it's still sizable, with annual revenue of $12.6 billion, according to the American Moving & Storage Association.
"The moving and storage industry has not really recovered from the housing crash a decade ago that caused a huge drop in the number of people who were able to move," said Scott Michael, CEO of the trade group.
Michael said several large players have gone out of business, while others have pulled off mergers.
"Our data continues to show declines in shipments each year, as more employers embrace remote employees and more consumers contemplate alternatives to a full-service, professional move."
In Stevens' case, the main problem was lack of scale. The company, like most van lines, relies on a network of local agents to book the long-haul, interstate moves that were the company's bread and butter. But its network of about 60 agents just wasn't big enough to keep the company profitable.
"One reason for selling was, we made the decision that there was no real case that could be made for building Stevens Worldwide Van Lines anymore, because it was too difficult to recruit agents," said Morrie Stevens Sr., the company's chairman and CEO, who stayed on after the sale. "We needed 20% to 30% more volume to support our overhead."
Wheaton, however, considered those 60 agents to be one of Stevens' crown jewels. The purchase swelled Wheaton's roster of agents to 415 in the contiguous 48 states.
When companies like Wheaton buy a smaller competitor, they aren't necessarily purchasing buildings or equipment. In most cases, they're purchasing the company's relationships with independent long-haul drivers and agents.
Agents are locally owned companies that move household goods in their home city and, often, in the state where they're based. But when they book an interstate load, it's handled by the national van line with which they're affiliated.
"The agent is a local moving company," Stevens said. "But as soon as you say, 'I want to move from Indianapolis to L.A. or Seattle or Boston,' they have to be part of a network that consolidates shipments going in that direction.
"Because all that agent has is one shipment, he can't go there economically and come back with an empty truck."
Kirschner added: "Van lines are pretty much the consolidators. We are essentially non-asset based. We don't own tractors. We don't buy any fuel. All of our independent drivers and agents are responsible for that."
What Wheaton brings to the table is the ability to handle all the maddening details necessary to make long-haul moving profitable and practical.
Being a consolidator for household goods is just about the worst possible trucking business imaginable. Instead of hauling carefully boxed goods along regularly scheduled routes like a conventional freight hauler, Wheaton and competitors gather smallish loads, consolidate several onto a truck that's bound for the right city, deliver them, then fill the truck with more loads for the return trip.
"We're packing all the furniture and household goods," Kirschner said. "And when the truck's getting ready to pull away, the customer might say, 'I forgot to tell you about the stuff in the attic.'"
And that's not the only challenge. The freight-hauling industry faces an acute driver shortage—one that's aggravated by the unpredictable routes and destinations of the van lines biz.
"The driver will tell you, 'I only want to run east of the Mississippi, or, 'I only want to run specific lanes,'" Kirschner said. "They can make those demands because there's a shortage of drivers. We have to accommodate the needs of both the drivers and the customers."
Kirschner said the average age of drivers in his industry is about 57, and one of the reasons Wheaton acquired Stevens was to gain access to its 200 drivers.
If those weren't enough headaches, there's also the seasonality of the moving business. In summer, there are too many loads and not enough trucks. The rest of the year, it's the opposite.
Kirschner is undeterred—in part because of continued opportunities to add scale through acquisition.
"The more we can consolidate and have a more efficient company to better service our customers, it just feeds on itself like any other business," he said.
"We think there are still opportunities for consolidation in the industry. I don't think this is the last one."
And Wheaton executives know that, no matter what disruptive technological innovations are around the corner, Americans will still need movers.
"There's no way we're going to become an extinct industry," Stevens said. "Not like buggy whip manufacturers in 1905. People will still have to move, internationally, nationally and locally.
"We're still one of the most mobile societies, even though the decline has definitely taken its toll."•
Please enable JavaScript to view this content.