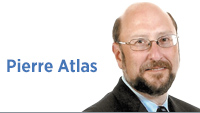 With the passing of Richard G. Lugar, the world has lost not just a great man, but a truly good man.
Obituaries and tributes from across the political spectrum and around the world have lauded his decades of public service and his long list of accomplishments, from his time as mayor of Indianapolis to his 36 years in the U.S. Senate. Beyond all of this, Dick Lugar was also deeply committed to education and to inspiring students. I always thought that, had he not gone into politics, he would have made a terrific professor.
Lugar's absence will particularly be felt at three Indiana institutions of higher learning: Indiana University (where he was professor of practice and distinguished scholar at the recently renamed Hamilton-Lugar School of Global and International Studies), the University of Indianapolis and Marian University.
I first met Lugar in 2003 at the University of Indianapolis, when I began a 10-year run as a speaker on U.S. foreign policy at his annual Lugar Symposium for Tomorrow's Leaders. This unique program, which Lugar ran for over 40 years up to his death, brought high school juniors from every county in Indiana to the UIndy campus to meet the senator and learn about public service. Each year, Lugar and I would chat, and thus began our friendship.
When Marian University renamed the Franciscan Center for Global Studies in Lugar's honor in 2007, the senator told us how he wanted to engage with our global-studies students on a regular basis: by meeting with them personally for a one-hour conversation before giving an annual, public lecture on campus, and by bringing them to his Senate (and later, his Lugar Center) office over spring break as part of an organized program in the nation's capital consisting of high-level meetings and tours, including a foreign embassy.
For over a decade now, I have been proud to host Lugar for his annual Global Studies Address and to organize and run the Lugar Fellow Spring Break Program in Washington, D.C.
Lugar's annual lectures at Marian have always been held on a Sunday in December, the day after his leadership symposium at UIndy. For years, that weekend in December was an educational feast for Hoosiers of all ages: high school students on Saturday and then Marian's Lugar Fellow global-studies students and the central Indiana community on Sunday.
What turned out to be Lugar's final Global Studies Address at Marian took place on Dec. 9, 2018 (his speech and audience Q&A are available for viewing at www.marian.edu/LFCGS). The 87-year-old elder statesman offered a sophisticated analysis of the world's hot spots, without using any notes. His take on America's role in the world and his policy prescriptions hearkened back to the days when the Republican Party stood for free trade, international alliances, and the support for democracy.
Over the years, Lugar became a friend and a mentor to me. He would send me hand-written notes in response to my emails or to offer a comment on my latest Indianapolis Star column. More recently, the notes were typed by his assistant and signed by him. The last note I received was dated Feb. 11. I had sent him my inaugural column for IBJ, a strong critique of Donald Trump's approach to the presidency. Lugar wrote that he appreciated my "advocacy of our democracy and our Constitution," congratulated me on the new gig, and said, "I look forward to each of your columns."
Lugar would sign his notes, "Dick." But I could never bring myself to call him by his first name. To me, he will always be "Sen. Lugar."
Rest in peace, Sen. Lugar.•
__________
Atlas is a professor of political science and director of The Richard G. Lugar Franciscan Center for Global Studies at Marian University. Send comments on this column to [email protected]
Click here for more Forefront columns.
Please enable JavaScript to view this content.