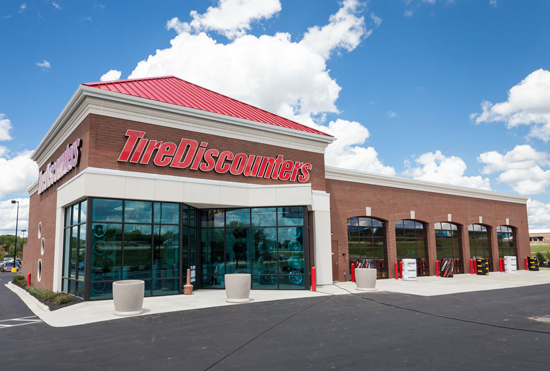 A company that has grown into one of the country's largest independent tire dealers over the past decade is rolling into the Indianapolis area this year with seven new stores.
Cincinnati-based Tire Discounters Inc. has steadily grown since its founding in 1976, but has really pushed the accelerator in recent years, going from 49 stores in 2010 to more than 120 this year.
The family-owned company is now the nation's seventh-largest independent tire dealer, according to trade publication Modern Tire Dealer.
Tire Discounters recently entered the central Indiana market with a non-traditional store in an existing building at 1285 U.S. 31 in Greenwood.
The store carries the name Indy Tire & Training because it will be used to train employees for the local stores the company plans to open in the coming months. It might eventually be rebuilt into a traditional Tire Discounters store.
Set to open in June are three more Tire Discounters stores that are under construction:
—    14325 Mundy Drive in Noblesville;
—    375 S. Perry Road in Plainfield;
—    9150 Michigan Road in Indianapolis.
Also under construction and scheduled to open this summer are stores at:
—   7355 E. 96th St. in Indianapolis;
—   6460 Center Drive in Whitestown.
Another is set to open at 530 E. Thompson Road in Beech Grove by the end of the year.
Tire Discounters stores are all company-owned, typically contain six to 10 service bays and have about 15 full-time employees. The local shops won't be the first Tire Discounters locations in Indiana; it has others in Jeffersonville, New Albany and Lawrenceburg.
Tiffany Murphy, senior manager of communications for Tire Discounters, said the company has been looking at Indianapolis as a potential market for some time as it grows its footprint around the Midwest.
The company recently upgraded its technology systems and restructured its executive management team to prepare for growth. It plans to open 19 stores in 2019. Besides Indianapolis, other growth markets include Nashville and Knoxville, Tennessee; and Huntsville, Alabama.
"We're excited to finally be in the Indianapolis market," Murphy said. "We've been in Indiana for over 20 years and our customers have been begging us to come to Indianapolis."
Murphy said the company sees plenty of room for more full-service tire and auto-repair shops in central Indiana.
The company will face plenty of competition from numerous retail tire chains, including Discount Tire, the nation's largest independent tire dealer, which has a dozen shops in Indianapolis.
Another competitor will be the Monro Inc.-owned Tire Barn Warehouse, which has about 10 local locations.
Murphy said Tire Discounters differentiates itself from most tire chains by offering a full line of automobile services, including oil changes, brake work and glass repair.
Perhaps its biggest challenge will come from Belle Tire, which announced plans last year to blanket central Indiana with 20 to 25 locations by the end of 2019. Belle also offers multiple auto-repair services besides tires.
Another competitor beefing up its local presence is Big O Tires, which has nine local stores, including one in Whitestown next to Tire Discounters' upcoming location.
Tire Discounters was founded by Chip Wood in 1976 as a single-bay garage. Wood is still the chain's chief executive and several of his family members are involved in the business.
In addition to stores in Ohio, Kentucky, Indiana, Tennessee, Georgia and Alabama, the company has warehouses in Sharonville, Ohio, and Murfreesboro, Tennessee.
CityBeat magazine has rated the chain as the No. 1 tire store in Cincinnati for the past 11 years and as the city's No. 1 auto repair shop for the past four years.
Please enable JavaScript to view this content.