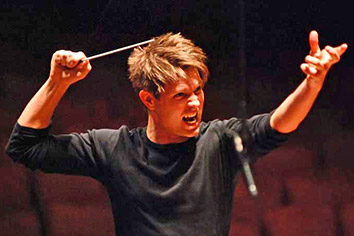 Celebrated maestro Krzysztof Urbanski will leave the Indianapolis Symphony Orchestra after the 2020-21 season—a decade after he joined the organization as music director, becoming the youngest artistic leader of any major American orchestra.
During Urbanski's tenure with the organization, the ISO has recorded several years of record ticket sales and commissioned a number of original works.
The ISO plans to form a search committee to find a new music director. The group said ISO musicians, staff and board members will be represented during the process.
"In an era when orchestras across the globe are vying for top-tier artistic direction, the ISO has benefited from a decade of stellar leadership from Maestro Urbański," said the symphony's CEO, James Johnson, in a statement released Friday afternoon.
"Krzysztof's passion for musical excellence has taken the artistic quality of our orchestra to new heights," Johnson said. "His ability to attract musicians of the highest caliber has resulted in the hiring of 19 new musicians—including seven principal players—who have become ambassadors of our art form in the community. We look forward to two more years of his leadership, including his innovative and engaging programming."
The Polish native joined the ISO in 2011 and, during the same period he has been with ISO, he has served in similar positions or as a guest conduct for orchestras across the country.
In a statement, Urbanski called his eight years so far with the ISO "artistically rewarding in every respect."
"Making music with my colleagues in Indianapolis is a thrilling experience, an occasion for audiences to be amazed by the virtuoso performances of the many new musicians who have joined the orchestra in recent years as well as to appreciate the artistic depth of the orchestra's long-serving veterans," he said.
"It has been my pleasure to commission new music, survey larger themes through our annual festivals, and allow important solo artists to explore the greatest musical repertoire in depth across multiple concerts."
Urbanski earned more than $449,000 in 2017, the last year for which the organization's not-for-profit tax forms are available.
His tenure hasn't been without some conflict. In 2017, Urbanski was at the center of an age discrimination lawsuit. Then-62-year-old bassoonist John Wetherill filed the federal lawsuit against Urbanski and the orchestra, accusing the conductor of age discrimination and harassment.
Last year, the ISO settled the lawsuit with Wetherill, who is no longer with the orchestra. Details of the settlement have not been disclosed.
In the next two seasons, the ISO plans to dive into all of Beethoven's symphonies as part of BTHVN 2020, a global celebration of the 250th anniversary of the composer's birth.
Please enable JavaScript to view this content.