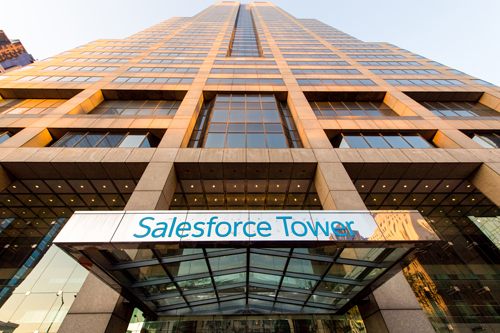 Ivanka Trump, President Trump's oldest daughter and a White House adviser, will be in Indianapolis on Thursday morning to take part in a panel discussion with Salesforce officials including Chairman Marc Benioff.
According to White House officials, the panel, which will tackle workforce and job training issues, will take place at the Salesforce Tower downtown. A White House source who provided the information did not specify the time.
Following the discussion, Salesforce officials will sign the Trump administration's Pledge to America's Workers and announce their commitment to training programs.
The Pledge to America's Workers initiative was launched last year. It asks companies and trade groups to commit to expanding programs that educate, train and re-skill American workers from high school to near-retirement.
Walmart, FedEx, IBM, Apple, Lockheed and Boeing are among the 200 companies that already have signed on to the initiative.
Benioff was part of the first roundtable President Trump hosted on the topic of workforce development and apprenticeship expansion, held at the White House in March 2017
With an executive order in July, President Donald Trump created the National Council for the American Worker. The group is tasked with creating a national strategy to assure workers and students are job-ready for today's economy. An advisory board of business, non-governmental organizations and education leaders provide recommendations to the council.
According to White House officials, the panel discussion in Indianapolis on Thursday will feature Salesforce workers who have transformed their careers with Salesforce using the company's Trailhead training program. They are known internally as "Trailblazers."
In November 2017, Salesforce—in partnership with Deloitte—launched The Salesforce Pathfinder Training Program, a four-month long course focused on training individuals in soft skills, business acumen and effective communication for jobs in software development and data management.
During Thursday's gathering, Ivanka Trump will hear directly from three Trailblazers, learning how the program has impacted their lives. After the presentations, Ivanka Trump and Benioff will participate in a panel discussion with the Trailblazers.
The programming is part of Salesforce's inaugural Trailblazer Day, a gathering to celebrate the pioneers, innovators, and lifelong learners in the Salesforce community.
 
Please enable JavaScript to view this content.