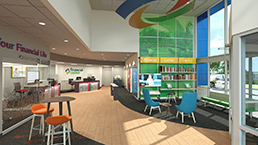 Financial Center First's Kokomo branch will have 3,450 square feet. (Rendering courtesy of Financial Center First Credit Union)
Indianapolis-based Financial Center First Credit Union is building a branch in Kokomo and will complete a merger with Kokomo Heritage Federal Credit Union when the branch opens this fall.
The new branch, on Kokomo's southwest side, will be a 3,450-square-foot facility that will include a financial-education library, a 1,000-square-foot community meeting space and a coffee cafe. A groundbreaking for the project was in April.
Kokomo Heritage plans to donate its current branch office to the Literacy Coalition of Howard County Inc.
The Kokomo facility will be Financial Center First's eighth branch. The credit union currently has six across Indianapolis and one in Greenwood. Chartered in 1953, Financial Center First has 63,000 members and assets of $577 million.
Kokomo Heritage was chartered in 1959 and has 1,800 members, with assets of $9 million.•
Please enable JavaScript to view this content.