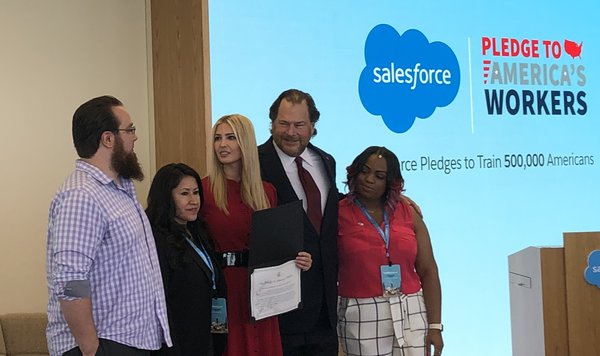 Ivanka Trump, President Donald Trump's oldest daughter and a White House adviser, said she wants everyone to change how they think about learning.
During a panel discussion with individuals who have participated in Salesforce's Trailhead training program, Ivanka Trump talked Thursday morning about how her goal is to make sure everyone has ongoing access to training opportunities. The jobs of the future are often unknown, she said, and that means learning can't take place during just one period of a person's life.
"We constantly have to be sharpening our skills," Trump said.
The event at Salesforce Tower was part of Salesforce's inaugural Trailblazer Day, an event to recognize some of the lifelong learners in the company's workforce. During the event, Salesforce signed the Trump administration's Pledge to America's Workers, a committment to help 500,000 workers earn the credentials and skills they need to obtain jobs in the Salesforce ecosystem over the next five years. 
The Pledge to America's Workers initiative was launched last year. It asks companies and trade groups to commit to expanding programs that educate, train and re-skill American workers from high school to near-retirement.
Walmart, FedEx, IBM, Apple, Lockheed and Boeing are among the more than 200 companies that already have signed on to the initiative. Salesforce had previously committed to training 8,000 workers.
Trump said Salesforce's Trailhead program is one example of how the private sector is helping people learn the skills they need to obtain better jobs.
In November 2017, Salesforce—in partnership with Deloitte—launched the initiative, officially known as the Salesforce Pathfinder Training Program. It is a four-month long course focused on training individuals in soft skills, business acumen and effective communication for jobs in software development and data management.
Trump also talked about the need to close the gender pay gap and establish better family-leave policies. 
"We really think we're just at the beginning of this mission," Trump said.
Salesforce Chairman Marc Benioff, who moderated the panel discussion, thanked Trump for her commitment to improving and expanding workforce training opportunities. 
"We know that you're our advocate," Benioff said. 
Lt. Gov. Suzanne Crouch and Indianapolis Mayor Joe Hogsett also attended the event.
Please enable JavaScript to view this content.