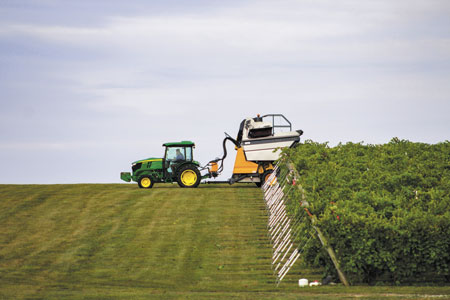 Indiana boasts a respectable little wine industry, but it's not exactly the epicenter of American viticulture. That hasn't stopped one producer, Bloomington's Oliver Winery, from growing into a larger player by catering to an oft-derided niche—sweet wines.
That emphasis has helped make Oliver the largest Hoosier winery (by far) and the 44th-largest in the United States.
"I don't think even people who know a little bit about Indiana wine realize just how big they are," said veteran Indiana-based wine journalist Howard Hewitt. "They know they're the biggest in the state, but I don't think most people know they produce almost a half million cases. There are entire states that don't produce that much."
Oliver Winery CEO Bill Oliver does indeed reckon that his winery will ship just north of 450,000 cases (1.1 million gallons of wine) this year. The company operates a huge processing and tasting facility, along with the approximately 50-acre Creekbend Vineyard, along I-69 near Bloomington.
"I sometimes drive up to this place and think, 'What in hell have we done?'" Oliver said.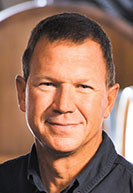 Oliver
And Oliver is getting ready to do a lot more. The winery's products are available in 27 U.S. states, and the company plans to keep expanding until it produces 1 million cases annually. That could make it the nation's largest non-West Coast winery. It's a huge goal, but Oliver insists it's realistic.
"I can turn around and look out the office windows at a new building that's 85% complete that can get us there," he said. "We're putting our money where our mouth is."
That building will cover 28,000 square feet when completed, creating room for 50 large fermentation tanks—more than enough to vault production past 1 million cases.
"We're going to start with 10 [new tanks], but we've got all kinds of room to expand and keep marching toward our goal," said Oliver Winery President Julie Adams.
Whether the company succeeds will depend on how readily the drinking public accepts what it produces in those vats. Let's just say it won't be a bunch of traditional dry vintages. That market niche is already very, very well-served.
"It is very difficult for wineries to break into the national market," said Rachel Gibson, executive director of the Indiana Winery and Vineyard Association. "Shelf space is extremely limited, and most retailers are hesitant to share it with brands that do not have a strong multistate or national appeal."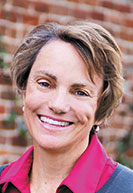 Adams
"Let me tell you what doesn't work," Oliver said. "I'm not going to show up at a buyer's office and pitch a cabernet sauvignon or a chardonnay. Much as I'd love to, it's just not going to happen."
That's because the market for traditional dry wines (those with low sugar content) is pretty much sewn up by domestic West Coast producers and by imports. Oliver's masterstroke was to storm the national market with sweet wines—an area often looked down on because products with high sugar content are widely considered less sophisticated.
Cornering the market
These products might lack highbrow appeal, but as Oliver's experiences have shown, they do well with rank-and-file consumers.
Cyril Penn, editor of Wine Business Monthly, said many customers want sweet wine.
"A lot of people start with sweet wines and gradually get more into dryer ones," he said.
Wine is made by introducing yeast cultures into grape juice. The yeast eats the sugar in the juice and excretes alcohol as a waste product. Dry wines retain very little sugar after fermentation. Sweet wines can retain quite a bit.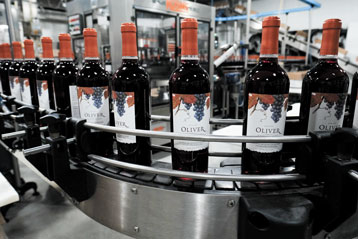 (IBJ photo/Eric Learned)
Wine aficionados insist that dry vintages produce a much more complex flavor profile, and will rhapsodize at length about all their subtle flavor notes. Sweet wines, on the other hand, primarily taste, well, sweet. That's why, in some quarters, they're viewed with the same disdain that coffee snobs reserve for Starbucks and hard spirits aficionados feel toward Fireball Cinnamon Whiskey.
And yet, lots of people enjoy them. It's something Oliver first realized back in the 1990s. Oliver has always made, and continues to make, a strong line of dry reds and whites. However it was sweets that got the attention of retailers and distributors in other states. At the time, there were few high-quality sweets on the market, and certainly none with anything approaching national distribution.
"We exploited a big market opportunity in the period of the '90s and early 2000s, when the major players weren't there," Oliver said. "We had it all to ourselves. But I think our success and the amount of market share we've gotten in Indiana and the Midwest has drawn the attention of big players and now they're in it, too."
Except that Oliver got the jump on all of them. It has been developing sweets for decades.
"A few years ago, we just decided to own this," Oliver said. "We're pretty obviously going to take ownership of this part of the wine world. And it's been really successful."
Oliver's current lineup has grabbed shelf space from Texas to Michigan. It includes two varieties called Apple Pie and Peach Pie (which are exactly what they sound like); a collection of fruity, aromatic Soft Wines that's been made since the 1980s; a Sangria; and cherry and blueberry moscatos.
They've earned spots on the shelves of retailers from Target to national and regional grocery chains, which helps immensely as the company builds out its distribution networks.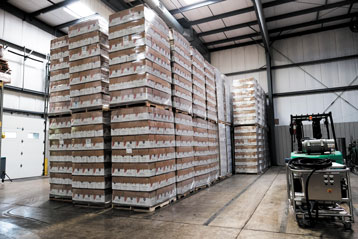 Oliver Winery will ship more than 450,000 cases of wine this year. Its current wine lineup includes Apple Pie and Peach Pie, as well as cherry and blueberry moscatos. (IBJ photo/Eric Learned)
"It makes a difference if we can go into a new market and already have placements in a certain retailer," Adams said. "That helps us with our work with the distributor and with the sales team that's going to be marketing our product day in and day out."
"We use our previous successes as leverage to get more," Oliver said. "To be able to speak to the success of this product in a new market we're trying to enter. We can say, 'This product worked, so why don't you try this other one as well?'"
Of course, other companies are now getting into flavored wines in a big way. But Oliver, for his part, maintains he (as yet) isn't fazed by the competition. The reason, he said, is because his team has perfected the making of quality sweet and fruit-infused wines over decades.
"It doesn't feel tough to me," Oliver said. "But I do taste competitors' imitations, because it seems like, every time we make something, someone imitates it. I'm usually pretty stunned at how not very good they are."
Half century of history
The winery has certainly had plenty of time to get it right. While some businesses start on the ground floor, Oliver Winery actually helped build it. Its roots reach back to the 1950s when Bill Oliver's father, William Oliver, a law professor at Indiana University, was a wine hobbyist with a small vineyard northwest of Bloomington. In 1971, he was instrumental in the passage of the Indiana Small Winery Act, which allowed for the creation of small commercial wineries.
Oliver Winery was, of course, the very first one, turning out approximately 2,000 cases of wine in 1972. Its initial best seller was a drink called Camelot Mead, but over the decades, it has filled out its lineup to include everything from traditional dry whites and reds to a wide range of fruit-flavored sweet wines.
And Oliver has become, by far, the state's largest winery. According to figures from the Indiana Winery and Vineyard Association for 2016 (the most recent available), the entire state produced 2.4 million gallons of wine, meaning Oliver (which will make 1.1 million gallons in 2019) creates almost half of the state's total production.
Interestingly, one thing Oliver Winery doesn't have is a thorough grasp of the demographics of its buyers. That information is filtered through a network of retailers and distributors, giving the winery only the haziest idea of who's buying all that Peach Pie and Cherry Moscato. But it appears that the customers are more female than male and skew younger than the usual wine consumer.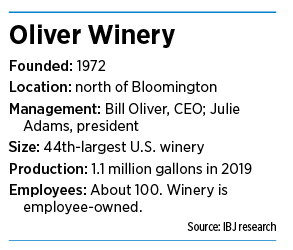 Even after all these years, some of the winery's most accurate assessments of a new product's potential come from the reaction the wine gets at its Bloomington tasting room.
"We have a machine that tells us exactly how good our wines are," Oliver said. "It's called the cash register."
The company is keen to keep growing but isn't all that concerned about getting into all 50 states. Some, such as Wyoming, simply don't have enough wine consumers to justify the bother. And others, such as California, with its vast number of domestic offerings, could be a huge chore.
"I think we've got our hands full with 27 states," Oliver said. "We've got some initiatives to grow some specific markets, but I don't know if there are states on our 'next' list. We've got some real growth opportunities in the Midwest, and the big ones for us are Texas and Florida. Those are giant markets with huge potential for us."
As for reaching 1 million cases, Oliver and Adams think it will happen over the next decade if all they do is grow at a respectable annual rate. Perhaps, at some point, they'll even take on the California market.
"We've talked about it," Oliver said.
"There are lots of states where his wines have the opportunity to do very well," said Hewitt, the wine journalist. "He's the two-ton gorilla in the room. Is he ever going to sell sweet wines in California? If he does, I guess that's when we crown him king."•
Please enable JavaScript to view this content.