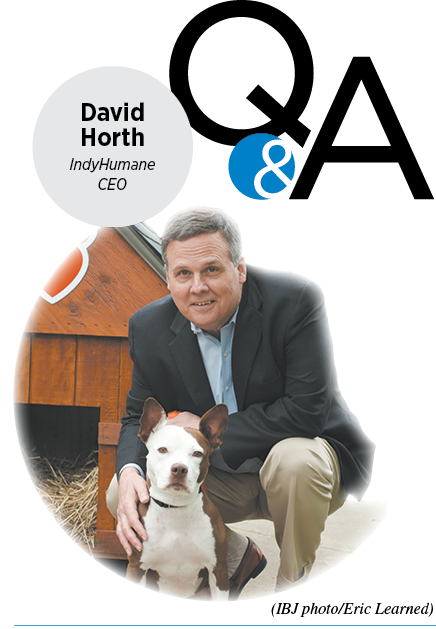 David Horth, 58, is no stranger to IndyHumane. He served on the board for eight years and had two stints as interim CEO over the last 18 years, most recently last fall after the not-for-profit dismissed Steven Stolen, who'd held the post a year. Horth became the permanent CEO on Jan. 1.
Horth already has shaken things up as he tries to help the nearly 115-year-old agency thrive or, as he and the board say, be "better than our best."
What is that strategy that you're working on implementing?
We're re-examining everything that we do and becoming better at the things that we're good at and good at the things that we weren't very good at. … We restructured the development department. We restructured the customer service department.
What are some of the things you've realized IndyHumane is good at and what are you still hoping to improve?
We are very, very good at taking care of animals with our medical department and our behavior department and our shelter staff. Once an animal arrives at the Humane Society of Indianapolis, it has temporarily hit the animal lottery, because there's nothing that we don't do for that animal. And then we work very, very hard to re-home that animal in what we call a "fur-ever" home.
Our development efforts—we are not publicly funded—many people think we are, but we aren't and we never have been. So, we have to raise all of the money that it takes to operate the humane society. The fees that we're able to charge for adoptions and other services are a drop in the bucket compared to what we need. We have a brand-new development team, and I just couldn't be happier with that change.
Why did you need to hire a new development team?
We were not raising adequate amounts of money to meet the budget of the shelter. It's the honest answer. I'm sure there's a more diplomatic answer, but we just simply needed to do better. It costs $433,000 per month to operate the Humane Society of Indianapolis in both of its locations, and 99 percent of that money has to be philanthropy.
How do you plan to raise more money?
We're adding other events, but most of our money comes from direct contact, direct mail, one-on-one philanthropy. And we have reams and reams and reams of data on donors, and we're contacting those donors in different ways and we're strategizing on how to contact them in different ways.
Eighty percent of our donations are $100 or less. So, if you put that in the context of a $5.2 million budget, our donor base is a mile wide and an inch deep. Our goal is to make it a mile wide and 1,000 feet deep.
What made you want to become the permanent CEO?
I just have a driving passion for this agency and all that it represents and all that it has accomplished. … This agency does very, very good work in sheltering and in medicine and in behavior and in the low-cost spay/neuter clinic and the food redistribution program.
What have the past five months been like since you took over as the permanent CEO?
When you're the interim, your job is to hold the fort until the new person gets here. Now, it's my job to lead the agency forward under the direction of our board of directors. They set the strategy and they trust me with implementing that strategy.•
Please enable JavaScript to view this content.