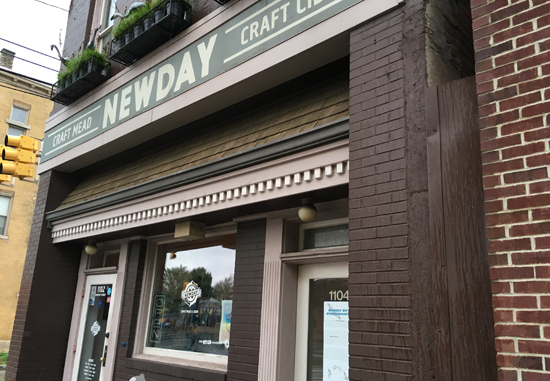 Fountain Square Brewing Co. has acquired mead and hard cider producer New Day Craft, a move to broaden its product lines and widen its distribution footprint.
The deal closed on Monday. Each location will continue to operate under its own name at its existing location—Fountain Square Brewing at 1301 Barth Ave. just west of Shelby Street, and New Day a couple of blocks north at 1102 Prospect St., just east of Shelby Street.
"From the customer's experience, almost nothing will be different," said Brad Smith, CEO of Fountain Square Brewing. 
Smith declined to disclose financial terms of the deal.
Smith will lead the merged company. Following a transitional period, New Day founders and former owners Brett Canaday and Tia Agnew will depart. Smith said New Day's other employees have all been offered the chance to stay in their current positions.
The microbrew industry is a "competitive, crowded market right now," Smith said. The acquisition gives Fountain Square Brewing the ability to sell mead and hard cider—beverage categories that, at the moment, don't have as much competition as does craft beer.
Smith declined to share specific numbers, but he said Fountain Square Brewing produces about two-and-a-half to three times the volume of beverages as New Day does. Both entities have similar annual revenues.
The merged company should also be able to pursue wider distribution of all its products, Smith said.
Fountain Square Brewing's beers are sold at bars, restaurants, liquor chains and grocery stores, including Kroger and Pay Less, in the southern two-thirds of the state.
New Day isn't currently sold at Kroger, Smith said, but it does distribute through all of Indiana, as well as parts of Ohio and Kentucky.
New Day also signed a deal several months ago with a New York City distributor.
New York City, Smith said, represents a wide-open and unknown territory where the company can experiment with its large-market strategy. "It's very intriguing to us with respect to both brands."
If the merged company can figure out how to succeed in New York City, Smith said, it should be able to replicate that strategy in other big cities around the U.S.
Fountain Square Brewing was founded in 2011 by Justin Brown, Bill Webster and Jeff Gibson. Early last year, Daryl Starr became the majority owner of the company, buying out Webster and Gibson. Brown remains a minority owner.
Canaday and Agnew founded New Day in Elwood in 2005 and opened their Fountain Square tasting room in 2010.
 
Please enable JavaScript to view this content.