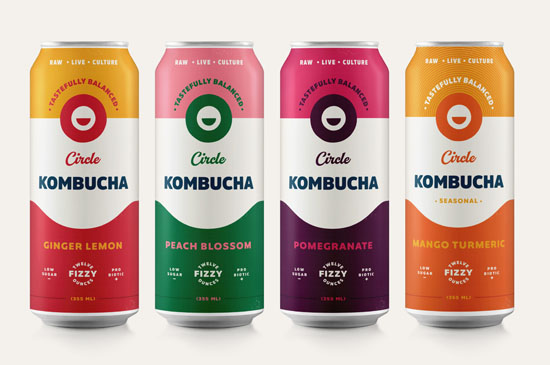 Local beverage maker Circle Kombucha plans to move from Irvington this month into a 14,000-square-foot space at 1050 E. Washington St. on the city's near-east side.
The company formerly known as Circle City Kombucha, founded in 2015, operates from a 2,000-square-foot facility at 1121 N. Arlington Ave. The new space is in a building that was formerly part of the Angie's List campus.
"It's quite a big expansion for us," said Komal Sheth, the company's marketing and events leader.
Circle Kombucha currently packages its kombucha in glass bottles. At its new facility, the company will switch to aluminum cans, which it hopes will open new markets for its products.
Certain customers, especially at sporting and entertainment venues, won't sell beverages in glass bottles, Sheth said. So switching to cans opens up a larger number of places where Circle Kombucha might be sold. "Cans can go everywhere—so many places glass can't go."
Over the past few years, Circle Kombucha has seen big sales growth for its product, a carbonated and fermented tea, as the kombucha category becomes more popular overall.
In 2018, Kombucha sales through September were up 43 percent compared with all of 2017 and were on pace to break $1 billion for the first time, Bloomberg reported, citing research by Nielsen.
In 2017, Sheth said, the company had about 70 customers. That number grew to 250 in 2018 and currently stands at more than 400.  
The company's products are currently available at more than 300 locations around the state, Sheth said, including grocery stores Whole Foods, Needler's Fresh Market, Fresh Thyme; restaurants Rooster's Kitchen and Three Carrots; and Books and Brews.
Circle Kombucha entered the Chicago and Columbus, Ohio, markets earlier this year and is available in a combined 100 or so locations in those markets, Sheth said.
The company distributes its products through three outside distributors: Indianapolis-based Piazza Produce, Ideal Food Group and Canteen. It also does some self-distribution.
Circle Kombucha has eight full-time employees and another 25 to 30 part-time "brand ambassadors"—people who represent the company at farmers markets and special events to offer samples and sell products.
Sheth said the company plans to expand its workforce once it moves into its new space, though she did not offer a specific timeline or hiring numbers.
 
Please enable JavaScript to view this content.