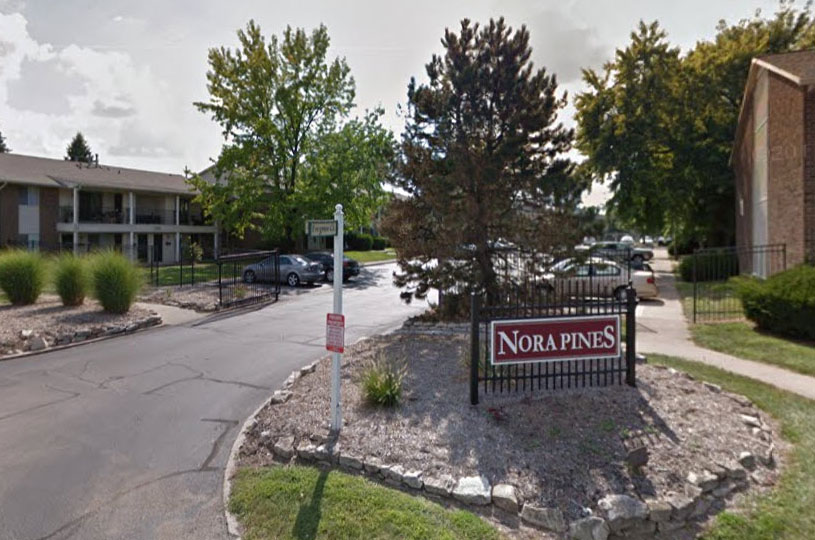 Indianapolis-based TWG Development intends to sink nearly $30 million into acquiring and renovating an apartment complex in the Nora area while maintaining its status as affordable housing.
Nora Pines is located at 8921 Compton Street, which is west of the Monon Trail and north of the Nora Plaza development on 86th Street anchored by Target, Marshalls and Whole Foods. TWG plans to rename the complex Northwood on the Trail.
The firm is planning extensive interior and exterior renovations to the 254-unit complex, spread over 18 buildings on 13 acres. The work would include rehabbed kitchens with new appliances, new carpeting, new roofs, repaved parking and improved security lighting.
"This is a particularly blighted complex right now," City-County Councilor Colleen Fanning said during a May 20 meeting of the council's Metropolitan and Economic Development Committee.
"It's been very problematic for Nora," Fanning said. "To have a developer come in and stay committed to making it affordable and renovating it for populations who really need it in Nora is just going to add to the quality of life."
An affiliate of TWG bought the complex in January for $12 million. The acquisition cost is included in the $30 million tally for redevelopment.
TWG has requested that the city of Indianapolis issue $17.6 million in economic development revenue bonds to help finance the project. The developer would be required to repay the bonds and would indemnify the city from assuming any of the risk.
The council is expected to consider TWG's request at its meeting Monday evening. The proposal was passed unanimously, 11-0, by the Metropolitan and Economic Development Committee on May 20.
In addition, TWG has applied for federal low-income housing tax credits for the project. Developers who receive the tax credits typically sell them to investors, thereby generating capital for their project.
TWG expects to receive about $9.5 million for the project from the sale of its tax credits, said John Sullivan, TWG's vice president of tax credit development.
Northwood on the Trail would remain affordable housing, with all of its units reserved for people at or below 60 percent of the area's median income. Rents after the renovation would average $735 per month for one-bedroom units up to an average of $1,042 for three-bedroom units.
The work would be complete by summer 2020.
Founded in 2007, TWG specializes in commercial, market rate, affordable and senior housing developments in the Midwest. It has projects in 12 states, including about 50 in Indiana.
Please enable JavaScript to view this content.