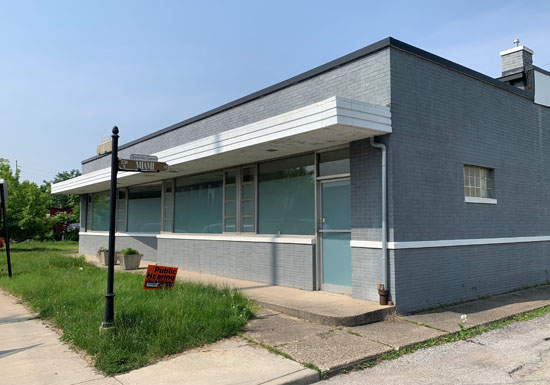 A downtown architecture firm plans to sell its headquarters in favor of building a mixed-use development nearby along College Avenue that would  include its office space plus retail and some residential units.
Lancer + Beebe LLC plans to move to 220 N. College Ave. this summer from its current home at 719 E. New York St., where the 16-employee firm has been based since late 2015. Both properties are owned by an affiliate of the architecture firm, Eastland Lomax LLC.
Principal Mark Beebe said plans for the new property, acquired in March for $640,000, include construction of a new headquarters building that will include a retail storefront, office space and residential units. He declined to share the estimated cost of the project.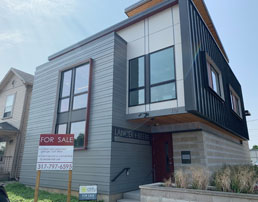 Lancer + Beebe has occupied its current headquarters since 2015. (IBJ Photo/Mickey Shuey)
The firm intends to sell its current headquarters on New York Street, a two-story building designed by Beebe and firm co-owner Terry Lancer. The firm is in talks with a potential buyer for the property, although Beebe declined to share details. It is listed on the commercial real estate website LoopNet for $750,000.
The new site is a short sprint from the current headquarters. Beebe said the firm wanted to stay on downtown's eastern edge, which has undergone a resurgence of commercial and residential development in the last decade and is close to transitional neighborhoods such as Holy Cross.
This site is "right there at the beginning of some real exciting things," Beebe said. "There's a lot of opportunities and … a lot of young people, young professionals who are attracted to the kind of development we are looking at creating."
The 0.24-acre College site is occupied by a one-story, 3,170-square-foot structure formerly used by Design Aire Engineering. Lancer + Beebe plans to move into the building temporarily while the new building is under construction directly to the south.
The new building will be four or five stories, with floor plates of about 4,500 square feet. The first floor would be dedicated to retail and a lobby area, while the second floor would be used for the firm's studio.
The remaining levels would be either apartments or townhouses—about four to six, total—depending on the market's demands, he said.
Plans are expected to be finalized before a fall groundbreaking, with construction expected to last 12 to 16 months.
After the firm moves into the new building, it will either renovate the old Design Aire structure or raze it to make room for additional commercial space, Beebe said. This could include additional retail storefronts or restaurant space.
He said the full redevelopment of the site is expected to be completed in "four to five years." Beebe noted he does not expect the new development will be his firm's headquarters for an extended period.
"We've always been interested in development, which is why we wanted to do this project," he said. "We're going to continue to look for those opportunities. … We're focused on urban redevelopment."
Please enable JavaScript to view this content.