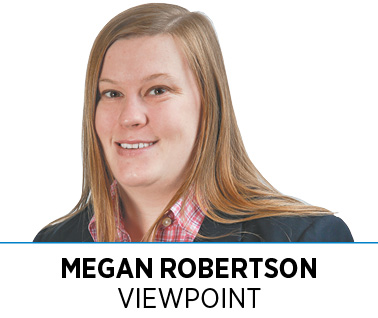 It's Pride Month, y'all, and we have found ourselves in the middle of a bit of drama.
For those who have not heard, a political newsletter called Importantville announced that state senator and Indianapolis GOP mayoral candidate Jim Merritt planned to walk in the Indy Pride parade June 8.
Merritt, who was first elected in 1990, has a long legislative record and has voted many times against LGBTQ interests. GLAAD, a national LGBTQ group, got wind of it and highlighted his vote record on Twitter. Indy Pride then said Merritt would not be welcome at Pride events.
First, I want to note that Merritt has held meetings with LGBTQ groups in the last year to gain a better understanding of our community. This is a positive step.
That said, it is absolutely a fair position for Indy Pride to tell Merritt he is not welcome to march in the parade if he didn't stand up for or with the LGBTQ community when it counted.
I led the campaign that pushed back a constitutional amendment that would have banned same-sex marriage, and I've been involved with subsequent efforts to ensure that LGBTQ Hoosiers are protected from discrimination and bias crimes.
I cannot tell you how many elected officials have told me they privately support our efforts but just cannot vote with us. As the saying goes, "If 'ifs' and 'buts' were candy and nuts, we'd all have a merry Christmas."
There is no extra credit for the nice words: We need the votes when they matter.
But we should not shut down the conversation or paint everyone with a broad brush.
Pro-LGBTQ Republicans have regularly participated in Pride since 2011. More importantly, this admittedly smaller group of Republicans has advocated for the LGBTQ community. They are not just here for the parade or the festival—and that's the point.
These are people who fight to change the anti-LGBTQ marriage platform language at the Indiana Republican Convention and who have advocated for a more diverse GOP. They have shown up for us at the Statehouse and had conversations with Republican lawmakers to make sure they know they have support in the Republican Party to do the right thing.
Former Indianapolis Mayor Greg Ballard supported Freedom Indiana's efforts to kill HJR-3, the constitutional ban on gay marriage, and later came out forcefully against former Gov. Mike Pence's Religious Freedom Restoration Act. Republican legislators joined Democrats to kill HJR-3—and we could not have done it without them. Indianapolis Republican city-county councilors voted to rebuke the Legislature for passing RFRA.
More recently, congresswoman Susan Brooks was the only Indiana Republican—and one of only eight Republicans nationally—to vote for the Equality Act, which is the most important legislative issue for our community today.
This weekend, there will be pro-LGBTQ Republicans at Pride who fight for us even though the battle is uphill. We should welcome them—and keep the door open for other folks to come around.
That includes Merritt, who I hope has truly evolved on this issue and can reflect that change of heart in his future actions, either as mayor or state senator. I want many more Republicans to turn the corner and join us in both actions and words. We need all the help we can get.•
__________
Robertson is executive director of Enterprise Republicans and runs her own consulting firm, Frontrunner Strategies.
Please enable JavaScript to view this content.