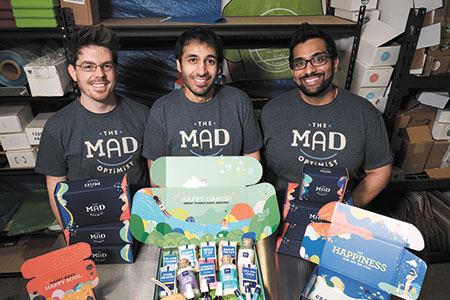 The scent of peppermint permeates The Mad Optimist's small-yet-colorful manufacturing hub in Bloomington, where hundreds of bars of soap are stacked neatly on restaurant bar racks, waiting to be shipped to the people who have ordered custom, individualized soaps.
The business is tucked into a quiet, residential neighborhood, down the road from a tiny sign in the ground alerting drivers to the nearby "Soapy Soap Company," its previous name.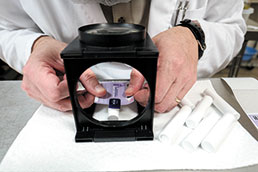 But the facility is not just a workplace for the team of three Muslim roommates, who co-founded their company seven years ago. It's also the site of an economic experiment of sorts.
Brothers Mohammed A. and Mohammed M. Mahdi and friend Anthony Duncan are trying to prove a business with socially responsible, equitable business practices can be successful in a dog-eat-dog world. It's all laid out in their "humanifesto," in which the company boasts of being "equality extremists" and practicing "radical transparency."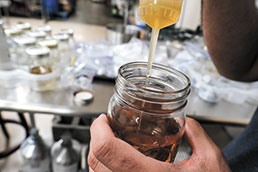 Among other practices, The Mad Optimist allows customers to choose how much they pay for items on a sliding scale; pays all employees (there are only two so far) an equal amount; publishes all its sales numbers for customers to see (this month's sales were $2,746.89, as of June 4); and uses only natural, vegan, halal, cruelty-free and sustainably sourced ingredients.
"We're really good at body care, but we've realized that our main mission is about these business practices," said Mohammed M. Mahdi. "To us, when we're at a farmers market and someone says, 'I really like natural body care, but I can't afford it,' that really affects us. We want you to afford it."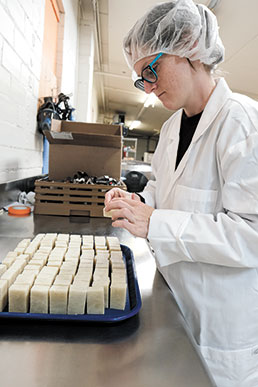 Brittany Hevey, above, is one of the company's two employees. (IBJ photos/Eric Learned)
The three friends and Indiana University graduates, plus Mohammed A.'s wife, Kehkashan, drive to Mad Optimist every morning, then spend 12 hours manufacturing, shipping orders and talking with customers. Then they drive home together each night.
They've put all their savings into the business (and haven't yet drawn a paycheck) to invest in top-quality manufacturing and label-making equipment to make their products: customizable, all-natural, vegan bar soap—plus lip balms, bath soaks and body sprays—that customers can order to suit their skin type and lifestyle.
The company long ago developed a local following as the Soapy Soap Co., making tens of thousands of dollars annually selling products in local stores and at farmers markets.
Now, after rebranding as The Mad Optimist, the founders are trying to grow the firm's national reach, seeing an opening as more people search for natural body care products—and companies with social values that match their own.
"We have the technology, we have the product, we have our messaging down—now it's a matter of bringing awareness," said Mohammed M. Mahdi. "We need people to know that we exist and they have the ability now to create a product they've never conceived of creating."
'200 years' worth of soap'
The Mad Optimist team didn't grow up dreaming of making soap. The three met when Duncan started renting a room at Mohammed M. and Mohammed A. Mahdi's house in Bloomington.
As students, they studied very different subjects: Duncan's bachelor's is in linguistics and German, Mohammed M. Mahdi's is in psychology, and Mohammed A. Mahdi's is in political science.
One night, as the three were lounging on the couch, one started wondering aloud how soap is made. They pulled up YouTube and researched it, prompting a rude awakening.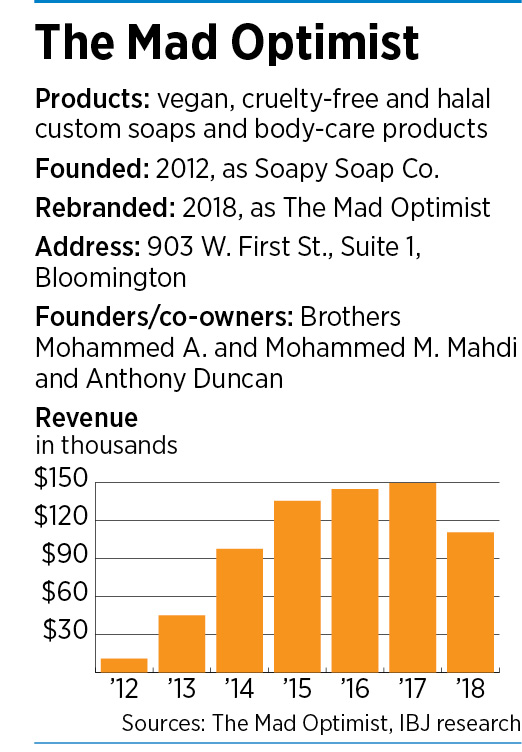 "We didn't ever realize animal fat, such as lard or beef tallow, is used to make conventional soap," Mohammed M. Mahdi said. "Us being all Muslim and following halal practices, we don't eat non-halal meat, so why are we putting it all over our bodies?"
Halal is a set of Islamic rules that govern how animals are slaughtered for food and for use in self-care products.
So the young men set out to make their own soaps, coming up with a vegan recipe made with plant-based ingredients. "By the time we were done, we had about 200 years' worth of soap," Mohammed M. Mahdi said.
So they took the next natural step: Sell it. They found success at farmers markets and in local stores, bringing in more than $10,800 their first year. The next year, revenue topped $45,000. They really had something here, they thought.
The team prepared for growth, developing a production system that could handle massive quantities of soap. But they were largely unsuccessful at getting into bigger stores, which were "very interested in keeping us local," Duncan said.
"Normally, people develop a product, go out and market it, and realize they have issues with production," Mohammed M. Mahdi said. "We approached it as engineers and went about it focusing on the product and scaling it from the very beginning. We had all the technology and all the infrastructure, and then said, 'Now let's go out and market it,' which is kind of the opposite."
Revenue continued to rise in 2014 and 2015, jumping to $97,600 to $135,400, respectively. In 2016, growth slowed: Revenue that year was $144,600.
The founders realized something needed to change. Though revenue had kept growing, they had been recycling it back into the business, unable to turn much of a profit.
"In four years, we hadn't paid ourselves," Mohammed M. Mahdi said. "Something had to be different. It absolutely forced us to have to sit down and brainstorm about what sets us apart."
The team realized then that their manufacturing equipment and processes allowed them to personalize body care, making individual bars of soap specifically for people's skin type. Typically, it's extremely expensive to order a small quantity of a custom product. But their system allowed them to make smaller batches without much hassle.
"Let's make it customized so the customer can showcase what they want," Mohammed A. Mahdi said. "They can choose the base specific to their skin type. They choose the essential oils, add-ins and get to name their soap."
They decided to test the concept a month before Christmas 2016, working to get a website up and running that allowed customers to design their own soap.
"We needed to test out the idea, do people see the value in customized soap?" Duncan said.
New mindset
Sales quickly increased—but the team was still running out of money.
A turning point came shortly after when a friend mentioned the company on the popular Reply-All podcast, telling its story to the nation.
"There's so much people don't know about us," Mohammed M. Mahdi said. "For us, we think what we do is normal. She didn't want to see a company like ours fail."
Through the podcast, a Cincinnati-based startup accelerator, The Brandery, reached out and invited the company to apply to its accelerator program.
The Brandery accepted the team in 2017, and invested $50,000 into the business and $250,000 of in-kind services in exchange for a percentage of the company. That process helped infuse new ideas into the firm.
"We changed our mindset from small business to startup," Duncan said. "It's a completely different thinking process. … One of the biggest things we got out of it was the networking opportunity and mentorship."
The three decided their way forward was doubling down on personalized body care—but they knew they needed to rebrand and work on marketing.
They were also trying to nail down investors—a tough ask for a company like theirs, dedicated more to their ethical business practices than to making a big profit.
"We had been getting so many 'Nos' from investors," Mohammed M. Mahdi said. "The advice they were giving us was, 'Why don't you make a product that won't last as long, so customers will [have to] come back and buy more from you? But make it good enough to have the customer craving more.'"
"It didn't rub us the right way," Mohammed A. Mahdi said.
After reaching out to customers for help, they got connected to Cincinnati-based branding agency LPK, a firm they said intrigued them because it is employee-owned and shared similar values.
"We love that sort of thing—progressive employment concepts," Duncan said.
They poured out their hearts and their story to the team at LPK.
"It really resonated with them, all of our frustrations with how things were," Mohammed M. Mahdi said. "In the beginning, we never thought of telling customers this stuff. That's when we became comfortable with letting people know about what we stand for."
The company's new name, The Mad Optimist, was launched formally last June.
The name encompasses a few ideas: The team is "optimistic about changing things for the better, and creating new ways of doing things," Duncan said. But the word "mad" showcases "just a little bit of that righteous anger at things that maybe people do need to be angry about."
Infusing business practices like equal pay and sliding prices creates a model that can work in certain circumstances, said Kyle Anderson, an economist and professor at the Indiana University Kelley School of Business.
"A part of this is projecting a company image and a product image," Anderson said. "There are some consumers that are really going to appreciate that and may be willing to pay a premium for that product. But I think the market for that type of business model is probably pretty narrow."
Anderson said the team could one day face a "classic entrepreneurial problem," a business model that works on a small scale but not after the company has grown.
"I could see them running into big problems if they were to create a national company," he said.
Anderson referenced Ben and Jerry's, the Vermont-based ice cream maker that used to cap executive pay. Over time, the company found it hard to recruit top talent because of the pay limits.
Making it work
The Mad Optimist team members have struggled financially to keep the business going.
Duncan describes the founders' lifestyles—a shared condo, "racking up credit card debt," relying on help from family, using mismatched furniture from thrift shops in their office—as "bootstrapping."
The team has about $100,000 in debt so far.
"We're frugal," Mohammed M. Mahdi said. "We just have to spend gas money on one car. We shop at Aldi. We carpool. This way, we keep costs low."
They have hired two employees, who both make $11 per hour, and they have another open position. They hope to be able to start paying themselves $11 per hour, too—something they believe in to show "every position is valued."
"We want to build a business where everyone is invested, everyone is excited about the mission, and everyone contributes," Duncan said.
Eventually, they hope for employees "to be able to earn ownership in the business, to be part of an equal team."
"We really do believe that things trickle down in the sense that if, an employee is here and happy, they go home and they're happy with their family and their kids," and that creates a better, happier world, Mohammed M. Mahdi said.
The founders realize the idea of paying everyone the same rate is far from common—and Duncan said "if someone wants to be upwardly mobile, that may not be the best fit."
However, he added, the policy will allow employees to be "horizontally mobile," where a janitor can come up with a product idea.
The team is also experimenting with the idea of adding products in the future.
But first, it has to prove this business plan will work.
"We spent a lot of time learning and understanding what we like and what we don't like," Mohammed M. said. "Now we're executing on what we want to do. This is the business we want to run."
The aroma of soap is all-consuming inside the Bloomington manufacturing hub. But still, Duncan said, "We're not here because of a soap company.
"We're here because of The Mad Optimist, and to see it have the full chance it deserves."•
Please enable JavaScript to view this content.