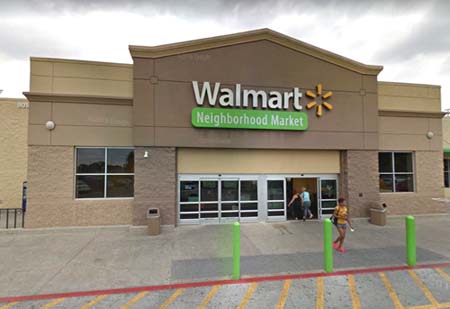 The Walmart Neighborhood Market at 8010 E. 38th St. in Indianapolis is scheduled to close permanently July 12, Walmart Inc. announced Wednesday morning, citing "financial performance" as a factor in the decision.
The store, which opened in 2004, plans to close its pharmacy one week earlier, on July 5.
"These decisions are based on several factors, including the financial performance of the store," Anne Hatfield, a spokeswoman for Walmart, told IBJ. "We do a review as all retailers do—we're always reviewing the portfolio—to make sure we're in locations that make sense."
Hatfield said Walmart has three stores—two superstores and one Neighborhood Market—within five miles of the store. Two of those stores offer grocery pickup and delivery services. She said there were 11 other Walmart stores within 10 miles.
The retailer said it will try to avoid job losses for the 100 or so employees who work at the location.
"The focus right now is on taking care of our associates," Hatfield said. "We're very confident we will have a place for everyone."
Walmart said it will work with pharmacy customers to transfer their prescriptions to pharmacies of their choice. Any remaining prescriptions will be transferred to the Walmart Neighborhood Market at 5550 E. Fall Creek Parkway.
The store will start 25% markdowns on most merchandise starting June 21.
Walmart has seven other Neighborhood Markets in the Indianapolis area. The small-format stores, which average about 38,000 square feet (compared to 182,000 square feet for a Supercenter), were launched in 1998. They carry a grocery-heavy product mix.
The company operates 125 stores overall in Indiana. It announced plans earlier this year to remodel 19 stores in the state while expanding some of its customer-service options and technology.
"It's important to note that we're making a huge investment in Indiana this year—$96 million in new stores, renovations and tech innovations this year," Hatfield said.
Please enable JavaScript to view this content.