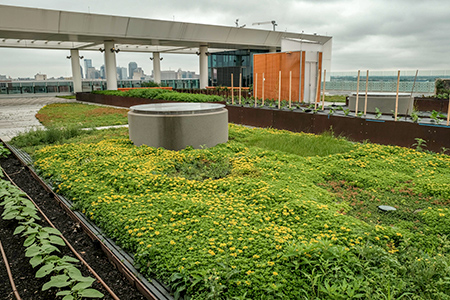 Hospitals gobble up enormous amounts of energy.
Under their roofs, hospitals operate retail shops, laundries, food operations, pharmacies, offices, supply warehouses and power plants. That's in addition to operating rooms, emergency rooms and floor after floor of patient rooms.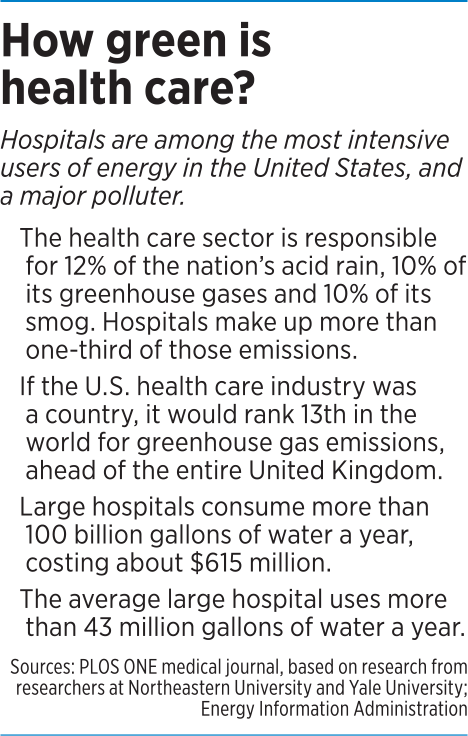 And all of that activity—running around the clock, with thousands of employees, patients and visitors—adds up quickly. U.S. hospitals spend about $8.3 billion a year on energy, making them the fourth-largest category of commercial buildings to consume energy, after retail stores, offices and schools, according to the U.S. Department of Energy.
But across Indiana and the nation, hospitals are rolling out new programs to cut energy consumption and reduce their carbon footprints. In the process, they hope to save hundreds of thousands of dollars in the form of lower utility bills. They are also trying to cut back in other areas, from water use to food waste.
It's part of a growing movement to become as green as possible in an industry not traditionally known for environmental sustainability. The efforts range from installing more efficient light bulbs and doing away with plastic dining utensils to conducting sweeping energy audits to find where they can improve.
A few examples:
◗ Community Health Network just opened a new, $175 million hospital on the east side to replace a 63-year-old hospital. The new building features all-new LED lighting, more efficient heating and cooling systems, and radiant ceiling panels to reduce energy consumption.
◗ Johnson Memorial Hospital is putting the finishing touches on a new emergency department and outpatient-services building on its Franklin campus that will open in January with occupancy sensors for lights, LED light fixtures, and more efficient water heaters and air-conditioning system.

Eskenazi Health is eliminating all plastic dining utensils, water cups and bowls—it goes through about 2 million a year—and is replacing them with degradable and compostable items. (IBJ photos/Eric Learned)
◗ Eskenazi Health is eliminating all plastic dining utensils, water cups and bowls—it goes through about 2 million a year—and is replacing them with degradable and compostable items.
◗ Indiana University Health is spending $2 million this year to install thousands of energy-efficient LED lights in six hospitals, with a goal of saving $500,000 a year on electric bills. The state's largest health system spends about $38 million a year for energy across its 16 hospitals. In recent years, it has assembled an "energy council" to look for other ways to cut energy waste, and has already realized about $2 million in annual savings.
"That's the equivalent of removing about 2,500 automobiles from the highway, or cutting about 80,000 barrels of oil," said Rick Hood, IU Health's vice president for system support services.
Joining the cause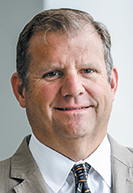 Hood
Hospitals are flocking to the green movement for many reasons. Payers are pressuring them to clamp down on costs, and energy is a natural place to look for savings. A typical 200,000-square-foot hospital spends about $680,000 each year on energy. The operating rooms alone use about 30% of the supply for the entire hospital, according to Practice Greenhealth, an advocacy group for health care sustainability.
And some hospitals just want to be leaders in the green movement. On average, a hospital uses up to five times more energy than a fancy hotel, according to Kaiser Health News.
"If we're going to concern ourselves with the health of our patients and our community, we also have to concern ourselves with the health of the environment and the health of the planet," said Dr. Lisa Harris, CEO of Eskenazi Health, which serves mostly poor and underinsured patients.
Eskenazi Health, which opened five years ago to replace the aging, dilapidated Wishard Hospital about a quarter mile away, uses low-flow fixtures in its bathrooms and kitchens that reduce water use by 40 percent. It has installed a rainwater harvesting system that supplies 100% of the campus' ground-irrigation needs. In the lobby of its downtown campus, it uses a "daylight harvesting" program to turn off lights if the outside lighting is providing sufficient natural light.
"We have sensors that adjust lighting to how much daylight we have, if it's cloudy or sunny," said Lee Ann Blue, Eskenazi's director of nursing. "We don't have to play with switches."
Eskenazi Health encourages its employees to bike to work and offers preferred parking to those who carpool or drive high-efficiency vehicles. (IBJ photo/Eric Learned)
Eskenazi also encourages employees to cut their energy costs by installing bike racks on campus and providing preferred parking spaces to employees who carpool or have high-efficiency vehicles. And perhaps most visible: The hospital features a sky farm on its rooftop for its kitchens, where employees and patients grow vegetables. From the harvest, the hospital distributes free produce to employees every Friday.
For all those steps, Eskenazi was recognized last year by Becker's Hospital Review as one of the 68 "greenest hospitals in America"—the only Indiana hospital to make the list.
Eskenazi "has a reputation for creating cleaner, healthier and more energy-efficient environments," the publication said.
Digging into details
Other Indiana health systems say they are pushing to become more sustainable, doing a top-to-bottom review of every energy, waste and disposal system. Some of the moves are widely embraced, such as switching from low-efficiency lighting to LED lights—something just about every hospital is doing.
But much of the effort toward reducing energy consumption and waste takes place behind the scenes, in not-so-visible ways. Many hospitals here say they conduct wide-range audits of their energy usage.
"We go through the operation of every major piece of equipment, particularly our chillers, our boilers, and anything else that has a high-energy consumption element," said Keith Rodebeck, administrative director of engineering at Franciscan Health in Indianapolis. Chillers are huge air-conditioning systems. Boilers create steam that heats buildings and hot water for kitchens and bathrooms.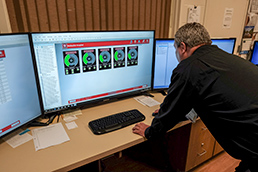 Indiana University Health is doing more to monitor its energy usage after an audit four years ago that recommended several changes. (IBJ photo/Eric Learned)
And some hospitals are creating in-house teams to recommend ways to save money. At IU Health, a team analyzed energy consumption about four years ago and came up with a list of recommendations. By installing more efficient fixtures and adjusting energy loads based upon the weather, IU Health was able to cut $2 million from its electricity bills annually, Hood said.
"Just by having an orchestrated effort and a team really focusing on our energy spend and being much smarter about the way we manage our facilities, we've been able to have some really nice results," he said.
This year, IU Health plans to expand its efforts by starting a food-composting program and boost its recycling. It declined to estimate how much it hopes to save as a result, saying it was premature to speculate.
IU Health earlier this year shut down its elevated train, known as the People Mover, which it called a "significant user" of electricity. It replaced it with a new bus shuttle service that uses compressed natural gas or propane fuel.
By switching over to buses, the health system said it expects to save about $40 million over the next 10 years in lower energy and maintenance costs.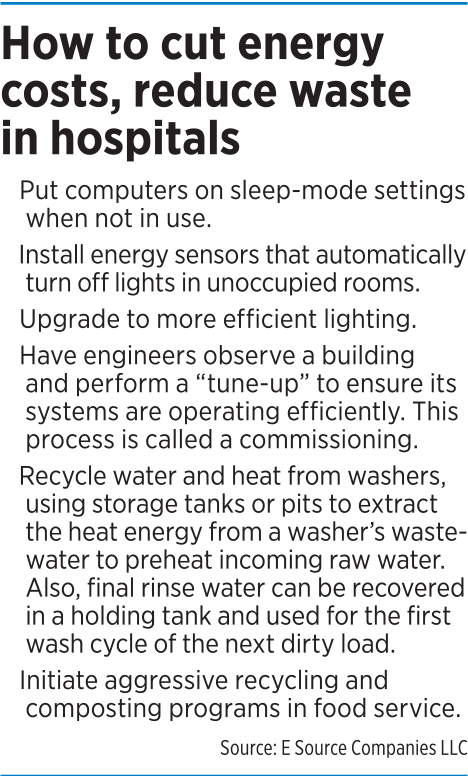 St. Vincent Indianapolis Hospital has converted all its lighting to LED. As part of a cafeteria renovation, it switched its dishes, cups and utensils from disposable to durable. The hospital's parent, St. Louis-based Ascension, started an "environmental stewardship program" in 2008 with the goal to reducing energy use across all its hospitals by 5%—and said it quickly met the goal. It then set a new goal: reducing energy use by 20% by 2020. It met that goal in 2017, three years early.
Hendricks Regional Health replaced all outdoor lighting fixtures at its Brownsburg medical building with LED fixtures and saw a reduction in amperage of more than 40%, resulting in lower bills. It also installed a system to recover clean water to be reused in the central air-conditioning system. Last year, the system collected 412,632 gallons of water at its two hospitals, which would otherwise have run down the storm sewer.
Across the nation, some hospitals have attracted attention for instituting sweeping measures to become more sustainable, according to Becker's Hospital Review.
Johns Hopkins Hospital in Baltimore installed a solar farm with 43,000 panels, which helps it reduce 30,000 metric tons of carbon dioxide annually. Between 2011 and 2016, the hospital increased its recycling from 1% of waste to 17% and reduced medical waste from 33% of the total waste produced at the hospital to 12%.
In 2017, Seattle Children's Hospital reduced by 1 million gallons—or about 14%—the amount of water needed to irrigate its landscaping. Its anesthesia department lowered desflurane, a greenhouse gas, by 31%. The hospital also provided a $4.50 daily pay incentive for employees to carpool, bike, walk or take public transit.
Gunderson Health System in La Crosse, Wisconsin, uses wind, wood chips and landfill-produced methane gas to generate power. Those steps helped it to become the first hospital system in the U.S. to produce more energy than it consumed in 2014, according to Kaiser Health News.
While such steps reduce costs, some hospital officials say they have a bigger motivation.
"Obviously saving money is important," said Harris at Eskenazi Health. "But it's primarily about having everything we do stand as a testimony to our values and our commitment to health and sustainability."•
Please enable JavaScript to view this content.