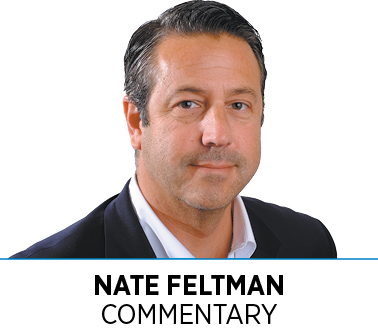 Our focus on the intersection of business and community continues this week with our Impact Indiana section highlighting volunteerism efforts in the business community.
In March, we highlighted the role businesses and their leaders play in public-policy advocacy. I noted the number of CEOs from around the state that were publicly calling on our legislators and governor to enact and sign a hate crimes law. Their advocacy and engagement (along with Gov. Eric Holcomb's urging) paid off at the end of April when the Legislature passed such a bill. Although not as comprehensive as some would have liked, Indiana made progress and the state's business community played an important role.
Volunteerism efforts of the business community come in many different forms. Some companies choose to provide their employees with a specific project. The construction company Shiel Sexton, for example, each year rallies their employees to build something tangible that benefits the community. All employees are encouraged to participate, regardless of their skills. Roche Diagnostics has a multi-tiered partnership with Lawrence Township Schools. One aspect of that partnership focuses on providing students with hands-on exposure to careers at Roche requiring skills in science, technology, engineering and math.
Other companies prefer to let their employees choose the project or charity and then support their employees' volunteer efforts with resources. The National Bank of Indianapolis is one such employer that provides its employees a volunteer paid day off so that employees can volunteer for the cause they choose. The law firm Faegre Baker Daniels encourages its lawyers to provide pro bona legal representation to low income individuals. The law firm's lawyers are committed to providing pro bono legal representation equivalent to at least 3% of the firm's total annual billable hours.
Business leaders recognize today that they and their companies have the ability to positively impact their community through volunteerism efforts. Many see it as a responsibility. In addition to the positive community impact, encouraging volunteerism and committing company resources to important social causes can be a competitive advantage, especially in a tight job market. Many studies show a company's commitment to social responsibility is increasingly important to millennials when choosing an employer.
Businesses play arguably the most critical role in the growth of our communities and the quality of life we all enjoy. We hope the volunteerism stories in this quarter's Impact Indiana section inspire you and your company to further your community engagement efforts. Stay tuned for our Impact Indiana section in September, which will be devoted to the role of the business community in neighborhood development.•
__________
Feltman, an attorney and former secretary of commerce for the state of Indiana, is a shareholder in IBJ Corp., which owns Indianapolis Business Journal. To comment on this column, send email to nfeltman@ibj.com.
Please enable JavaScript to view this content.