Whitestown is growing fast—but it's nothing like the population explosion that will occur for a few weeks each year when the Little League International Central Region starts hosting tournaments at a new headquarters there next year.
All those visitors are expected to have a significant economic impact on the Boone County community—and could spark additional development.
Work on the new facility—which will include two ball diamonds and administrative offices plus broadcast facilities—is expected to begin soon, following the Whitestown Plan Commission's recent approval of a development plan for the project. The fields are expected to be completed in time for tournaments next summer.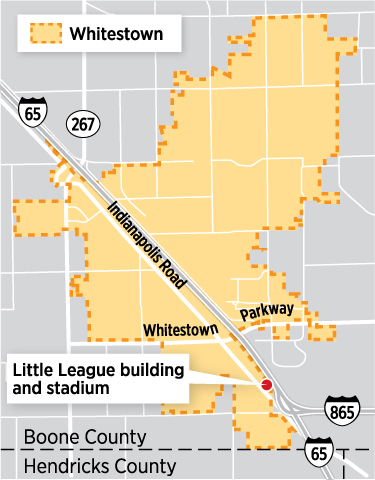 Last August, Little League International, which had been looking for a new home for its then-Indianapolis headquarters since 2016, announced it would build the project in Whitestown. Neighboring Zionsville actually was the organization's first choice, but Little League began looking elsewhere after residents there took issue with a residential development tied to the Little League project.
Now, Whitestown, which has a population of less than 9,000, is bracing for an estimated 20,000 to 40,000 visitors annually as well as national and international press who will attend tournaments that will be broadcast across the ESPN family of networks.
For more than two decades, those visitors made their way to the far-east side of Indianapolis, where Little League had its regional headquarters at 42nd Street and Mitthoeffer Road as well as six ball diamonds, an indoor community center, covered pavilion and a parking lot. Cathedral High School bought those assets in 2017, and for the last couple of years, Little League has been playing its regional tournaments in Grand Park in Westfield.
But now, the attention shifts to Boone County.
Tanya Sumner, director of public relations for Whitestown, said town leaders are excited about the additional exposure. Regionally, Whitestown has garnered attention as the state's fastest-growing community for the past eight years. But the Little League tournaments should expand the community's profile further, she said.
"This brings it to a wider scale, for sure," she said.
The regional office, one of five across the U.S., oversees a 13-state district that includes operations for 26,000 youth baseball and softball teams and 375,000 players. The headquarters will serve as offices for the regional director and her staff.
Annually, the office hosts the Little League Midwest and Great Lakes Region Championship tournaments leading up to the Little League World Series, which is played in Williamsport, Pennsylvania, the home of the international organization.
The local headquarters also will host the Little League Central Region softball championship.
Whitestown officials say they're excited about the direct economic impact the Little League facility will have on the community, and they hope it's a catalyst for more growth in the area, which is already booming with new retail and restaurants.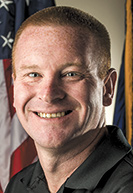 Lawson
"One thing we hope is that this spurs other future development," Whitestown Town Manager Jason Lawson said.
Direct impact
Kevin Fountain, director of media relations for Little League International, told IBJ that nearly 40 baseball and softball games will be played at the Whitestown facility in July and August,
Ballplayers coming to town for the annual tournaments will book an estimated 800 room nights at local hotels (baseball players will need 500 rooms, and softball players will need another 300), Lawson said. Depending on the number of families tagging along, even more rooms likely will be needed.
Currently, Whitestown has 400 hotel rooms, with another 200 approved for construction, meaning potentially all of Whitestown's hotel rooms could be booked by Little Leaguers. That means some of the families and teams booking hotels for those tournaments will have to book hotels in Lebanon and beyond, Lawson said.
Visitors are also expected to spend heavily at restaurants in the area, but they'll likely branch out and spend on recreation activities across Indianapolis, too.
Little League International estimates visitors will spend $1 million to $1.5 million annually on lodging, food and other travel-related expenses.
That economic impact, coupled with the associated exposure, lured 70 communities in the Central Region district to submit proposals to land the headquarters in their community. Whitestown didn't initially submit an application.
When the project met pushback from some Zionsville residents who were unhappy with an associated housing development, Little League chose to look elsewhere. That's when Whitestown stepped up with a proposal of its own.
Already, the community had been eyeing 135 acres of land that was previously home to the Wrecks Inc. automobile junkyard for a community campus. Little League's Central Region headquarters would be a perfect fit, town leaders thought.
The town paid about $6.5 million for the land and agreed to donate about 20 acres to Little League for its project. Additionally, a local organizing committee is helping Little League International raise $1.5 million in cash and in-kind support to offset costs to relocate, Fountain said.
Those investments should pay off, tourism leaders say.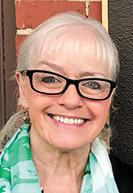 Buzzell
In Warner Robins, Georgia, a suburb of Macon and the home of the Southeastern Region headquarters, Little League's presence has been a huge win for the community of about 75,000, said Marsha Priest Buzzell, executive director of the Warner Robins Convention & Visitors Bureau.
About a decade ago, Little League International made the decision to relocate its Southeastern headquarters from St. Petersburg, Florida, and chose Warner Robins for its new home.
Little League's economic impact, calculated by the state of Georgia's tourism office, averages about $1.5 million, though that figure fluctuates depending on which Little League teams are playing in the tournament, Buzzell said.
In 2017, the 10-day tournament saw 9,500 attendees who spent nearly $2 million. The largest chunk of that spending—63 percent—was on food and beverage and retail. Another 14 percent was spent on recreation, followed by 11 percent on lodging.
During years when Warner Robins' American Little League players advance to the regional tournament, visitor spending can be even higher. If Warner Robins' is playing, the stadium is jam-packed, she said.
"The tourism industry affects everyone … so everyone received a return on having the games here," Buzzell said. "We're just thrilled."
Spinoff impact
Beyond visitor spending, the Little League facility in Warner Robins has spurred related economic development that might not have come to fruition if not for the ball diamonds and headquarters, Buzzell said.
When choosing where to build the Southeastern Regional Headquarters, economic development leaders purposefully chose an edge of town that was largely undeveloped, hoping the facility would drive new construction. It's spurred tremendous growth, she said.
Since Little League began hosting tournaments there 10 years ago, a family entertainment center and a water park have opened. Additionally, a hotel and several restaurants have sprung up near the ball diamonds to serve baseball and softball teams and their families.
In Whitestown, plans for Little League and the larger community campus—which will be known as Maurer Commons—immediately drew interest from developers. Whitestown leaders say the town received a half a dozen phone calls the day after last fall's announcement.
A developer already has expressed interest in about 15 acres of land for a mixed-use project just north of where the Little League facility will be built, Lawson said. Discussions are preliminary, but the project likely would include multi-family residential, restaurants and retail, he said.
In addition to the Little League facility, the 135-acre Maurer Commons is expected to be home to a host of other amenities, such as other sports facilities and an amphitheater.
Town leaders expect Little League's investment will kick off development of the campus and spur public-private partnerships.•
Please enable JavaScript to view this content.