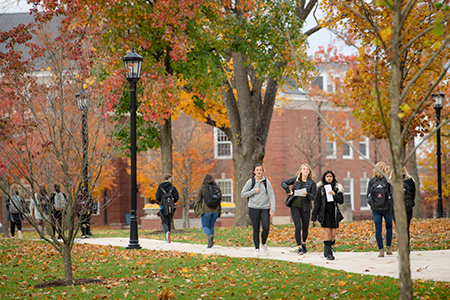 With large amounts of money comes large responsibility—and pressure. Brooke Bandy knows that, and she is excited.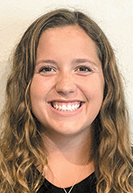 Bandy
Bandy, a 2019 alumna of DePauw University in Greencastle, was co-president of the DePauw Investment Group during the 2018-19 school year.
For most of the school year, the student-managed investment group only oversaw about $160,000. But the stakes skyrocketed in April when DePauw's board of trustees added $1 million from the university's $731 million endowment.
"Obviously it's an additional sense of responsibility, now that we're managing not just our own funds," Bandy said.
Bandy said the group now has the resources to make a difference for the 2,300-student university. Future goals such as adding scholarships or courses can be affected by the investment returns the group achieves.
Jeff Cozad, a member of DePauw's board of trustees and chairman of its investment committee, said that after he learned about the student investment group a couple of years ago, he wanted to provide it an even more substantial, real-life investing experience.
"I thought, boy, this could be a really neat collaboration between the students, the faculty, the administration … and the trustees," said Cozad, co-founder and managing partner of Stonerise Capital Partners in San Francisco.
The idea that DePauw students would someday be managing more than $1 million was unthinkable back in 1963, when the Arie and Ida Crown Memorial Fund contributed $4,000 to kick off the program.
Now the group of 50 students, who come from a wide range of majors–including economics, computer science and communications—meets in the McDermond Center, the management and entrepreneurship building, weekly during the school year to discuss and monitor their portfolio. They also occasionally check on the investments over the summer.
Such programs have become increasingly popular at colleges nationally to give students real-world investing experience.
Another Hoosier school that's embraced the approach is the 5,100-student Butler University in Indianapolis, where students in 2013 received the opportunity to manage $1.2 million from the university's $150 million endowment.
That $1.2 million has increased to $2.3 million thanks to investment returns. And the endowment is now more than $200 million, thanks to investment returns and gifts to the university.
"Some semesters we outperform, some we underperform, but over the 10-year period we're pretty much right in line with the S&P 500," said Steve Dolvin, a Butler economics, business law and finance professor.
Gunning for growth
Stock investors typically embrace one of two investment approaches—value investing, which focuses on identifying stocks trading below their intrinsic value, and growth investing, which targets stocks with the potential to post outsized earnings growth.
The DePauw Investment Group is squarely in the growth camp. Some of its biggest holdings are three tech giants that are too pricey for most value investors: Amazon, Apple and Salesforce.
Some of its best-performing investments in 2018 were medical device firm Boston Scientific (up 43% for the year), Netflix (up 35%) and the drug giants Merck and Eli Lilly and Co. (both up 35%).
However, the students don't always have the magic touch. They also invested in Pacific Gas & Electric Corp., which faces billions of dollars in claims stemming from the California wildfires and sought bankruptcy protection in January.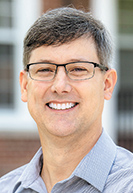 Gropp
Jeff Gropp, pro-fessor of economics and management and the group's advisor, said the investment group is organized like a real asset management company.
An analyst or portfolio manager presents a stock to the investment group's executive team, leaving them to decide whether to approve or reject the proposal. Gropp must approve the investment decision as well.
Upping the stakes
The group outperformed the market in 2018, a rough year for investors overall. It posted a return of -3.16% while the S&P 500 shed -4.38%.
With more money in play now, the group wants to expand into other types of investments, potentially enabling it to earn higher returns. Possibilities include fixed income, options, real estate and foreign equity.
The students gain investing savvy in part from presentations by a stream of visiting speakers, some of them DePauw alumni and others with experience in investing.
One notable speaker was Scott Nations, president of NationsShares, a division of Fortress Trading Inc. He is also the author of three books.
"One thing that the speakers do really well is they talk about how what we're doing can really benefit us in the future and after graduation," Bandy said.
Bandy majored in economics and math at DePauw. She said she is transitioning out of the group this month and by July will no longer oversee the fund.
She now works as a financial analyst in the private wealth management division at Goldman Sachs in Chicago.
Gropp said he is thankful the university entrusts students with real money to manage. He said it is a big responsibility for them to protect and grow that money in order to fund future educational opportunities at DePauw.
"It's been a sincere honor to be a part of this group and it's really been a blessing to see the hard work that students have put into it and to see the rewards that are coming for DePauw and the future students," Gropp said.•
Please enable JavaScript to view this content.