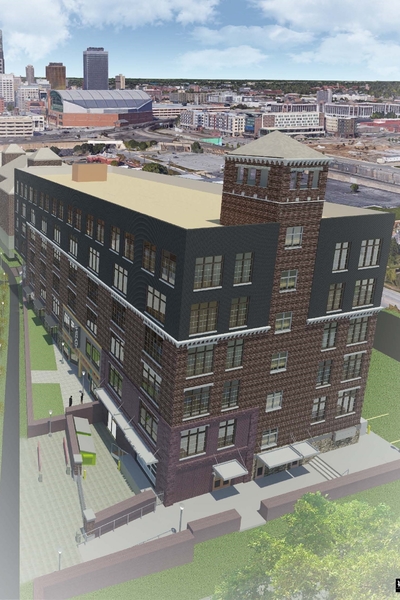 The investor group behind downtown tech incubator Union 525 plans to spend $10 million to add a second building to its campus in a bid to accommodate several of its fastest-growing companies.
Plans call for the six-story, 67,000-square-foot Union 601 building to be built at 601 S. Meridian St., adjacent to the historic Brougher Building at 525 S. Meridian, which was converted from a school into an open-layout tech office building starting in 2017.
About 25 tech-based companies lease space at the 122,000-square-foot Union 525, with about half primed for expansion, said investor John Teibel, who said the building is 100% occupied and is home to about 400 workers.
"A lot of our businesses need room to grow; it's about elbow room and supporting our existing businesses here," Teibel said. "Of course, we'd love to add new [businesses] to our campus, but this comes as several of the companies here are looking for more room."
Teibel, a Lafayette-based real estate developer, is one of four business partners on the Union development. The others are Brad Teibel; Schererville-based businessman Al Krygier; and John Hurley, CEO of software firm SmartFile, who run the company as 525 Meridian LLC. Combined, the partners oversee more than 4 million square feet of office space around the state.
The group said it expects to spend $10 million in private funding on the project. The project already has received air rights and Regional Center approvals.
Construction on the new building is expected to begin later this summer, with a target occupancy of summer 2020, he said. It will not be physically connected to the 525 property, though it is expected to have a similar—though more modern—curb appeal.
Indianapolis-based architectural firm Prince Alexander LLC designed the building.
The property has been controlled by 525 Meridian LLC since 2015, when the investment group bought it from Eli Lilly and Co. The group spent about $10 million to renovate the 124-year-old Brougher Building, which once housed Harry E. Wood High School.
The existing campus includes a coffee shop, a gymnasium and a fitness room, among other amenities.
The for-profit venture caters to tech startups, allowing tenants to secure shorter-term leases rather than lengthier deals that can often prove costly for companies trying to position themselves for expansion.
The short-term leases—which range from one to three years—allow tenants to adjust their space, as needed, in increments of about 5,000 square feet.
The new building will include about 10,000 square feet of leasable office space per floor, with room for about 200 employees, Teibel said.
Please enable JavaScript to view this content.