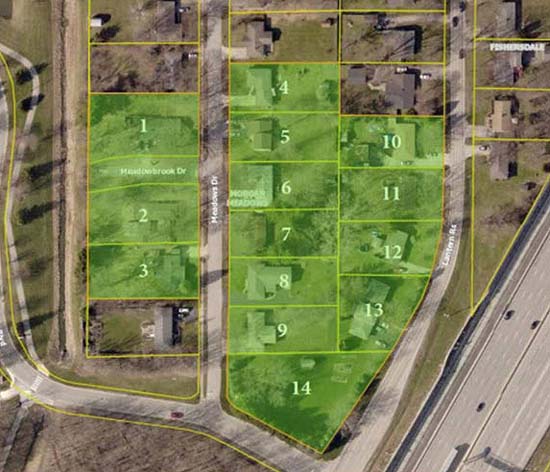 Indianapolis-based Scannell Properties plans to buy and demolish homes on 14 residential parcels in Fishers to make way for a $29 million apartment community.
The project would be built south of the Nickel Plate District and north of the intersection of Lantern Road and Fishers Point Boulevard. The development would include 180 one- and two-bedroom apartments across a trio of three-story buildings, site plans show.
Scannell has the residential parcels under contract. They are located at 8698 and 8699 Meadowbrook Drive; 11121, 11196, 11178, 11156, 11138, 11120 and 11100 Meadows Drive; and 11167, 11145, 11123 and 11101 Lantern Road. (The last address includes two parcels.)
The Fishers City Council on Monday night voted 5-3 to approve a development agreement between the city and Scannell that calls for the city to issue a bond to help finance the project. The bond would be backed by Scannell. The total amount of the bond has not yet been determined, but it would not exceed the assessed value of the property.
Under a tax increment financing agreement, 95 percent of the increase in property tax revenue generated by the redeveloped properties would be used to pay off the bond. The remaining 5% would go to the city.
The council also agreed to waive fees associated with construction.
The agreement gives Scannell until March 1 to begin construction. It also states that the work must be complete two years after construction starts.
Fishers Economic Development Director Megan Baumgartner told councilor the developer has been "super conscious" of the homes that surround the development and said the project would serve as a gateway to the Nickel Plate District.
Councilors David George, Cecilia Coble and Todd Zimmerman voted against the agreement.
George said he voted no because he believes the property would better be used for for-sale housing options.
The Nickel Plate District already has multi-family, for-rent housing options and plenty of retail, so it's important to protect land for for-sale homes, he said.
Please enable JavaScript to view this content.