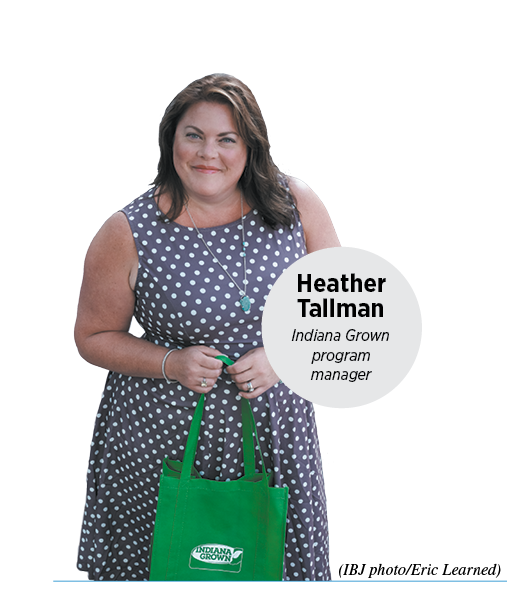 This month, more than 150 Indiana-based farmers, artisans and other makers will come to Monument Circle for Indiana Grown's third Monumental Marketplace event.
Described as a "pop-up market," the free event will feature Indiana food, drinks, homemade items and food trucks.
"This is like a farmers market on steroids," said Heather Tallman, program manager for Indiana Grown and event organizer.
The Monumental Marketplace was originally intended as a one-time celebration for Indiana Grown, a marketing program of the Indiana Department of Agriculture for Indiana grown, produced or manufactured food products. "It was our biggest hope to put agriculture on display," Tallman said.
But there was such a big turnout at the event the first year—organizers apparently stopped counting attendees once they surpassed 6,000—that organizers have decided to make it an annual festival. This is the third year of the marketplace.
This year, the event is from 10 a.m. to 2 p.m. on June 28 on Monument Circle.
Who do you hope to attract to the event?
We have a pretty diverse audience. Of course, we have a lot of people who work in downtown Indy who come on their lunch break. We want people to leave their lunch at home and come shop. There are no farmers markets on Friday and rarely are there daytime Friday events. We wanted to capture the downtown working audience and we didn't want to conflict with [our vendors'] business plans.
We hear a lot from people, "Wow, I had no idea that was made in Indiana." People are surprised we can grow close to everything in Indiana. A lot of people will be impressed with the fact that everyone in the booths will be the owners, the makers or the farmers. I'm way more likely to spend more money or any money on something if I'm spending it with the person who grew it or made it.
How is Indiana Grown evolving?
Right now, we're fortunate enough to have a member in every Indiana county. We're sitting right under 1,500 members. Our members range from hog farmers to people who roast coffee. We're here to promote economic development. We first launched in 2015. We've really quickly jumped. I would say we had under 400 members in the first year.
We have created more events and promotions and high-value projects that help elevate our message. In the fall, we'll roll out a buyer's guide to help Indiana school districts' food service providers find local food easier.
What is your favorite part of Monumental Marketplace?
The first year we had this event, unknown to me, I placed some of our members side by side who didn't know each other. Those people struck up relationships and are doing business together now, which I consider to be fairly life-changing. We have several new members that are coming this year that have never been. I hope there will be new connections that are made.
The first year, a produce distribution company [Piazza Produce & Specialty Foods] came to our event and was talking to a blackberry grower from District 6 Farms [of Jasonville]. He fell in love with their story. It's so hard to grow blackberries in Indiana or find a buyer in state. He went home and crunched some numbers. He now buys their entire crop, other than what they sell to a winery. For them, young farmers under 30, that was kind of a big deal and they met at the Monumental Marketplace.•
Please enable JavaScript to view this content.