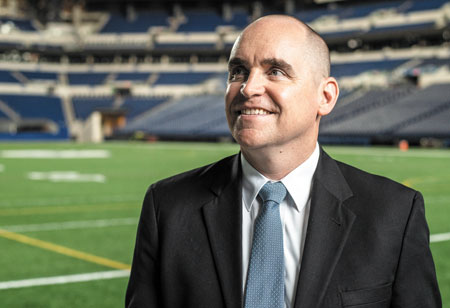 Andy Mallon likes solving problems and avoiding the spotlight.
He's gotten good at both over the past three years as the city's corporation counsel—essentially Mayor Joe Hogsett's top attorney—and it's a trend he hopes to continue as he takes the reins of the Capital Improvement Board.
The 43-year-old Indianapolis native was tapped in May to head the CIB, replacing longtime Executive Director Barney Levengood, who announced his retirement in February after 28 years at the helm.
His hire comes as the CIB yearns for a continuation of the steady leadership it gleaned from Levengood, a brash-but-steadfast captain of the organization.
Mallon's task will be much the same, though he inherits a slew of long-term projects undertaken in recent years by Levengood and the CIB board, including a $120 million expansion of the Indiana Convention Center and a $360 million overhaul of Bankers Life Fieldhouse.
He'll also have to carry out a slate of calculated moves designed to give the quasi-government agency a more sound financial future, including a 25-year vision.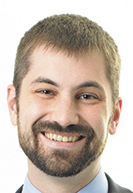 Cook
"When you look at the CIB at this moment in time—really over the next five-or-so years—we've never had more of a convergence of major projects that will define our future," said board President Melina Kennedy.
As prepared as Kennedy and other observers say Mallon is to fight for the CIB and its interests—as well as those of taxpayers—he isn't his predecessor.
And makes no attempts to be.
Where Levengood had a gruff public persona, Mallon has been described by those close to him as "more of a teddy bear."
His chipper, unassuming temperament contrasts sharply with that of Levengood, whom CIB observers described as boisterous, brazen and hard-nosed. Even so, the ex-CIB director is highly regarded, personally and professionally, those observers say.
But the contrasting styles don't make Mallon a pushover.
"He can be a bulldog when he needs to be, but more often than not is the cool head in the room," said Thomas Cook, Hogsett's chief of staff. "I think that's what makes him a great pick for this job. He's a nice guy, but he isn't going to be taken advantage of."
'Andy is the right guy'
As the city's corporation counsel, Mallon was heavily involved in projects like the planned criminal justice campus and the city's deal with international tech giant Infosys, along with a cacophony of other legal affairs ranging from pothole claims to lawsuits. He was also involved in the city's unsuccessful bid for the second Amazon headquarters.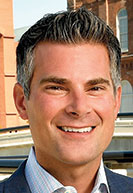 Gahl
Cook described Mallon as "one of the most highly regarded people in city government." He generally shied from the politics of city legal affairs, even as the mayor elevated his post to cabinet level.
"I've always found it extremely important to have trusting, incredible relationships" with people on both sides of the aisle, Mallon told IBJ.
Despite his and Levengood's different demeanors, Mallon said, the two have similar leadership styles—that is, both work best from behind the scenes.
Cook, who has worked with both men extensively the past few years, agreed.
"They're both really good at the micro and the macro levels of management," he said. "Even though their backgrounds and styles are very different, that dedication to the city is something that I really respect about both of them."
Vaughn
While Visit Indy—which receives most of its funding from the CIB—was not directly involved in the hiring process, President Leonard Hoops said "Andy is the right guy" for the position.
As he did with Levengood, Hoops meets weekly with Mallon to discuss the city's convention industry and what Visit Indy is doing to showcase Indianapolis to meeting planners.
Hoops said Mallon's hire allows the CIB to capitalize on an effort to push its 25-year strategy.
"What the CIB needs now is different from what it needed when Barney was hired," he said. Hoops added that Mallon's skill set "is certainly different" from Levengood's.
Insiders said they expect Mallon will succeed at the CIB in large part because of his "dedication to protecting taxpayers."
"He really fights on behalf of the public, especially when tax money is involved," Cook said. "I think he'll be fighting each and every day to both defend taxpayers and preserve the institutions they've helped pay for."
Mallon comes to the table with a deep understanding of the financial workings of large-scale projects, and knows how to work with politicians and lawmakers—a skill shaped during multiple stints in city government and as a litigation attorney.
Learning curve

But he has far less familiarity with how massive event facilities operate.
The new executive director said he is learning quickly, telling IBJ he has spent "countless hours" trying to understand as much as he can about the sports and tourism industries and the intricacies of each of the CIB's facilities.
In all, the CIB owns five downtown properties: Lucas Oil Stadium, the Indiana Convention Center, Victory Field, Bankers Life Fieldhouse and the Virginia Avenue parking garage attached to the fieldhouse. It manages nearly 1 million square feet of space at Lucas Oil and the convention center. (Victory Field and Bankers Life Fieldhouse are managed by the Indianapolis Indians and Pacers Sports & Entertainment, respectively.)
"It's been a crash course, but I think I'm getting a grasp for the fundamentals," he said. "I'm going to keep learning, keep building that knowledge base. It's all really interesting."
He has taken extensive tours of each CIB venue and has spoken at length with dozens of operations employees at each.
Mallon is expected to take a back seat on day-to-day management of Lucas Oil and the convention center. Both facilities have dedicated managers and large operations support teams.
He said he doesn't expect he'll need to "hold the hands" of the CIB staff, either.
"The staff here—they're all so good at what they do, which I think is a testament to Barney and how well he was able to find the people who really make these facilities operate extremely effectively," he said.
Industry experts said they aren't concerned by Mallon's lack of facilities experience.
"He's going to do well in his role, just based on the support team he has behind him and his experience in other areas," said Debbie Locklear, an event manager who has helped the city land some of the nation's largest conventions.
Mallon said his focus will be on ensuring the CIB is financially sound and "in a position to help the city grow." That includes guiding the board through a few lean years on the horizon, with some deficits anticipated through at least 2023.
Insiders said they also expect Mallon to be active in negotiations for big-name conventions and on-site activities, much in the way Levengood was.
Locklear said "it means a lot to meeting planners" to have the head of the CIB showing an interest in bringing events to the city.
Mallon will also be responsible for negotiating labor contracts, meeting with leaders of the city's sports franchises, and overseeing contractual obligations for each CIB property.
"At the end of the day on all of these issues, you always have a math problem to solve," he said. "I like that."
Mallon said he hopes to have the position for "years to come" and has no desire to use it as a stepping stone.
"This is where I want to be."
Resounding approval
Mallon's hire has been mostly lauded by those familiar with the CIB and Mallon, with many sources telling IBJ they consider him the perfect fit for the job.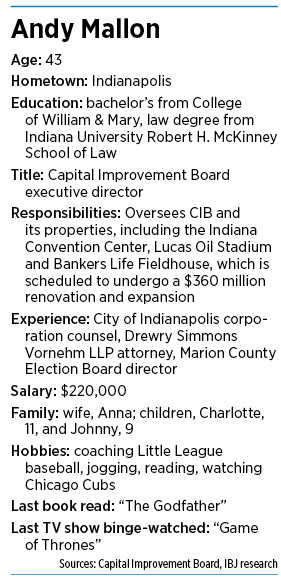 Chris Gahl, vice president of Visit Indy, grew up in the same neighborhood as Mallon, and considers him a friend.
"His moral compass, his credibility, his ethics are always pointed in the right direction; he is someone that can be trusted and someone who cares deeply about our community," he said.
A source familiar with city government who would speak only unnamed said Mallon will likely stay in his role regardless of what happens with this year's mayoral race, in which Hogsett will face Republican state lawmaker Jim Merritt. The mayor appoints the CIB board, but the executive director role is generally seen as apolitical.
Mallon will also work closely with Visit Indy and other nonpartisan groups to help fill the convention center and other CIB facilities.
Among those groups is the Indiana Sports Corp., which pursues major sporting events like the NCAA Final Four and the College Football Playoff and helped the city land the 2012 Super Bowl.
ISC President Ryan Vaughn said he has known Mallon since the early 2000s, when they both worked in city government. He called Mallon "universally respected."
Vaughn served as a Republican on the City-County Council and was a chief of staff to then-Mayor Greg Ballard when Mallon was an adviser to the Democratic council caucus.
"We're going to be working very closely together, and I'm really looking forward to that," Vaughn said. "He's someone who wants to see exciting things happen in Indianapolis … and will work creatively to figure out how to get those done."
For now, Mallon is doing his best to keep his head down, while meeting privately with stakeholders like Vaughn, Hoops and representatives of the city's sports and tourism industries.
"I want to preserve and build upon these incredibly valuable public assets that have been left to me and to all of us that work here," Mallon said. "It isn't about me; this is about this team and what it's doing to make the city better."•
Please enable JavaScript to view this content.