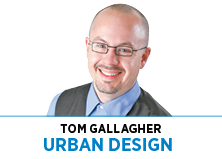 The home and décor website Apartment Therapy recently released its 2019 list of the 24 "coolest suburbs in America." It may come as a surprise that the online magazine made the list because of its urban character. In fact, when discussing its metrics, Apartment Therapy stated, "Overall, we were looking for suburbs in which it didn't feel like you'd be making a ton of sacrifices by moving out of the city."
This is a great demonstration of what may be one of the most misunderstood development concepts of the last century. We have come to think of the places where we live and work as being somewhere along a straight-line classification between urban and rural. With this as the base assumption, it is easy to jump to the conclusion that the idealized middle ground is "suburban." As is usually the case however, the reality is far more complex and arguably, far richer.
◗ Great urban places are not only the city center. Neither are they just super-tall. In fact, some of the most livable urban places in the world do well without skyscrapers. They are not hyper-dense, but they do have a critical mass of population living near enough to each other to support the healthy cultivation of the core relationships of our lives, naturally occurring in five foundational spaces—home, work, third places (like pubs and coffeehouses), true public spaces (like parks and plazas), and organized or spontaneous places that connect us to the spiritual or universal—all ideally within a 20-minute walk, that's an area about the size of four "Mile Squares."
Urban places are characterized by an integrated mix of uses, buildings that can be many things over time and a connected grid of streets where walking is a priority—but many transportation options are accommodated. At the core, they are places of connection.
In contrast, suburban areas are defined by separation. They are characterized by divided land uses and single-purpose buildings that require automobile-oriented transportation along limited access roads and dead-end (cul-de-sac) streets.
A far cry from the original, turn-of-the-century notion of "cities in a garden" that was its precursor, sprawl and unrestrained growth is inherent to today's suburban form. Urban places, on the other hand, work best when they are compact and defined.
◗ Suburbs are not necessarily "suburban." It is unfortunate that in our common parlance, as the Apartment Therapy title suggests, we tend to refer to any area of development outside of the central city as a "suburb" when these places may, in fact have urban character, just at a scale different from the downtown.
Neighborhoods like Haughville, Herron Morton, Fountain Square and Irvington are often referred to as first-ring suburbs, but they were never really suburban. They are simply clusters of urban development that were formed by Indy's once-extensive streetcar system.
Farther out, Zionsville has essentially maintained its walkable urban core since its inception. Most would consider Nashville, Indiana, to be a rural community. Yet, its center is one of my favorite urban places. I've experienced, with as much or more vitality on its streets than I regularly experience in downtown Indy.
Carmel, one of the 24 places on the "coolest" list, has been hard at work to create an urban core for the last 20 years. Today, a 20-minute walk, along the Monon or Rangeline Road, will take you from Main Street in the Arts and Design District, through emerging Midtown, past the Palladium in Carmel City Center to the city's civic complex near Carmel Drive.
Maybe the most important take-aways from Carmel's story is that it is possible to, in a relatively short time, grow the population, tax base and economy by focusing more on quality of life and urban vitality than boundless physical growth.
There is rising concern, particularly in the largest, gateway cities, that urban populations are beginning to decline. Much has been made of the fact that millennials, the demographic most often cited as the impetus for reviving city living, have reached a more established point in their lives and will retreat to suburbia in search of more affordable housing and yards for their new families.
But understanding that urban living means more than just locating in the downtown core of the biggest cities gives us better insight. What people are looking for is not a compromised blend of suburban and urban, but an urban condition scaled to their lifestyle.
This should give us inspiration. There is a large population of people who want to move out of gateway cities to more affordable 18-hour cities like Indy. Moreover, our historic streetcar neighborhoods are a balanced urban alternative to downtown. Beyond that, we should feel confident that outdated and obsolete suburban areas within our city limits can be redeveloped into models of more sustainable and walkable urban places.•
__________
Gallagher is a principal and urban designer with Ratio and a professor-in-practice of urban design at Ball State University. Send correspondence to TGallagher@ratiodesign.com.
Please enable JavaScript to view this content.