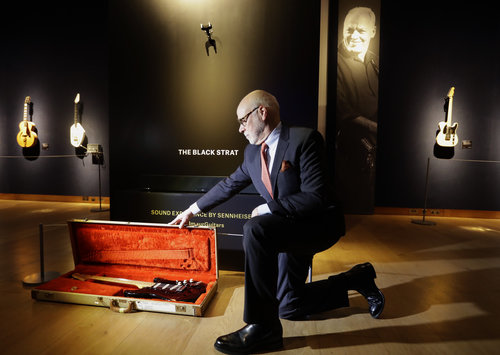 Indianapolis Colts owner Jim Irsay on Thursday paid a record $3.975 million to buy "The Black Strat," a guitar heard on Pink Floyd albums that rank among the most iconic in rock history.
The price was the highest ever paid for a guitar at auction, according to the auction house Christie's, which sold former Pink Floyd frontman David Gilmour's entire guitar collection at the event for a total of $21.5 million.
Gilmour will turn over proceeds from the auction to ClientEarth, an environmental organization fighting climate change.
Irsay, 60, also made two smaller purchases at the auction. Christie's did not identify Irsay as the buyer. But in a tweet, Irsay said, "Over $4 million for the Black Strat and co!! A record purchase. Honored to support Gilmour's charity ClientEarth."
"The Black Strat" was integral to the recording of Pink Floyd albums "The Dark Side of the Moon" (1973), "Wish You Were Here" (1975), "Animals" (1977) and "The Wall" (1979). It's the guitar Gilmour used for solos on "Money" and "Comfortably Numb."
Irsay has frequently made headline-grabbing purchases of musical instruments.
In April, he bought the piano John Lennon used to compose songs for The Beatles' "Sgt. Pepper's Lonely Hearts Club Band" album for $718,750.
And in 2016, he paid $137,500 to buy the Yellow Cloud electric guitar that Prince used in numerous concerts until the mid-1990s.
Irsay also has acquired instruments once owned by musicians Jerry Garcia of The Grateful Dead, singer-songwriter Bob Dylan, and Ringo Star of The Beatles. In 2015, he paid $1.75 million for Starr's drum set.
Rolling Stone said Thursday's auction lasted eight hours and attracted bidders from 66 countries.
The publication said the sale price of "The Black Strat" far exceeded expectations. It said the estimated price range had been just $100,000 to $150,000.
Please enable JavaScript to view this content.