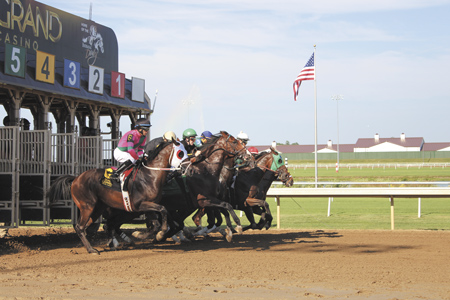 A Reno, Nevada-based gambling resort operator could soon biggest casino owner in Indiana.
Eldorado Resorts Inc. announced Monday that it plans to buy Las Vegas-based Caesars Entertainment Corp. in a cash-and-stock deal valued at $17.3 billion.
Combined with Caesars, Eldorado will boast 60 owned, operated and managed casino–resorts across 16 states, including chains like Harrah's, creating the largest gambling operator in the United States. The deal—following pressure from activist investor Carl Icahn—is targeted to close in the first half of 2020 if approved by gambling regulators and shareholders.
"We are incredibly excited. This is an iconic brand," Eldorado CEO Tom Reeg said referring to Caesars Entertainment during a conference call. "It's really a level of property and brand that we have not had the great fortune to control, and now we will."
Caesars owns two horse-track racing casinos and two casinos in Indiana—Harrah's Hoosier Park in Anderson, Indiana Grand Racing & Casino in Shelbyville, Horseshoe Hammond in Hammond and Horseshoe Southern in Elizabeth.
Caesars acquired Indiana's two racinos last year in a deal worth $1.7 billion.
Eldorado owns one casino in Indiana—Tropicana in Evansville—so the acquisition would increase its number of Indiana properties to five.
Tropicana became a land-based facility in 2017 and saw its revenue increase 18% the following year. The casino had a total win, which is gambling revenue after payouts, of $149 million in fiscal year 2018, making it the eighth largest property in the state out of 13 casinos. Harrah's Hoosier Park, Horseshoe Hammond, Horseshoe Southern and Indiana Grand all had higher total wins in fiscal year 2018.
State law previously limited one casino operator from owning more than two properties—Caesars got around that rule due to the distinction between casinos and racinos—but a bill passed this year raised that cap to six properties.
That legislation also accelerated the timeline for when live-dealer table games would be allowed in racinos from 2021 to 2020.
The acquisition would also give Eldorado control of the off-track betting facilities owned by Caesars, including Winner's Circle in downtown Indianapolis.
The deal requires approval from the Indiana Gaming Commission and the Indiana Horse Racing Commission.
Eldorado would pay $8.40 per share in cash and 0.0899 shares of Eldorado stock for each Caesars share, or $12.75 per share. The transaction values Caesars at about $8.6 billion, and Eldorado will pick up about $8.8 billion of the casino's debt.
Shareholders of Eldorado Resorts Inc. will hold about 51% of the company's outstanding stock, with Caesars Entertainment shareholders holding the remaining and 49%.
The company will be led by Reeg, along with Eldorado Chairman Gary Carano. It will be headquartered in Reno, Nevada, where Eldorado is based, and have a significant corporate presence in Las Vegas, where Caesars is based.
The deal was months in the making. Icahn earlier this year revealed he had amassed an enormous stake in Caesars Entertainment and pushed for fundamental changes at the company, including board representation and a say in the replacement of the then-CEO. He argued that the company's stock was undervalued and the best way to boost it would be to sell the company.
Caesars, which operates more than 30 casinos in the U.S., emerged from bankruptcy protection in late 2017, but it's been struggling since.
Icahn in April appointed Caesars Entertainment's current CEO, Tony Rodio, who had the same role at the billionaire's Tropicana Entertainment, which was sold to Eldorado in 2018. He also got to pick board members.
"While I criticized the Caesars Board when I took a major position several months ago, I would now like to do something that I rarely do, which is to praise a board of directors for acting responsibly and decisively in negotiating and approving this transformational transaction," Icahn said in a prepared statement Monday. "As a combined company, Caesars and Eldorado will be America's preeminent gaming company."
Reeg told analysts and investors the company expects to sell some properties that may allow it to avoid federal antitrust issues. It is also evaluating whether to sell properties on the Las Vegas Strip.
"As I sit here today, I tell you, I think that there's more Strip exposure than we would need to accomplish our goals with our regional database," he said. "So, I would expect that we would be a seller of a Strip asset, but that decision has not been made."
Caesars' stock jumped 14.5% Monday, while shares of Eldorado fell 10.6%.
Eldorado dates back to a single casino that opened in Reno in 1973 by Donald Carano, a lawyer who died in 2017. The town, which calls itself "The Biggest Little City in the World," has always been the second fiddle of Nevada's gambling industry.
The business has grown exponentially in recent years under the direction of Reeg. Among its purchases, Eldorado acquired MTR Gaming Group and Isle of Capri Casinos, and last year added Tropicana Entertainment, which was controlled by Icahn.
Like Caesars, Eldorado has had its ups and downs. The Reno market was pummeled by competition from Indian casinos in Northern California and the expansion of gambling across the country. In 2012, the company put one of its subsidiaries—the Silver Legacy Resort Casino, a joint venture with MGM Resorts International—into bankruptcy.
For a time, it seemed the Carano family would be more likely to have long-term wealth from their winery Ferrari-Carano Vineyards in Healdsburg, California. Then the family set on a strategy of diversifying its casino business through acquisitions.
Reeg, a former banker who's now 47, joined the board of directors in 2007. With the demeanor of an accountant more than a casino boss, Reeg has built a reputation for cutting costs and boosting profits. He consolidated functions at resorts the company acquired and cut back on the promotions that often lead to vicious competition in small markets.
Eldorado also boosted results at its properties by adding additional hotel and dining options, such as the Row, a food court in Reno, and a hotel near its property in Columbus, Ohio. Reeg has proven himself a shrewd negotiator outside of acquisitions, cutting deals with William Hill Plc and the Stars Group in the emerging market of sports betting. He's also teamed up with Maryland's Cordish Cos. to develop the area around a horse track in Pompano, Florida.
Eldorado and Caesars said Monday that they have identified benefits of $500 million by combining the businesses, and expect the deal to boost cash flow immediately.
"As with our past transactions, we have a detailed plan for significant synergy realization," Reeg said in a statement.
Please enable JavaScript to view this content.