Is the GOP the party for business interests?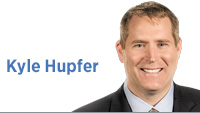 Low taxes. Balanced budgeting. Responsible reserves. Great government service. These common-sense Republican policy solutions—and more—have created an attractive environment for business growth in Indiana that benefits not only our state's economy, but most important, the people who live within our state.
Don't believe me? Let's take a look back.
Before the election of Mitch Daniels as our governor in 2004, Indiana was the poster child of the oft-forgotten flyover country. Growth was stagnant or non-existent. Companies looked past us toward other, more enticing places to do business and add jobs. And our state's books were in the red. Deep, deep in the red. But that all changed.
For the past 15 years, under the leadership of then-Gov. Daniels, then-Gov. Mike Pence and now-Gov. Eric Holcomb, Indiana has steadily seen our stock rise as one of the top places to do business in the entire country. In fact, when Holcomb travels anywhere in the United States or anywhere overseas, the story is the same: What we're doing here is getting noticed everywhere.
Why? It's easy. We give job creators both large and small the confidence they need to take the next step in their growth. Or, dare I say, to take their business, idea or product to the next level. And that means something. With 49 other states and dozens upon dozens of countries to choose from, the fact that Indiana is on the map is a testament to our pro-growth policies and to the results those policies produce.
But it's important to note that our focus is not on helping businesses succeed necessarily, but instead on fostering an environment where people themselves can grow. We want Indiana to be, as the governor says, the best place to live, work, play and stay. And that means focusing on quality of place and quality of life, too.
That simultaneous focus, along with our already impressive list of policy accomplishments, has led to record-setting job commitments in consecutive years and driven Indiana's unemployment rate below the national average and below the rates of our neighboring states. Our private-sector employment is at peak levels, and our labor-force growth is outpacing the nation.
But the macro success obscures what is really making Indiana's growth possible—and that's our coordinated approach at the micro level. Every town, city, county and region of Indiana is seeing the incredible growth that comes from pro-people policies because we have ingrained in our Hoosier culture the spirit of teamwork and cooperation. No one and no place is being left behind as Indiana tackles the challenges of today and prepares for the next great challenges of tomorrow.
To do so, Holcomb implemented a statewide effort to skill-up our workforce through Next Level Jobs, while also encouraging economic diversification by attracting innovative companies and entrepreneurs to Indiana from across the country and around the world. And, through Next Level Connections, he is improving and enhancing our infrastructure from roads and bridges to broadband access so rural businesses, farmers and students can better compete locally and globally.
With all that's going on, it's fair to say that it's not only working, but it's working everywhere in Indiana. And it's working because of Republican leadership.•
__________
Hupfer is chairman of the Indiana Republican Party. Send comments to ibjedit@ibj.com.
Click here for more Forefront columns.
Please enable JavaScript to view this content.