Is the GOP the party for business interests?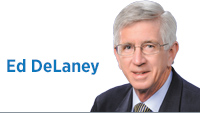 Indiana businesses are facing new problems. First and foremost, they simply lack adequate numbers of well-prepared employees. Our business leaders have reflexively turned to the Republican Party for help. In response, they have been given lots of "workforce" programs but no real assistance.
Real help would mean effective transportation for employees and preschool for their children, support for modern technology, maybe even mean a rational immigration policy that would bring talent to our state. It might even include going back to traditional Republican support for free trade.
What has been the response of the Indiana Republican leadership? Half measures, inaction and collusion with the national Republican Party.
Supporting employees
Employers are reluctant to directly provide transportation and child care for their staffs. They pay taxes in hopes that government will provide these benefits. Employees need decent roads and, in some cases, public transit. Our governor has stood silent while Washington fails to move on transportation infrastructure and our city streets and highways decay.
As to preschool, we have begun a rollout in Indiana that is so measured it would take a generation to provide affordable preschool statewide. It seems we want to appear to support preschool but not to fund it in any meaningful way. The use of grants for preschool, rather than broad financing, is evidence.
We need prepared children everywhere, not just in a few areas. Parents need to be able to afford to go to work now, not after a multiyear rollout. Preschool operators need to know there is lasting support. Full funding is long overdue.
Supporting innovation
Indiana is now in the bizarre position of telling businesses to slow down on innovation. We slow down the use of wind and solar power just when our utilities want to expand their use. We have proven incapable of expanding broadband to our smaller communities. Our Hoosier Republicans join their friends in Washington in pretending there is no climate problem and that coal can be reborn. And this from the party that brought us the railroads and the interstate highways.
Attracting people
The Indiana Republican Party has utterly failed to address our need for a larger workforce and our need to benefit from the schools we have built. They have railed against immigration without analyzing our needs. Our employers need to see the number of visas for skilled workers increase—not shrink. Our home builders and landscapers need to find workers who are legitimately in this country.
How long must they, and we, put up with a shadow workforce? Our small towns need people. How about supporting our refugee organizations, including those who bring in people who have been cleared to live and work here?
Trade
Republicans were once the party of free trade. They helped open markets for our farmers in China and Mexico. Now they shut them off. Manufacturers and merchants created lengthy supply chains because of free trade supported by the United States. Our consumers benefited.
Will Hoosier Republicans stay quiet about this? Are Republican seats in the Statehouse really worth the price of silence?
If our farmers, manufacturers and merchants aren't ready to divorce the Republicans, maybe they should have a trial separation. We Democrats have people willing to help with the adjustment.•
__________
DeLaney, an Indianapolis attorney, is a Democrat representing the 86th District in the Indiana House of Representatives. Send comments to ibjedit@ibj.com.
Click here for more Forefront columns.
Please enable JavaScript to view this content.