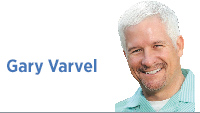 In 1978, Harold Trulock, the late editor of The Muncie Evening Press, told me, "You're good, kid, but we can't afford to pay a guy to draw cartoons."
His words were prophetic in more ways than he knew. Even large newspapers have counted the cost of a cartoonist and decided they can't afford it.
This month, The New York Times fired its two cartoonists, Patrick Chappatte and Heng Kim Song, who drew for the international edition.
This wasn't a cost-cutting measure. I believe it was a response to the outrage The Times received in April after the international editions printed an anti-Semitic cartoon of Israeli Prime Minister Benjamin Netanyahu as a dog leading a blind Donald Trump. The Times apologized, then terminated all syndicated cartoons and its own cartoonists.
Chappatte wrote, "I'm afraid this is not just about cartoons, but about journalism and opinion in general. We are in a world where moralistic mobs gather on social media and rise like a storm, falling upon newsrooms in an overwhelming blow. This requires immediate counter-measures by publishers."
This is another cost that editors and publishers feel they can't afford.
A century ago, newspapers in America employed 2,000 editorial cartoonists. By 1957, the number had fallen to 275. Editorial cartoonists responded that year by forming the Association of American Editorial Cartoonists, of which I am a member. AAEC's goal was to promote the value of editorial cartoons and convince publishers to save our jobs.
Since I left my staff job in January, five other cartoonists across the country have been canned. By my estimation, fewer than 25 staff cartoonist jobs now pay full salaries plus benefits. At the same time, nearly 100 cartoonists work multiple jobs to make ends meet.
Political cartoons have a rich history of influencing public opinion. Most people will look at a cartoon who will never read a 700-word essay.
But political cartoons are not politically correct. They can be controversial. And at a time when newspaper budgets are shrinking, editors and publishers don't have the stomach for controversy that might cost them subscriptions and ad dollars.
The famed American journalist H.L. Mencken said, "Give me a good cartoonist and I can throw out half the editorial staff."
He'd be shocked to know that, in March of this year, Investor's Business Daily threw out its whole editorial staff. Despite winning the 2008 Pulitzer Prize for Michael Ramirez's editorial cartoons, it's now out of the opinion-journalism business.
Several years ago, I attended an AAEC convention. I remember talking with five other cartoonists when the topic turned to the future of our profession. We all believed we might be the last of the full-time staff cartoonists.
Newspapers have always been the cartoonist's bread and butter, since the days of Thomas Nast. But print journalism has become the VHS of distribution systems in a world of online streaming.
Instead of cursing reality, editorial cartoonists must adapt to the future.
One possibility might be the rise of not-for-profit online news services like The Colorado Independent and Mississippi Today. Both are underwritten through tax-deductible sponsors and donations.
After leaving The Denver Post, Pulitzer-Prize-winning cartoonist Mike Keefe drew cartoons for the Independent until he retired. And last year, cartoonist Marshall Ramsey left the Mississippi Clarion-Ledger to join Mississippi Today.
Necessity is the mother of invention. There is a need for editorial cartoons. If newspapers can't afford it, someone else will.•
__________
Varvel is a political cartoonist and illustrator who retired from The Indianapolis Star last year. Send comments to ibjedit@ibj.com.
Click here for more Forefront columns.
Please enable JavaScript to view this content.