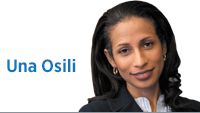 Nearly all the 2020 presidential candidates have tackled the cost of attending college, with some proposing the elimination of tuition and all fees at public universities.
What has been missing from candidate proposals is how we support innovation and boost quality in higher education.
I recently returned from my undergraduate college reunion with a new perspective. It was an opportunity to reflect on how my college experience had exposed me to the importance of service and to imagine new solutions to societal challenges.
My college graduation took place 25 years ago, in 1994. That year, Tim Berners-Lee had just moved to the Massachusetts Institute of Technology to found the World Wide Web Consortium and Starbucks opened its first drive-through. There was no Facebook, Care.com, Task Rabbit, Skype, Code.org or Google.
We hear a lot about how college education is a long-term investment in the future. On an individual level, there is ample evidence to demonstrate that a bachelor's degree can significantly raise a person's income. A bachelor's degree is worth $2.8 million, on average, over a lifetime, according to Georgetown University's Center on Education and the Workforce.
In addition to the positive impact at the individual level, higher education can also help to build more prosperous and inclusive societies. Using the skills learned in college, graduates can serve their communities as well as drive social innovation to address inequality and lower the social costs of welfare, medical services and criminal justice.
Sadly, public support for higher education has declined over time. The United States has fallen to the ranking of 13th in the world in the number of 25- to 34-year-olds who hold a college or university credential.
Today's higher education leaders must address mounting public criticism about accelerating costs and questions about the relevance of higher education. I would argue that our leaders cannot afford to ignore the quality of higher education.
Not since the era of the Industrial Revolution have we lived in an age of such disruption. Seismic forces in the labor market are pushing us to new models of knowledge production. Employers are demanding flexible workers who can solve problems and perform cognitive tasks.
A study from Oxford University estimates that nearly half of American jobs are at risk of displacement. McKinsey Global Institute released a report that estimated a third of American workers might have to change careers by 2030 because of artificial intelligence.
While automation—holding all other factors constant—might displace labor, the creation of new complex tasks requires workers who can imagine new approaches and go beyond what machines are able to do. In fact, economists have emphasized that higher education has a more important role than ever, in order to harness the dividends of technological progress.
Making the most of these dividends, however, requires a redefinition of the mission of higher education. In the face of mounting skepticism about rising costs and lower graduation rates, higher education must do more than merely prepare students for today's jobs and careers.
Higher education can emphasize tomorrow's work force with a focus on critical thinking, innovation and service. When it comes to building thriving communities, colleges and universities can contribute to guiding a future that values inclusivity and sustainability.
Let us urge candidates to put forward proposals that will accelerate investments in higher education rather than just tackle current costs. We need to ensure an even higher payoff by boosting individual and community success.•
__________
Osili is professor of economics and associate dean for research and international programs at Indiana University Lilly Family School of Philanthropy. Send comments to ibjedit@ibj.com.
Click here for more Forefront columns.
Please enable JavaScript to view this content.