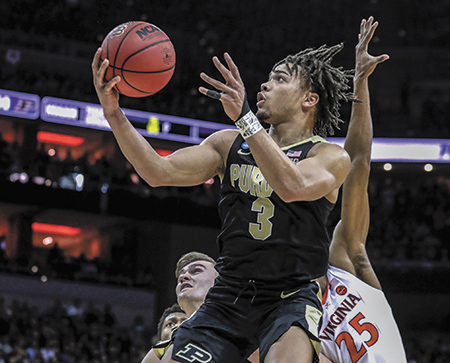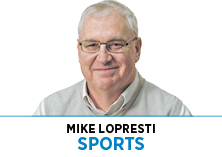 Now that the NBA draft has come and long gone, it's time to pay tribute to the group that is rarely talked about, invariably overlooked, and often at the back of the line when the big contracts get handed out.
Here's to the second-round picks. For the Pacers, the newest Mr. 2 would be …
Wait, you did notice they didn't have one, right? Or were you even paying attention by then?
That's the way the NBA world works now. The first-rounders get the buzz and the talk-show discussion and the TV time and the headlines. The commissioner calls their names and shakes their hands. Nobody gets excited about second-round picks, and the deputy commissioner is at the microphone emceeing by then. For a lot of the first-rounders, instant celebrity and fortune are waiting. They're the future. For a lot of second-rounders, the G League is just down the road. Their prospects are one big maybe.
That can put a chip on a man's shoulder, with his pro career 90 seconds old. "I just want to prove everyone wrong," Bol Bol said when it took 44 picks and a trade for him to finally go to Denver. That quest can be a bumpy, unfulfilling road. The three most recent Indiana second-rounders were Alize Johnson, Ike Anigbogu and Georges Niang. They have scored 47 points combined in Pacers uniforms.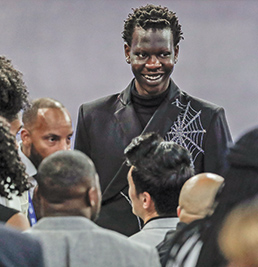 "I just want to prove everyone wrong," Oregon center Bol Bol said after falling to the 44th pick.
On that note, wonder what Carsen Edwards is thinking?
The Purdue star went in the second round, 33rd pick to the Boston Celtics, whose payroll is being inflated by a slow leak from Indiana. Edwards, Romeo Langford (the first-round pick), Brad Stevens the coach and Gordon Hayward on the roster.
"It's just the beginning," Edwards told Boston media. Second-round picks always hope the day comes they'll prove they lasted way too long on draft night, and maybe it will for Edwards. The national champion Virginia Cavaliers, still remembering Edwards' hands around their throats in the regional final, certainly wouldn't be surprised.
So to explore the world of the second-round draftee, let's go talk to one who turned his spot into a fine NBA career. Perhaps you've heard of him.
Nate McMillan.
The Pacers coach went in the second round to Seattle in 1986, the No. 30 pick overall. If the league had as many teams then as it has now, he probably would have been a first-rounder. But he wasn't, so things were a tad different.
"I didn't go to a green room. I was at home with my family. We were sitting in front of the television watching it, like everybody else," he said the other day. "During that time, they only covered the first round so when the first round was over, the network went off and McMillan didn't know where he was going until the phone rang. The excitement was still there. My family and I broke into tears like the guys that go to the green room did."
The second round in 1986 was something of a gold mine. Dennis Rodman was found there. So were Mark Price, Jeff Hornacek and Kevin Duckworth. McMillan was so solid a presence at both ends of the court for so long, his No. 10 was retired by the SuperSonics. Not many guys with a 5.9 career scoring average can say that.
Since there were six rounds in 1986, second-rounders didn't feel quite so neglected on draft day. They do now.
"You do have to prove yourself," McMillan said. "Now that the NBA has gone to only two rounds, some of the guys that have slipped from first to second round, it does become a motivation. There were a couple of guys in the green room at this draft and they're in the green room into the second round. They thought they'd be first-round picks. That leads to motivating them to prove those 30-something teams that passed on them, that they missed out on something good.
"A lot of times, you get a lot of good talent in the second round because those guys are hungry."
Rodman certainly was. Same for Draymond Green. He agonized at the delay in hearing his name called. "It was rugged at the end of the first round," he was quoted as saying that draft night. "Just watching and waiting for the phone to ring with the news, then seeing those teams take other players." Second-round pique became a fire that still burns on behalf of Golden State.
Manu Ginobili was a pillar of the San Antonio dynasty. Marc Gasol, De'Andre Jordan and Isaiah Thomas are other prominent recent second-rounders. Alex English put up a legendary career for Denver from the second round. He might have had it for Indiana, but the Pacers traded him—for another former second-round pick. George McGinnis. It seemed like a good idea at the time, but after a glowing pro career, McGinnis was getting toward the end.
The Pacers have had mixed luck with second-rounders. Antonio Davis was a keeper in the 1990s, once he got back from Europe. Bojan Bogdanovic was someone else's second-round pick, but he's doing fine in Indiana. And then there's 2010, when the Pacers decided to use the 40th pick on this live wire from Cincinnati, Lance Stephenson. How could they know one day he'd be blowing in LeBron James' ear?
Now Edwards takes his place in the long line of players with something to prove. If it's any inspiration, his new boss—Boston General Manager Danny Ainge—was also a second-round pick. The Celtics drafted him out of the Toronto Blue Jays infield. He ended up in the NBA championship lineup with Larry Bird.
Here's another thing about second-rounders—they seem to make good coaches one day. Steve Kerr went in the second round. Same for Doc Rivers. And McMillan, who thinks all this might not be a coincidental blip.
"You are trying to fit in and connect when you're coming from the second round. The guys in the first round—a lot of times I've heard the story—the great players, it's really difficult for those guys to become coaches because their expectations are too high; they don't understand having to make the team through work. Not that they don't work, but they have so much talent, they work different than the guy who has less talent, who has to have a much higher basketball IQ. You have to think the game; you have to know the game."
So it's not easy. Second round means ignoring doubters, earning your way against higher draft picks, and doing it for less money—in the beginning, anyway. It's a demanding journey, and Carsen Edwards is on his way.•
__________
Lopresti is a resident of Richmond and a graduate of Ball State University. He was a columnist for USA Today and Gannett newspapers for 31 years. He can be reached at mjl5853@aol.com.
Please enable JavaScript to view this content.