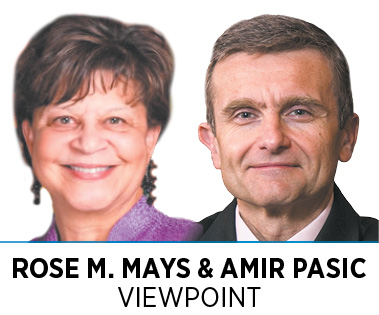 As the differences among us persist in dividing our society, we call on our fellow Hoosiers to remember that diversity is not occasional, nor a concern mostly for a particular segment of our population. Diversity defines the fabric of America for each of us.
We are fortunate to be part of a unique learning experiment in Indiana that seeks to understand generosity in all our communities—not just those that attract the most attention. The Mays Family Institute on Diverse Philanthropy brings to light the experiences of philanthropy in under-represented communities, an important addition to the Indiana University Lilly Family School of Philanthropy at IUPUI.
In historically less privileged communities, we find powerful expressions of generosity. Traditions of philanthropy in African American, Latinx, LGBTQ and other under-represented communities can bring inspiration and renewal for all.
Recently, the Indiana University Black Philanthropy Circle announced that its first major collective gift is a contribution to the Mays Institute, supporting research and discussion on generosity in under-represented communities. This group of friends represents the kind of generosity frequently expressed by those too often incorrectly viewed primarily as recipients of charity. The gift echoes the philanthropy of Bill Mays and the Mays family, whose civic leadership the institute's name honors.
We too often think of philanthropists as wealthy white men like Rockefeller or Carnegie. But in that time, there was also Indianapolis' Madam CJ Walker, a black entrepreneur who became America's first self-made woman millionaire. Professor Tyrone Freeman, an expert on Walker's expansive philanthropy, teaches about how people of color have long been donors.
Early research from the Mays Institute increases understanding of the robust philanthropy that is an integral part of all diverse communities and how it effects positive change. For example, the research shows that greater diversity on not-for-profit boards leads to positive fundraising results.
The institute's speaker series brings remarkable leaders to Indianapolis and the school's website. The Chicago Community Trust's Helene Gayle emphasized the urgency of embracing our differences in polarizing times. The Revs. Starsky Wilson and Brad Braxton recounted black churches' commitment to freedom, equality and dignity amid a history of violent oppression, illuminating generosity's power to generate resilience in hardship. Columbia University's Noah Drezner shared research about philanthropy in LGBTQ communities, and Sandra Vargas, former Minneapolis Foundation CEO, discussed Latinx Philanthropy. Such leaders open our eyes to the generosity at the heart of all communities.
The diversity of philanthropy across the human experience helps us appreciate the commonality of human generosity as we behold its various expressions. As we seek to give contemporary meaning to what unites all Americans, the lens of generosity can help by opening a window into experiences that have been overlooked and underappreciated. It can help us weave a tapestry of understanding because all of us have experienced generosity, as givers and receivers.
By elevating the stories of those whose generosity has been overlooked, we can learn, achieve dignity, and find ways of crafting new solutions for re-weaving our frayed social fabric.•
__________
Mays is founder of the Mays Family Institute on Diverse Philanthropy at the Indiana University Lilly Family School of Philanthropy at IUPUI. Pasic is the Eugene R. Tempel Dean of the school.
Please enable JavaScript to view this content.