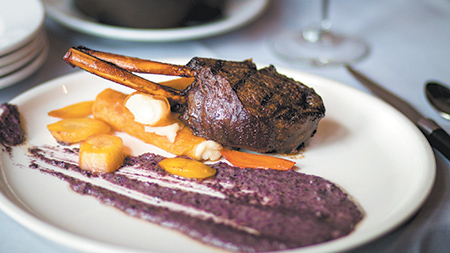 For the second time in less than three years, restaurateur Gary Brackett is forming a new business strategy for the downtown space he leases at 14 E. Washington St.
CharBlue Steak & Seafood, a restaurant and bar operated at the site since late 2016 by Brackett Restaurant Group, shut down June 29.
Jeremiah Hamman, who co-owns the eatery with Brackett, said the owners are working to reopen the 5,600-square-foot space as an event facility.
"CharBlue is much better off as a venue for large-scale events and happenings," Hamman said. "We are working with the landlord to tailor the space to become an event venue rather than a daily restaurant, as that was such a large segment of our dining to begin with."
Brackett, a former Indianapolis Colts linebacker who owns the Indianapolis-based Stacked Pickle restaurant chain, opened CharBlue to replace his first restaurant at the site, Georgia Reese's Southern Table & Bar.
Georgia Reese's operated in the space for about a year and a half before making way for CharBlue.
Brackett also operated a Georgia Reese's location at 3454 W. 86th St. in Indianapolis from August 2014 to March 2016.
CharBlue had hoped to differentiate itself from at least 10 other steakhouses in downtown Indianapolis by offering a rotating menu and unique dishes.
Stacked Pickle has eight locations in the Indianapolis area and one in Lafayette.
Please enable JavaScript to view this content.