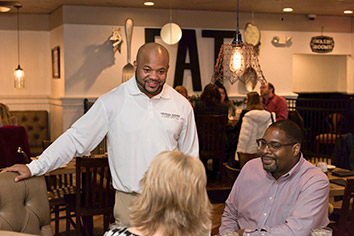 Restaurateur Gary Brackett plans to replace his Georgia Reese's Southern Table & Bar in downtown Indianapolis with a steakhouse called CharBlue by the end of the year, he announced Monday.
Brackett, a former Indianapolis Colts linebacker, said he planned to keep the Georgia Reese's concept alive elsewhere and was actively looking at different sites.
Bracket said he hasn't been able to fully realize the upscale-soul-food and live-jazz concept in the downtown location because of lease issues.
"The live music that has entertained the crowds had to be shut down due to noise ordinances in the lease," Brackett Restaurant Group said in a written statement.
Brackett opened his first Georgia Reese's location at 3454 W. 86th St. in August 2014 and followed up with the downtown spot at 14 E. Washington St. in May 2015.
The 6,800-square-foot 86th Street eatery closed in March. At the time, Brackett said the location proved too large to be financially successful.
The 5,600-square-foot downtown restaurant will continue to operate as Georgia Reese's until it makes the transition to CharBlue late this year, Brackett said.
Brackett said he is partnering with local restaurateur Jeremiah Hamman on CharBlue. Hamman was operator of Mo's A Place for Steaks and Detour: An American Grill
The pair hired former Peterson's executive chef Ricky Hatfield to help create the new concept.
CharBlu will face tough competition in the steak category downtown, where at least 10 other steakhouses are open within blocks.
The owners said they plans to differentiate CharBlue from traditional steakhouses.
"With local products, farm-to-table menu items and a seasonally rotated menu, [CharBlue] will seek to create something different than Indy's steak restaurants." Brackett said. "Hatfield is charged with filling out the rest of the menu with dishes that innovate and change people's perception of traditional steakhouse dining."
Brackett Restaurant Group also is the owner of nine Stacked Pickle restaurants.
Please enable JavaScript to view this content.