Former Democratic state lawmaker Christina Hale is running for Congress.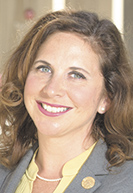 Hale, 47, announced Thursday morning that she is running in Indiana's 5th District, which includes the northern portion of Indianapolis along with at least parts of Hamilton, Madison, Grant, Tipton, Blackford, Boone and Howard counties.
The seat is being vacated by Republican Susan Brooks, who has represented the district since 2013. It is expected to be a widely watched race, as Democrats target it as a possible pickup in 2020. The district is seeing shifts in demographics as more young residents move in, and after Brooks announced her retirement last month, the Cook Political Report shifted the district from "solid Republican" to "leans Republican."
Hale ran as Democratic gubernatorial candidate John Gregg's lieutenant governor in 2016 and served as a state representative for the north side of Indianapolis from 2013-2017. Political observers had widely speculated for months that Hale would launch a bid for Congress in 2020 or run for governor. 
In her announcement, Hale said she would focus on "giving a voice to middle class Hoosier families in Washington."
"People want their representatives to not only understand but to feel the challenges they face. I know these challenges personally. I know the price of milk and how hard it can be to find quality daycare. I've been a single mom scrapping to balance work and school, and then repay my student loans and buy my first house," Hale said in a statement.
"Whether it was doing what's best for my family or trying to get ahead in the working world, I've had to work for it. That's exactly what Hoosiers can expect of me in Congress, where I'll fight every day to make life better for people by lowering the cost of health care and working to ensure that we have an economy that works for everybody."
Most recently, Hale worked as the executive director of Kiwanis Youth Programs at Kiwanis International. 
The race in the 5th District could quickly become crowded. 
Democrat Dee Thorton, who unsuccessfully ran against Brooks in 2018, already has announced she plans to run again for the seat, and nearly two dozen Republican names have been circulated by political pundits as possible candidates, including former state Rep. Steve Braun, former Indianapolis Mayor Greg Ballard, Fishers Deputy Mayor Leah McGrath and former state Sen. Mike Delph. 
Please enable JavaScript to view this content.